When visiting the United Kingdom, it's not just the breathtaking landscapes, rich history, and iconic landmarks that captivate travelers. The UK is also known for its diverse range of souvenirs, allowing visitors to bring home a piece of British culture and heritage. Whether you're strolling through the bustling streets of London, exploring the charming villages of the countryside, or immersing yourself in the cultural hubs of Edinburgh and Cardiff, here are some of the most popular souvenirs you should consider getting on your trip to the UK.
1. Tea and Teaware
No trip to the UK is complete without indulging in a traditional afternoon tea experience. To recreate this cherished ritual at home, bring back some authentic British tea and teaware. Choose from a variety of renowned brands like Twinings, Yorkshire Tea, or Whittard of Chelsea, and select your preferred blend, be it Earl Grey, English Breakfast, or herbal infusions. Additionally, browse through the exquisite range of teapots, teacups, and saucers available in classic and contemporary designs, making for elegant mementos.
2. Royal Memorabilia
The UK is famous for its royal family, and you'll find an abundance of royal memorabilia to commemorate your visit. From keychains and magnets featuring the King's Guard or the iconic crown jewels to collectible coins and commemorative plates adorned with portraits of the monarchs, these items make for quintessential British souvenirs. Don't forget to check out the official merchandise stores of Buckingham Palace and Windsor Castle for exclusive royal-themed memorabilia.
3. British Chocolate and Confectionery
Indulge your sweet tooth and take home a taste of British chocolate and confectionery. From the decadent Dairy Milk chocolate bars by Cadbury to the richly flavored assortments of Thorntons or Hotel Chocolat, you'll find a wide array of delectable treats. Additionally, iconic sweets like Scottish shortbread, English fudge, and Welsh toffee are perfect for satisfying cravings and sharing the flavors of the UK with loved ones.
4. Tartan and Wool Products
Scotland, with its rich cultural heritage, is renowned for its traditional tartan patterns and high-quality wool products. Purchase a cozy tartan scarf or blanket to keep you warm during the colder months or opt for a fashionable kilt or a traditional tartan accessory like a sporran or a brooch. The Scottish cashmere and lambswool knitwear are also highly sought after, offering both style and comfort.
5. London-themed Merchandise
London, the vibrant capital of the UK, offers a plethora of souvenir options reflecting the city's iconic landmarks. Look out for miniature models of the Big Ben, Tower Bridge, and the London Eye, which serve as lovely reminders of your time in the city. T-shirts, tote bags, and mugs adorned with witty phrases or designs inspired by the London Underground or famous British symbols like the red telephone box and the double-decker bus are also popular choices.
6. Celtic Jewelry
If you're visiting Wales or Ireland, explore the captivating world of Celtic jewelry. From intricate Celtic knot designs symbolizing eternity to the mesmerizing Claddagh rings representing love, loyalty, and friendship, these unique pieces make for meaningful and stylish souvenirs. Choose from an array of pendants, earrings, and bracelets crafted in sterling silver or adorned with precious gemstones, allowing you to carry a piece of Celtic heritage wherever you go.
7. Harry Potter Merchandise
For fans of the beloved Harry Potter series, the UK offers a treasure trove of magical souvenirs. Visit the famous platform 9¾ at King's Cross Station in London, where you can find an assortment of Harry Potter-themed merchandise, including wands, Hogwarts house scarves, and Marauder's Maps. Take a trip to the Warner Bros. Studio Tour near London, where you can delve deeper into the world of Harry Potter and explore a wide range of collectibles.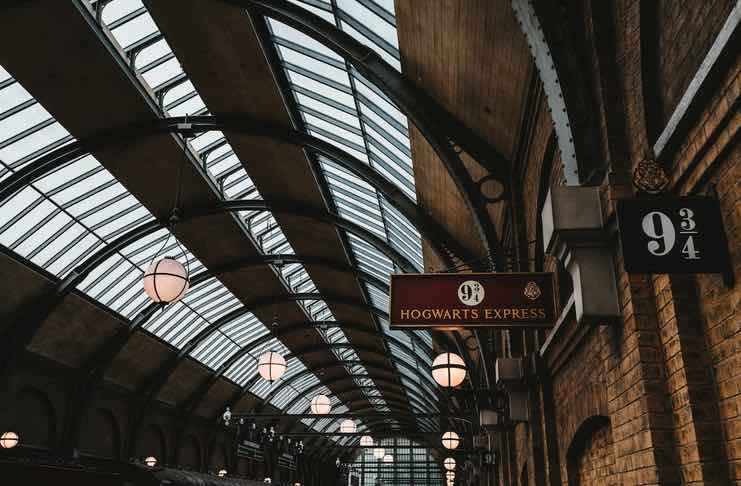 8. Football Memorabilia
The UK is renowned for its passion for football, and if you're a sports enthusiast, consider picking up some football memorabilia. Whether you're a fan of Manchester United, Liverpool, Arsenal, or any other team, you'll find a vast selection of team jerseys, scarves, badges, and other merchandise to show your support. Additionally, you can explore the Football Museum in Manchester or take a stadium tour of renowned football clubs for an immersive experience.
Watch this video to get a glimpse of the Football Museum in Manchester:
9. Whisky and Gin
For those who appreciate fine spirits, the UK is home to some of the world's finest whiskies and gins. Scotland, in particular, is known for its whisky production, with distilleries dotted throughout the country. Explore the rich flavors and distinct regional characteristics by sampling different single malts or blended whiskies. If gin is more to your liking, try the numerous craft gins produced in the UK, with unique botanical blends that create a truly British spirit.
10. Shakespearean Literature and Theatre Merchandise:
The UK has a rich literary heritage, and the works of William Shakespeare hold a special place in its cultural landscape. Pay a visit to the iconic Shakespeare's Globe Theatre in London and browse the gift shop for books, posters, and theatrical merchandise inspired by Bard's plays. Alternatively, explore independent bookstores across the country to find beautifully illustrated editions of Shakespearean works, allowing you to bring the magic of his words back home.
Prefer to buy your souvenir later?
No space left in your suitcase? If you'd rather not buy your souvenir during your trip, you can easily order them online from wherever you live. However, if you later discover that your favorite British brands don't offer international shipping, you can use a parcel forwarding service. These services provide you with a UK shipping address so you can easily buy from your favorite brands.
You simply use the provided UK address when ordering, and the company will forward your order to you wherever you are. To make the most of parcel forwarding services, here are some questions to keep in mind when researching different services:
Are the shipping rates reasonable and cost-effective?

Does the service offer parcel consolidation?

How long does it usually take for packages to arrive?

How good is their customer service and support?

Are there any insurance options available?

Does the service provide you with tracking options?

How good are the service's reviews?
By considering these factors, you'll be able to find the best parcel forwarding service for your needs and avoid any surprises related to shipping and handling fees.
Conclusion
As you embark on your journey through the UK, remember to allocate some space in your suitcase for these popular souvenirs. Whether you're a tea lover, a history enthusiast, a chocolate connoisseur, or a fan of British culture, there's a souvenir to suit every taste. These mementos will not only remind you of your incredible trip but also provide an opportunity to share the beauty and charm of the UK with family and friends as you relive your experiences through these cherished keepsakes.