A destination wedding is a ceremony or reception held away from the couple's hometown, typically in a place that has special meaning to them. Destination weddings are usually held in locations such as gardens, beaches, barns, or vineyards from another state or country. They are often much more intimate than traditional weddings, as they usually only involve close family and friends.
America is home to some of the most beautiful destinations in the world and is a perfect venue for couples to tie the knot. So, if you're looking for the perfect destination for your wedding, look no further than these ten stunning locations.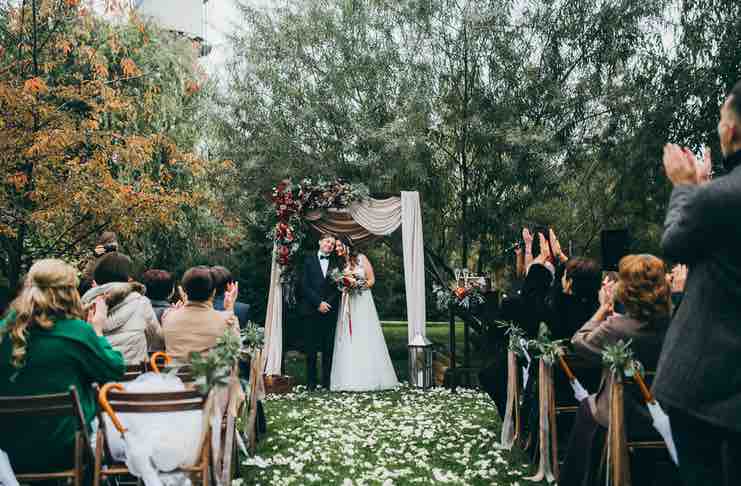 1. Malibu Rocky Oaks, California
This is the perfect wedding venue for couples who love wine. It's a private estate surrounded by 10 acres of vineyard and the Santa Monica mountains. The entire place looks like an Italian Tuscan Villa, which gives a rustic vibe.
You also have the option to have your ceremony on a helipad which offers a breathtaking 360-degree view of the hillside and mountains. What's more, is you can take advantage of saying your wedding rites amidst the picturesque sunset.
If you want to explore other wineries, feel free to check Loveland Wedding Venues. You can experience having a wedding ceremony in the countryside and enjoy dinner at their famous barrel room.
Watch this video to get a glimpse of Malibu Rocky Oaks:
2. Haiku Mill, Maui, Hawaii
Hawaii is always on top of the list of dream wedding destinations. If you're planning a garden and rustic theme wedding, then Haiku Mill is the place to be.
It used to be a sugar mill from 1861 to 1879 and was eventually turned into an event center. Here, you can get married amidst the ruins of a brick-stone structure, surrounded by flowers, trees, and draping vines. Afterward, consider having a romantic dinner at the 'Mill' and enjoy cocktails at the 'Mango Tree,' complete with its ambient bistro lights. Because of the place's natural aesthetic appeal, you're sure to have a memorable wedding at this destination.
Watch this to get a glimpse:
3. Bear Flag Farms, California
Bear Flag Farms is perfect if you plan to wed in the summer. It's a beautiful choice for an outdoor wedding because the venue offers a beautiful backdrop of rolling hills. It also includes a large open-air barn and courtyard, which is perfect for a reception and celebration. You can even bask in the zesty and fragrant air amidst the citrus trees and the beds of roses and lavender.
Watch this wedding at Bear Flag Farms:
4. Thorncrown Chapel, Eureka Springs, Arkansas
This fantastic artwork is perfect for couples who love architecture. This chapel was built in 1980 by renowned architect E. Fay Jones and was heavily inspired by Sainte-Chapelle, a gothic chapel in Paris. It's made of 6,000 square feet of glass, steel, wooden trusses, and a flagstone floor. This cathedral looks more remarkable as natural light goes through its 45 windows. If you've been dreaming of a majestic wedding, this is the perfect place for it.
Watch this to get a glimpse:
5. Hotel Jerome, Aspen, Colorado
Hotel Jerome was built in the 1880s and is one of Aspen's primary landmarks. It gives a rustic ambiance because the structure is made of brick. The hotel offers a garden venue and a ballroom to accommodate up to 250 guests for the ceremony. With the Rocky Mountains in the backdrop, it is a tranquil yet sublime venue for your wedding.
Watch this to get a glimpse:
6. Treehouse Point, Issaquah, Washington
Treehouse Point in Issaquah, Washington is an idyllic setting for a wedding. Located on the banks of the Raging River, the scenic riverfront property offers a serene, peaceful atmosphere. The venue is surrounded by lush forests and tranquil ponds, offering a perfect backdrop for an outdoor wedding.
The property also boasts several treehouse accommodations, providing a unique and memorable location for your ceremony and reception. The property is able to accommodate up to 100 guests and is a great option for those looking for an intimate, rustic, and unique wedding experience.
Watch this:
7. St. Regis Hotel, New York
If you want your wedding to be formal, glamorous, and elegant, choose St. Regis Hotel as your venue. It's located in Central Manhattan, one of New York's famous landmarks. What's amazing is that it holds Forbes five-star and AAA five-diamond ratings.
It has a huge ballroom with oversized chandeliers that is compatible with a luxurious wedding theme. You can decorate it with grand floral arrangements, ceiling drapes, and porcelain tableware. With its opulent decor, luxurious amenities, and stunning views of the city, the St. Regis Hotel is an ideal setting for hosting a lavish and sophisticated wedding celebration.
Check this out:
8. Hilton Sandestin Beach Golf Resort, Florida
Hilton has white sand and clear water, which is perfect for your beach wedding. It's great for couples who enjoy the sun, sand, and sea. You can have your ceremony by the shore, as you enjoy the breeze of the wind and the calming sound of the waves. The ambiance is relaxing and a little laid back. Couples can also have an intimate honeymoon by going to a spa and having a sumptuous dining experience.
Watch this to get a glimpse:
9. Beaulieu Garden, Rutherford, California
Beaulieu Garden is one of the oldest private-owned vineyards in Napa Valley. It offers a garden wedding with details of old stone fountains, reflecting pools, and elegant statues, which adds to the venue's beauty.
Beaulieu Garden features a variety of outdoor spaces for ceremonies and receptions, including a private courtyard, a grand lawn, a terrace, and an outdoor pavilion. With a variety of settings to choose from, couples can customize their wedding day to fit their style and vision.
Watch this to get a glimpse into this wonderful garden:
10. 440 Seaton, Los Angeles, California
In 1913, 440 Seaton was built as a lumber yard. Now, this chic and modern venue can accommodate up to 1,700 guests for a wedding. The warehouse's exposed brick, wooden beams, and cathedral-like atrium make it perfect for a classic backdrop for a vintage wedding. Its warm and accommodating ambiance is perfect for your solemn ceremony.
Watch this:
Final Thoughts
A destination wedding is a great way to enjoy stunning places while creating a memorable milestone as a couple. Luckily, the list above can help you find a fantastic location, where you can celebrate your love and have a wonderful time with your family and friends. Remember to choose what suits you and your partner's personality and interests to ensure a noteworthy and unforgettable wedding experience.