Searching for a detailed review of RAIN Japanese Sushi Bar & Thai in St. Petersburg, Florida? Well, you've reached the right place.
Being in St. Petersburg, Florida everything seems to be changing. Yes, you can go to the beach. You can see the Gulf. You can visit the Downtown area and see the level of high-end shops and restaurants you would expect. The people are here to enjoy the time and the place.
But then you head over across the area. You get closer to the Gulf edge of town. There the places are smaller. The people are closer to the water where fewer tourists might be. You can find a shop and a restaurant you might like and try.
Having lived in Tokyo many years ago we fell in love with the city, the people, and the country. It was wonderful. We learned to do everything in Japanese. Including the way we learned to eat. Every day, and every way it was always Japanese. And that was whether we ate in our home or went out for a meal over the weekend. It was life. So finding a place here in St. Petersburg was not easy. Especially if you want to find something close to what you would have in Tokyo.
Welcome to
RAIN Japanese Sushi Bar & Thai.
It is unexpected.
You might drive by the location and not think twice. It is small and in a strip mall. But stop and park. Open the door and you step into a place that is not fancy but more Japanese in concept.
There is a sushi bar you can sit at. There are tables and a team that can help you. It is all there as they hand you two different menus. One is pure Japanese. The other is Thai. It is your choice here, which is ideal for people who visit and do not know what they might want. But it is here.
A GOOD WAY TO START.
As you look through the menus you can always have a beverage to start with. There are Japanese beers, wines, soft drinks, and even tea. It is up to you. Having lived in Tokyo we knew what we would order. It would be typical for us.
We placed our starter items while we considered the next course. We received our typical Edamame and Fried Tofu. They were both warm and fresh. The edamame came in a good size bowl. It was warm and topped with salt. Very much like what you have in Tokyo. The tofu was cut into slices that were in a bit of soy sauce and onions. It was crisp and moist. Had the right flavor. It was as you would expect.
Next, we placed our order as we enjoyed the appetizers selected. We also asked for our chopsticks since we use those when in these establishments. It is a habit.
As we enjoyed this course the crowd came in. What was empty when we arrived, within 30 minutes all tables were taken. There were people sitting at the bar watching the chefs slice the fish and make the entrees for the guests. Whether it was sushi, sashimi, or rolls, the chefs were busy creating something good.
The Miso Soup
The next course up was the salad and miso soup, Very typical here. The salad was topped with ginger sauce. This was very fresh and had texture. With some little onions, it added to the flavor and freshness before you had the main course.
As for the Miso soup, it had some tofu inside. There was a piece of nori and some scallions. The soup was warm and fresh. Just the right flavor is expected. Again, having lived in Japan I do enjoy it the way you would in Japan. I drink it. No spoon. You stir with your chopstick and then drink. That is all. Like having a warm tea before you start the meal ahead.
The Chef's Special
Then the entrees arrived. We had a Chef's Special. This is actually where you do not know what you will receive. You know it is sushi. And there are several portions of this. You also have several pieces of sashimi. This is followed by a Tuna roll and then a reversed Shrimp roll. A good combination for each other that compliments each other.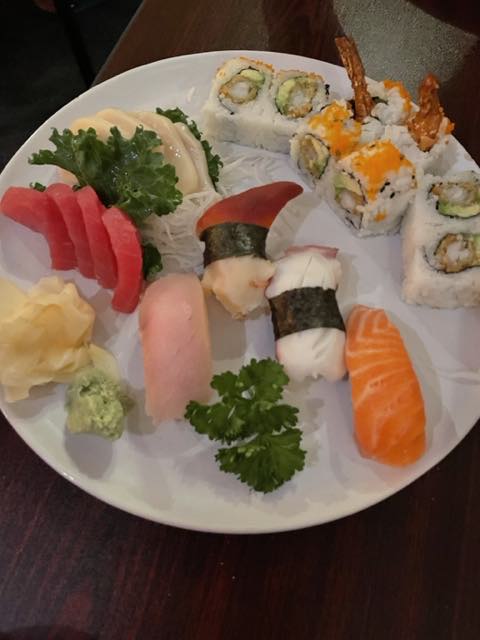 For the sushi, you will have tuna, salmon, mackerel, cod, and sea bream. There is even some golden eye snapper. It is all fresh and thinly sliced. That is the way it should be. There is no other flavor. You can dip in the soy sauce, maybe add a little wasabi, and take a bite. That is all. It tasted ideal. The one bite, which is all you need, was perfect for the taste.
As for the sashimi, it followed the same course, but without the rise, the sushi is placed on. The slices of fish were a little bigger. The fish was fresh and at room temperature. Not cold. Using your chopstick it was easy to select and bite.
The rolls were ideal. Everyone likes tuna rolls and this was perfect. All wrapped in the nori sheet that is fresh and has a taste that compliments the tuna and rice inside. It is very typical for many Japanese restaurants, but here it is authentic once more. Again, no additional additions. The shrimp roll had a little extra flavor of ginger and was heated a little. There was fried shrimp inside each piece. A meal to itself.
The Sushi Jo
For the other entree, it was similar in style. Sushi Jo. This time it was all 10 pieces of sushi. And, in true style, you started with the heavier pieces and worked to the lighter ones. It is the same arrangement of fish for this dish. Even the tuna roll was the same in size and format.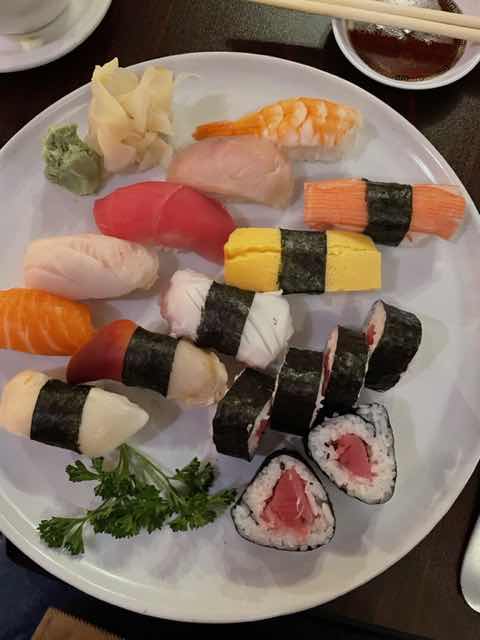 The most important part is that it was all fresh. This was the fish of the day. In a true Japanese restaurant you never truly know what fish you might have. It is whatever fish was fresh that day and prepared for enjoyment. This is how you have it in Japan. This is how you had it here.
A SPECIAL TWIST
On this occasion, they brought over to the guests a special dessert. It looked like a small piece of green cake. Very different. It was actually a cake that was made of nori and miso. It was light and delicate. Have a mild taste. It was not heavy or had a strong flavor. It was perfect after a meal of fish we had. It did not fill you up. It gave you just enough to let you enjoy what you had just had.
Overall, RAIN Japanese Sushi Bar & Thai was a new experience to walk into. Unless you know of them you would just pass them by. But by going in we found a place that was close to what we would expect in New York, LA, or even in Tokyo. The fish was fresh. The two chefs knew how to handle the fish. The cut. The texture. The flavor. The temperature. The timing. It was great.
The team that helps you is very nice and kind. They can help you out and answer your questions. They are always available. The prices are ideal. For the selection you make, the prices are perfect for this.
I wanted to find a place that offered good Japanese meals. I saw many guests enjoying the Thai dishes as well. It is a good choice to decide. But for me to know I have found a place that offers a good Japanese experience is worth the effort. As always, it is the Chef's choice what you will receive. They understand what is available and how it is prepared.
Having the experience of being in Japan I do accept the meal that shall be made. With that I know I shall enjoy it.
As we would say, Domo Arigato!
You can find more reviews here on Tripadvisor.
LOCATION:
RAIN Japanese Sushi Bar & Thai
5267 Park Street N
St. Petersburg, FL 33709
Phone: 727-545-1781
Want to read more of our latest posts? Discover Canada's culture with these insider tips.