Chicago winter is unpredictable and whimsical, but this is exactly why people love it so much! With high chances of amazing snowy days and freezing temperatures, the city transforms into a winter wonderland between October and March (sometimes even April).
Plus, you may even be "lucky" enough to catch a snowstorm and see the streets covered in white fluff. True, this is no fun for the locals who have to dig themselves out of the blanket of snow, but it can be a gorgeous sight for someone who doesn't get to experience this at home.
Also, Chicago has a lot to offer during winter, so you won't get bored. To prove that, here is a list of things to do if you happen to visit Windy City during the cold season.
1. Check Out the Frozen Lake
When the temperatures drop below freezing, Lake Michigan transforms into a huge icy surface that offers the unique opportunity of a rewarding photo session. The best angle is from the Lakefront Trail because it gives you a complete view of the skyline.
Plus, once you're done with the photos, you can go shopping (The Magnificent Mile is right there) or check out the nearby museums like the Peggy Notebaert Nature Museum or the Adler Planetarium.
And, if you don't want to do all that walking in freezing temperatures, you can hire a car service in Chicago to drive you around. This way, you don't have to worry about parking (which is terrible in winter), and you can focus on finding the next interesting attraction.
2. Go Skating
There are several amazing skating rinks in Chicago, but you can't miss the Millennium Park one! You'll be skating right in the middle of the city, and wherever you look, there'll be an iconic winter landscape enchanting your eyes!
Or, if you want to try a more romantic approach to skating, visit the Skating Ribbon. This rink meanders through Maggie Daley Park, which is another scenic attraction for first-time visitors and locals alike.
Plus, if you come with your own skates and get there at the right time, access to the rink is free!
3. Go Sledding
If you don't feel steady on your feet with skates, you should try sledding! Every winter, Soldier Field Sledding Hill, located around the historic Soldier Field stadium, turns into a 33-foot slope that's perfect for sledding.
Plus, if Mother Nature doesn't produce enough snow for this fun activity, the Chicago Park District takes care of it by pumping out faux snow. So you can visit at any time during the winter and enjoy a bit of fun in the snow!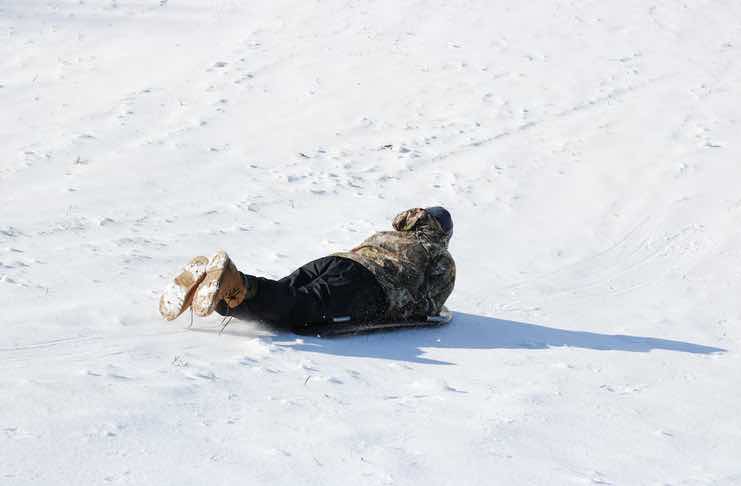 4. Cozy Up Indoors with a Warm Beverage
After a few hours in the cold, you will definitely want something to warm you up. Chicago is filled with cozy coffee shops, bakeries, restaurants, and all sorts of places where you can drop by and order a cup of hot cocoa. So don't hesitate to go exploring!
5. Enjoy The Loop
The Loop is Chicago's downtown and is named after the El's circular pattern (the train service for this area). Here is the city's commercial and business district, but it's also the part that attracts visitors the most regardless of the season.
Here, you'll find one of the tallest buildings in Chicago (Willis Tower) with a Skydeck that offers a breathtaking view of Lake Michigan and its surroundings. There's also an aquarium, a sculpture garden, and lots of museums to visit.
6. How About Some Winter Hiking?
The windy City is surrounded by wide state parks and forests where visitors can experience nature full-on. Still, before you get outdoors, make sure you have everything you need for travel during winter. The forests and parks are well managed, but it's still winter in the forest!
If you're prepared, make sure to hit Starved Rock and the Indiana Dunes. Also, the Midewin National Tallgrass Prairie is a must-see (you may even spot a few bison while you're there).
Watch this wonderful video to get a glimpse of Chicago during the winter:
7. Winter Camping Can Be Fun
When done right, winter camping is a unique experience. However, it's not something for the faint of heart or for those who are bad with the cold. Winter temperatures are harsh in the area, and you'd have to carry winter equipment on your trip.
But, if you've come prepared, there are some interesting locations you can try. Just make sure you are up to date with the latest camping best practices to avoid getting fined for putting down your tent in a restricted area or leaving a mess behind when you leave.
8. Spend a Day at the Zoo
The Lincoln Park Zoo is open all year long and is free to visit, so you can drop by anytime during your stay in Chicago. During the cold season, you may see the snow monkeys, polar bears, and penguins enjoying a bit of fun outside since the weather is closer to their natural environment.
9. Take a Tour
Given its architecture and iconic locations, Chicago has many organized tours you can take. Look for one that combines the amazing culinary culture of the city with its amazing architecture and history.
You'll discover many interesting things about the city and get to enjoy snacks only available in Chicago, such as Chicago-style popcorn, hot dog, deep dish pizza, and the Italian beef sandwich. Also, there's lots of homemade chocolate and hot cocoa wherever you look.
10. Go to a Christmas Market
Christmas in Chicago has strong German influences, with fresh pretzels and bratwursts accompanied by a mug of Glühwein. So, if you didn't make it to Germany, you can enjoy the experience in one of the two Christmas Markets in Chicago (called Christkindlmarket).
There is one Christkindlmarkt in Daley Plaza (the largest) and one in Wrigleyville (great for decorations and various Christmas-themed workshops). Both markets are open starting mid-November and close on Christmas Eve, so you can roam around and do your shopping while enjoying the atmosphere anytime you want.
Enjoy the Winter Atmosphere
Chicago is a beautiful city during winter, and you can see this in how Chicagoans celebrate the first snow. So, if you want to relax and enjoy the cold, this is a great city to visit!