You and your family don't often get to escape reality together and go on a family vacation. Thus, why not head to the beach for your next family trip and engage in fun and exciting water activities? According to a survey conducted for 2,000 Americans, 44% of the respondents prefer going to the beach for their vacation because they would rather crash in the ocean waves and take a stroll on the sand to relax and alleviate stress.
However, if you want to make the most of your beach vacation for your next family trip, this may be a good time to consider trying some fun water activities. Remember, there are endless ways to enjoy the sea and swimming is just one of them.
So, to kickstart your vacation planning, here are the eight best water activities you must try for your next family trip:
1. Spearfishing
Among the most popular water activities is fishing. This activity is known as an excellent stress reliever and a great form of exercise. But for a more exciting and elevated fishing experience, why not try spearfishing? Spearfishing has already been around for centuries as the early civilizations used this method to fish for food. Yet with better and more advanced spearfishing gear available, spearfishing is now considered a popular recreational activity for kids and adults.
To try spearfishing, you'll need to know how to scuba dive, free dive, or at least snorkel. Most importantly, you must also prepare the spearfishing equipment required, such as a speargun, diving mask, spear, knife, stringer, gloves, etc. You may continue here for a complete list of spearfishing equipment to get you and your family geared up before your family trip.
2. Kayaking
Meanwhile, if you're looking for a water activity that you can try as a family, you can do kayaking. Kayaking doesn't require you to be a strong or excellent swimmer. If you can't swim and are a beginner kayaker, try this activity on easy, low-level bodies of water, such as on a lake or the shallow part of the sea. And whether you can swim or not, you must always wear a buoyancy aid for safety purposes.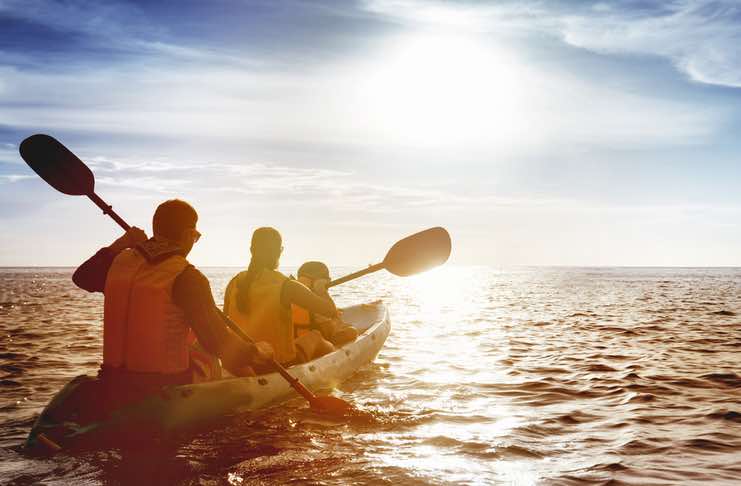 Once you and your family have enhanced your kayaking skills, you can try doing it in a more challenging area, like on a river. It would also help to take a guided tour with a professional kayaker. They can take you to wonderful locations and breathtaking views while you're kayaking together as a family.
3. Whale And Dolphin Watching
Would you and your kids like to see some ocean creatures up close? Perhaps you'd want to consider going for a dolphin or whale watching activity. Depending on the travel destination or resort you're visiting, some may offer these package tours for their guests. Usually, they'll let you rent their boat and take you to the deeper parts of the ocean to see the dolphins and whales. Make sure you take your underwater camera for some great underwater pictures.
4. Cage Diving
If dolphin and whale watching isn't exciting enough, you can spice up the experience and try cage diving. In this activity, you'll be placed in a cage before being submerged a few meters under the ocean. And because this activity lasts 20-30 minutes, you'll be provided with an oxygen tank. Then, they'll throw some meat in the water to attract the ocean's most feared creature, which is none other than the sharks.
Cage diving can provide you with an adrenaline rush like no other. As you're surrounded so closely by sharks, it's a rare experience that you and your family will remember for life.
5. Flyboarding
You've probably seen or heard about flyboarding on social media, where there are plenty of funny videos from people who attempted to try it. Although it looks difficult, it's one of the activities you simply need to try. Don't worry if your first few tries will end up being one of your vacation's hilarious or epic fail moments. Just remember that it's all part of the thrill and fun.
6. Paddleboarding
You can try paddleboarding to take a break from all that adrenaline rush. You have the option to stand or kneel, depending on how well you can keep your balance.
With this activity, you can sail calmly through the waters while you watch and appreciate the beautiful scenery. That's why some people prefer to go paddleboarding during the afternoon when the sun's setting so they have the best seat as they watch the sky in its golden hour.
7. Skimboarding
As much as some of you would love to surf and ride on some big waves, it will take several practices before you get it perfect. In contrast, skimboarding is much simpler and less technical compared to surfing. You can surf and ride with the shallow waves and jump on. It's also a perfect water activity for all ages.
8. Cliff Diving
Another perfect activity for people looking for some adrenaline rush is cliff diving. It will make you feel like you're flying for a brief moment, making it a truly unforgettable experience.
However, cliff diving is only for people who are strong and excellent swimmers. Remember that to cliff dive, you'll need to jump through deep waters and be able to swim yourself back to the surface.
Wrapping Up
Doing any of these water activities will surely give your family wonderful memories that will last a lifetime. You don't need to schedule or do them all at once. Seize each day slowly to enjoy and make the most of every activity. Hence, for your next family trip, include one or more of these water activities on your bucket list!