For sport and adventure lovers looking for the perfect city to go to for a full-on super fun and unforgettable experience, then Denver is your go-to city. Replete with countless indoor and outdoor activities and adventures for anyone to explore, the Mile High City prides itself in its ability to bring in the fun for anyone, be it a single individual looking for a solo fun time or a group of adventurers looking to create unforgettable memories.
Whether you prefer indoor sporting activities or outdoor ones, Denver City has you covered full time, and if you or your friends plan on boarding the next fun express to Denver, here are some super fun sports activities that you should add to your itinerary and try out in Denver.
1. Paintballing
Denver prides itself on being able to provide everything for those who look for fun, including those who wish to have a mix of thrill with an extra rush of adrenaline-infused in their games. To get all that fun, you should consider Paintball in Denver.
A perfect spot for groups looking for inclusive fun, Denver has countless parks with dedicated paintball arenas designed with multiple themes, obstacles, and rules to make your time fun.
Two of the best and most recommended paintballing spots to look out for include Blitz Paintball and the American Paintball Coliseum. A trip to these arenas will forever change your views on paintballing.
2. Rafting
For all the water/sport adventure lovers out there, know that Denver has just the thing for you with its unique rafting excursion.
Enjoy a thrilling ride at the 10-mile stretch of the Lower Clear Creek, also known as the Double knife or Terminator and Hell's Corner, and for the newbies and moderate gangs in rafting, a trip to the Upper Clear Creek would be worth your time.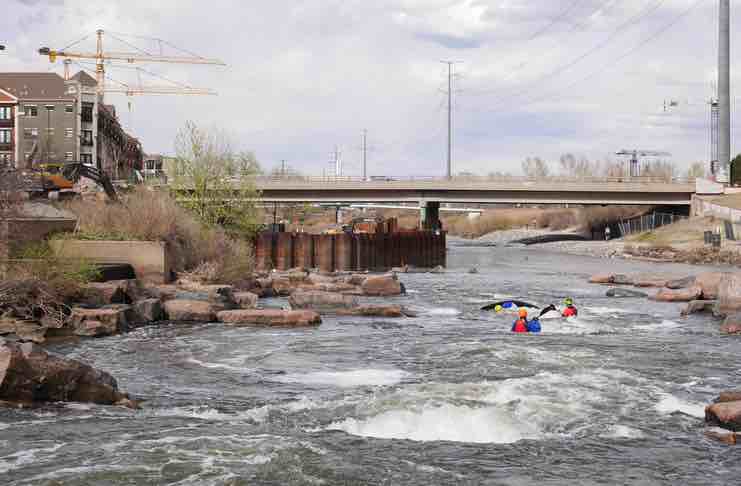 3. Mountain Climbing
Just as there is room for hiking, there's also room for mountaineering. A good outdoor sports activity that anyone can enjoy in Denver would be a nice climb up one of the tallest mountains in Colorado, Mount Evans.
With over 14,000 feet tall, this beautiful landscape offers you the opportunity to scale through its walls or walk through its easily accessible path while taking in the full glory of the native wildlife located in the area.
4. Zip Lining
Do you want to enjoy the beauty of the Mile High City from above, how about taking a zip line ride at the Colorado Adventure Center for some breathtaking views of Denver. And if you feel that it's too low for you to take in all the glory of the magnificent city, a 250 feet high view of the city at the Boulder and Idaho Springs should do the trick for you!
5. Hiking
For outdoor lovers looking to connect with nature while having their adrenaline pump full time, hiking in Denver's numerous trails and rocky areas is the perfect activity for you.
You can choose from countless locations to experience nature, from the 14,000 feet Pike Peaks to the iconic Garden of the Gods, or enjoy the trails of the Rocky Mountains, and many more. Be sure to come prepared with your best-hiking boots, a camera to take all the awesome pictures, and of course lots of water to stay hydrated.
6. Car Racing And Drifting
For some indoor action without losing the adrenaline pumping through your veins, the Unser Karting Center, one of the best race-car tracks offers you and your group the opportunity to enjoy some friendly and competitive racing and drifting experience. Enjoy the winding and turning tracks as you race and drift through for a fun-filled time.
7. Real Life Scavenger Hunts
How about some adventure for glory and gold? One of the many ways Denver gets to keep its residents and visitors excited is through countless open-air, and city-themed scavenger hunts. Through mobile-operated challenges, you get to explore every part of the city in search of clues and discover hidden gems beyond your imagination.
8. Skating And Biking
There's no doubt that Denver is the home of a variety of sports. That's why you shouldn't be surprised to see skate and bike parks all over the city. You get to choose from countless options like the Boulder Valley Velodrome, Ruby Hill Mountain Bike Park, the Progresh, Valmont bike Park, the Downtown Denver Skatepark, and many others.
In these places, you can try out all the stunts, tricks, and styles you so wish on bikes and skates to your heart's contempt.
9. Extreme Sports
As earlier mentioned, Denver is home to all sports, including extreme sports. How would you feel knowing that you can enjoy some tumbling parkour, skiing, bicycle or bike motocross, snowboarding, and much more in Denver? Yes, you can access all of these thrilling sporting activities in places like Progresh, the Ruby Hill Rail Yard, Boulder Playpark, and many other locations. Sounds exciting right?
10. Diving, Snorkeling, And Scuba Diving
While there are extreme adventures to do on the land, those in the aquatic world are also not left out. At the Downtown Aquarium, you can do much more than just sight the more than 15,000 species of fish, plants, and animals found within the facility. You also get the opportunity to snorkel or scuba dive alongside sharks, eels, squids, and much more.
Conclusion
Denver is the home of activities and the Mile High City never disappoints when it comes to fun and sporty activities for all ages. We hope that with the list above you can plan a fun-time trip filled with fun memories for a very long time.