Fall is an amazing time to visit Europe. The weather is still warm, but it's quieter than during the summer months—you'll get a chance to see the best parts of each city without the crowds!
Traveling out of peak season is also a great way to manage costs. You may be able to find cheaper flights and accommodation outside the school vacations.
Fall is a great time to visit any area of Europe. To help you decide, we've selected some of the top cities for your autumnal break.
Before we get started, you should be aware that ETIAS is expected to be operational by the end of 2023. As a U.S. passport holder, you don't need a visa for short trips to the European Schengen Area, but you will eventually need this new electronic travel authorization. Be sure to check the requirements before you travel.
Amsterdam
Amsterdam is a great city to visit in the fall. It's full of beautiful canals, museums, and restaurants. There is also plenty of shopping and nightlife for those who want to stay out late.
Some other things to do include visiting the Van Gogh Museum and The Anne Frank House. You can also go on a canal cruise or rent a bike and explore the city as the leaves turn golden.
Madrid
A major tourist destination, Madrid has a thriving nightlife scene that centers around its famous Plaza Mayor. It also has an excellent food scene with many traditional Spanish dishes to try. There are countless museums and galleries in Madrid to explore as well!
You'll likely enjoy some sunshine during your stay, even though temperatures will be cooler. Enjoy sunny fall days at the city's many beautiful parks and gardens, including Retiro Park and the Botanical Gardens. Madrid is also known for its museums, including the Prado Museum, which houses one of the most important collections of art in the world.
Watch this to get a glimpse of the Botanical Gardens in Madrid:
London
London is an ideal destination for history buffs, foodies, and fashionistas. You can shop until you drop at Harrods department store or stroll through the famous Piccadilly Circus before enjoying a meal at one of the city's many culinary hot spots.
If history is more your thing, visit Buckingham Palace and take in views of Big Ben and Westminster Abbey. There are many world-renowned museums such as the Natural History Museum, Victoria and Albert Museum, and the British Museum that are perfect if you need to escape from the rain.
Edinburgh
Edinburgh is a beautiful city to visit at any time of year, including fall. There are lots of pubs and restaurants where you can enjoy great food and drink, as well as art museums that show off the best of Scotland's art.
It's a wonderful city for lovers of art and literature, with lots of museums and galleries showing off Scottish history. Edinburgh Castle is one of the top attractions in Scotland and is great to visit all year round.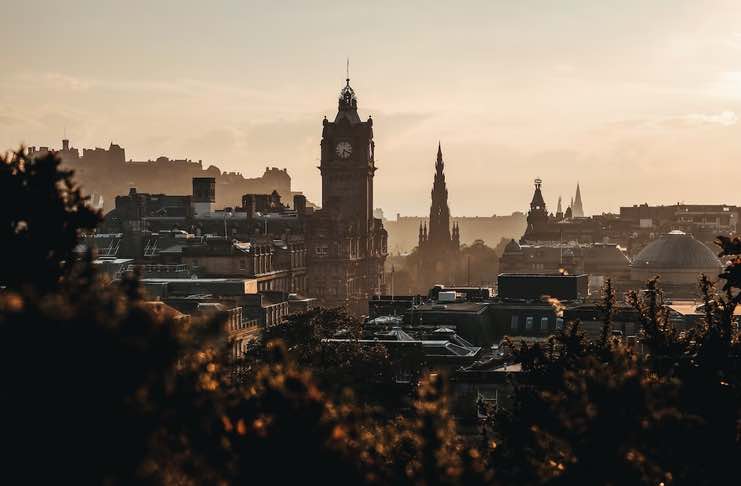 Geneva
Geneva's location by Lake Geneva makes it an ideal place to visit year-round: you can take a boat tour through one of Europe's largest lakes or hike through one of its nature reserves. You can also see some of Europe's finest art museums or explore historical sites such as Mont Blanc Bridge.
Just be sure to pack some warm clothes if you're heading to Geneva in the fall. The average temperature in November is just 41 ºF and you could even get some snow!
Here's a shot guide to what to do in Geneva:
Budapest
Budapest is one of Europe's most beautiful cities. It has many attractions for both tourists and locals, but it's especially well-known for its museums and galleries. Some of the most famous are located in Buda Castle on top of Castle Hill overlooking the rest of Budapest.
To enjoy the autumnal colors, visit Budapest Botanical Garden, Fuveszkert. This huge space has more than 7,000 plant species and it is the perfect space to enjoy some fall sunshine.
What to take when traveling to Europe in the fall
Fall is one of the best seasons to visit Europe. The weather is perfect, the leaves are changing colors, and you can enjoy all the best tourist attractions without the crowds. But if you're planning a trip to Europe this fall, make sure you pack the essentials!
A scarf – It can get cold in Europe at night, so make sure you have a scarf that's warm enough for the season.

Comfortable shoes – You'll be walking all over town and seeing tons of sights, so it's important that your shoes are comfortable enough to handle all that walking.

Rain jacket – While it might not rain much during your trip, it's good to have a rain jacket just in case!

Good camera – You'll want a camera with good zoom capabilities so you can take photos of everything from up close or far away!
There are so many beautiful places to visit in Europe this fall. I hope this list inspires you and gets you excited about your next European getaway.