Electric bikers would agree that when it comes to commuting, there are cities in the US that are more conducive for regular commuters. This is purely because some cities are built with infrastructures and characteristics that are favorable to e-bikers. Some favorable traits include easy access to public transport, better travel options within the city, and a walkable city. It's all about getting to work, and other places you visit on a daily basis conveniently, offering a more sustainable lifestyle.
Want to know more? Find the list of top cities in the US for electric bike commuting down below.
Top 10 US Cities for Electric Bike Commuting
For many people, cars or public transportation are not always an ideal mode of transportation to work or other places that they have to visit on a regular basis. In fact, if you compare other options with e-bikes, you'll know that e-bikes have certain advantages. If you are commuting to work, and your mode of travel is not all convenient for you, you may want to consider shifting to an electric bike. But before you do that, find out if your city is included in the list of top US cities for electric bikers.
1. Miami
The very first city that made it to the list is Miami. It's located in the south of Florida. Miami has a population of just over 400,000 people. This beautiful city is probably the most e-bike-friendly city out there due to its all-year-round warm climate, with an impressive bike and walk scores.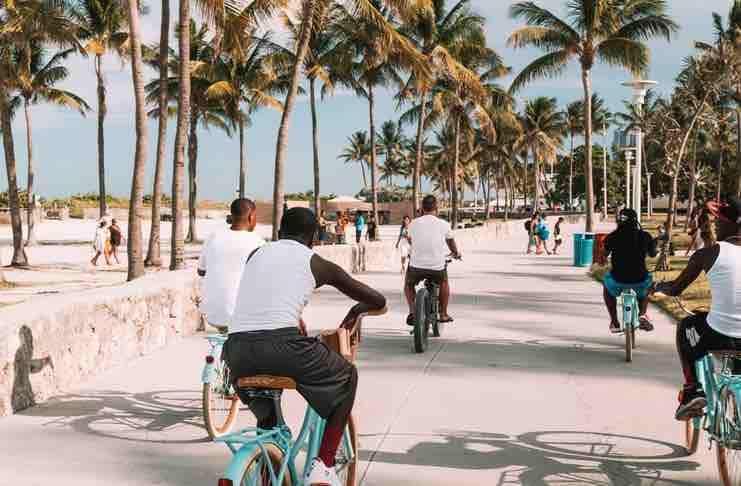 2. Seattle
Seattle is known for its rainy days, but don't let it mislead you in any way. It is still considered to be one of the best cities in the US for e-bikers. Did you know that it only showers from October to April, and it's dry season for the rest of the year, making the city a walkable one too. Multiple bike lanes are built in the main streets across the city, making it a fantastic bike city.
Check out this clip for some Seattle bike tour tips:
3. Philadelphia
Although Philadelphia, commonly known as Philly has a cold climate, it still does not keep it away from being on this list. Over a million people live in this city, and it has become one of the most bikeable and walkable cities in the US. Bike lanes are built all across the city for residents to commute conveniently and safely.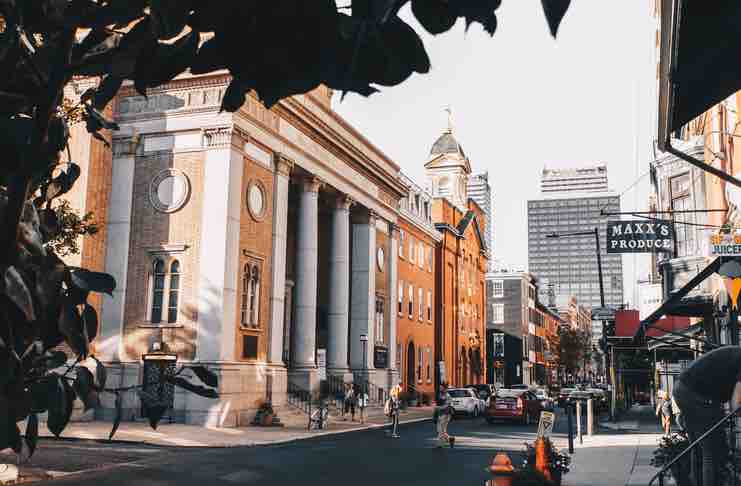 4. Washington D.C.
The nation's capital, Washington D.C welcomes a huge number of tourists all year round, adding to its residents' hustle and bustle. The great news is that despite its population, it is impressively receptive to bikers, especially e-bikers, making it easy to commute to work and enjoy the nightlife.
Unlike many other cities, Washington D.C offers a lot of things, and you can surely choose your e-bike to make the most of it. Its streets, public transit, and infrastructure also encourage a great biking experience during winter.
5. Chicago
Regardless of being windy, Chicago is another top city for electric bikers to commute to and from their destinations easily. It proudly identifies as the largest Michigan city with a population of over three million.
It has excellent biking and walking scores and hence ranks as one of the tops biking cities in the U.S.
Check out this clip to one of Chicago's best bike paths:
6. Boston
Another top bikeable city is Boston. This city was founded with a very dense downtown earlier, which is now growing rapidly into its neighboring areas, such as Cambridge, a major suburb of Boston.
It is home to many world-class companies and is on the rise in terms of livability, making it an excellent choice for electric bike owners to go around with convenience. If you are considering a move, Boston should be at the top of the list, as it ticks all the boxes for e-bikers.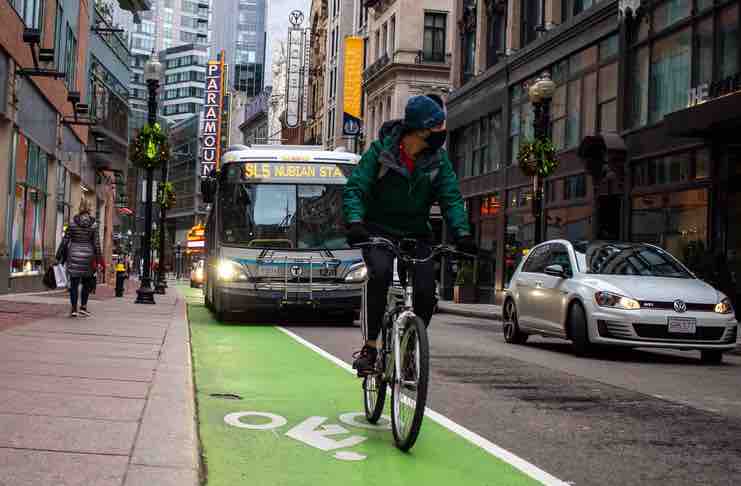 7. San Francisco
Located by the bay, San Francisco is a famous city for many reasons. Luckily, the uphill landscape of this city has not stopped attracting electric bikers to choose this mode of transport for their regular commute. It is probably because of the warm weather that encourages them to bike throughout the year. Similar to Boston, it is also growing rapidly offering heaps of employment, meaning you can always consider this city for a better life.
Check out how it feels to ride a bike in San Francisco:
8. Denver
Denver is a hilly area located up in the mountains. Despite its landscape, it is still made it to the list of top cities in the US for electric bikers. Here's why – it is a great choice for bikers to get around due to its bike-friendly infrastructure.
Many people choose bikes over public transport to commute to work on a daily basis. Denver has also been listed as one of the top healthiest cities in the U.S, and the locals encourage this mode of transport to support health benefits, making it a winning city for electric bikers.
9. Minneapolis
Minneapolis particularly has been recognized as one of the best cities for e- bike commuters. It has a relatively higher walkable and bikeable score, encouraging more and more people to shift to owning bikes for their daily commute.
You can easily get around from one end of the city to the other riding an e-bike, especially around the downtown area of Minneapolis.
Watch this review of a Midtown Greenway Minneapolis bike trail:
10. New York
This city probably does not need an introduction. The greatest city in the world, New York is extremely bike friendly. It is the capital of finance, history, industrial growth, and the central hub of most things, even though it is not the capital city of America.
If you're in New York, you'll be surprised to observe the number of people on the streets biking away instead of taking the subway or other modes of public transport. New York is a busy city, and if you're a resident, you should try to go around New York with an e-bike, and there's a high chance that you'll never want to go back to other modes again.
Conclusion
There's no reason to feel discouraged if your city didn't make this list. Other cities such as Austin, Portland, Los Angeles, Boulder, and a few others also take pride in their bike culture. Every bikeable city has its perks for e-bike rides, plus don't forget the additional health benefits of riding your bike to and from work every day. It's a money saver and great for the environment too.
Let us know if your city should be recognized as one of the top cities in the U.S for electric bike commuting. Thanks for reading.