Just recently, Governor Cuomo announced the legalization of e-bikes in the State of New York. This is particularly exciting news for New York City, as the need for sustainable alternatives to vehicles, is becoming increasingly apparent. This legalization was done with delivery drivers in mind, to reduce the unfair fines and restrictions they are often faced when doing their job. Ready for your e-Bike trip in New York?
Although e-bikes are now legal to rent, there are some restrictions put in place to protect pedestrians and drivers. Class 1 and Class 2 e-bikes must have a maximum speed of 20 miles per hour, and Class 3 e-bikes must have a maximum speed of at most 25 miles per hour. All e-bike drivers under 18, as well as all Class 3 e-bike drivers, are mandated under state law to wear helmets.
The state also gives local governments the right to enforce Class 1 and Class 2 e-bike drivers to wear helmets. On top of that, e-bikes are prohibited from being on the sidewalk, and riders must be at least 16 years or older. E-bikes are growing in popularity in New York for many reasons.
It is cheaper and more reliable than other forms of transportation such as the subway, as well as being much cleaner for the environment than such alternatives. With its increasing popularity, here are five ways to get the most out of your e-bike experience.
1. E-Bike Trails in NYC
One of the best ways to explore New York City is on a bike. There are many accessible trails that go through the city and provide a wonderful view of downtown. The first trail being Ocean Parkway Greenway, in Brooklyn.
This trail, interestingly enough, was America's first bike trail, established in 1894, and goes right through the heart of Brooklyn. This trail is perfect for new e-bike riders because you don't need to ride directly on the road.
In fact, there is a designated bike route to the side of the road, giving bikers the freedom to ride, without being in the way of cars and pedestrians.
This next trail is called Shore Parkway Greenway – Verrazano-Narrows in Brooklyn and it's a great e-bike trip. It stretches 5.5 miles and some of the many things you will pass include the New York Harbor, Statue of Liberty, and Gravesend Bay, making this a great trail for sightseeing.
Arguably, one of the most popular bike trails in New York City is located in Central Park. There are actually three different pathways that riders can take which range from 1.7, 5.2, and 6.1 miles. For riders interested in longer pathways, the Bronx River Greenway, which is still in progress, is going to be 23 miles, going through Oak street, Bronxville, and Scarsdale Avenue.
The next trail is located in Manhattan and is the Roosevelt Island Greenway trail. Some key features along this trail include the Franklin D. Roosevelt Freedom Park, and Smallpox Memorial Hospital. For more information about trails and places to go on your e-bike click here.
2. Parking and Security
Dispersed around the city, are many city racks for cyclists to park their bikes. This is no exception for e-bikes, as most of them should be able to fit in the allotted space.
One thing to take into consideration is the desirability of the e-bike which may attract thieves, so it is important to invest in a strong portable lock to prevent it from being stolen. To find the quality bike lock, check out a handy guide on the varied bike lock models from www.carbibles.com, which will help you to make a good choice.
Some buildings even permit tenants to bring their bikes inside of the building and into their workspace. If the building has a freight elevator, this need can usually be granted.
3. e-Bike Trip Safety Tips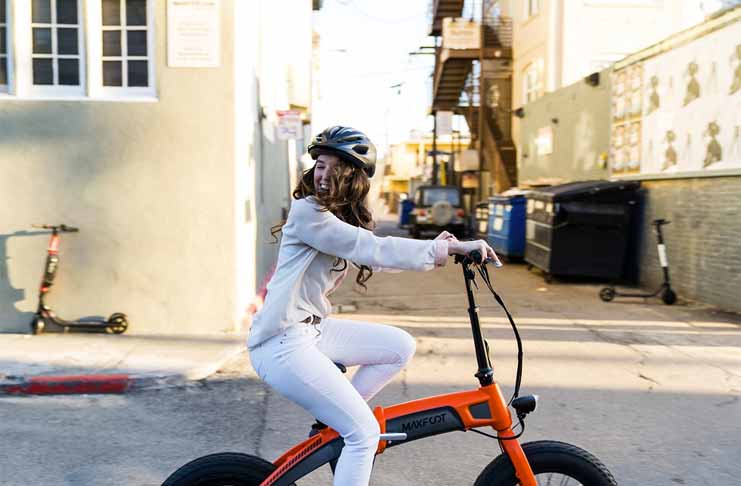 With e-bikes just recently being legalized, it is important to recognize some precautions, in order to ensure a safe ride. E-bikes are actually not permitted on sidewalks, so e-bike riders will often have to ride on busy roads with fast vehicles.
To ensure the safety of e-bike riders, these bikes are actually not permitted on any roads with a speed limit above 30 miles per hour. At night, it can be difficult for drivers to spot cyclists on the road. If you're going for a night e-Bike trip, you should make sure to wear something that stands out so that other vehicles can spot you.
This includes neon clothing, flashlights, and even certain lighting, which can be installed directly onto your e-bike. Because e-bikes are generally driven on roads with dangerous moving vehicles, it is strongly recommended to wear a helmet, and in fact, any rider under the age of 18 is required to by state law.
4. Practice Beforehand
New York City is known for its busy street life, and therefore, it is strongly recommended to practice in places that aren't necessary as busy to ensure that you have a complete grip on riding.
A great place to start is Governor's Island, as there aren't any traffic lights, and is significantly less busy than most places around the city. Each e-bike is different and it can be an adjustment from riding normal bikes.
Some have a "pedal-assist" feature, allowing you to adjust the speed through the pedals, and others may have a throttle. Either way, it is beneficial to familiarize yourself with your e-bike before going on the busy streets of New York City.
5. Cheap and Efficient Transportation
New York City is currently facing a dilemma with overcrowded roads which, granted, is not beneficial to city dwellers, or the environment. One such alternative to vehicles is the subway, which has been around since 1904.
The subway is known for being overcrowded and can get quite expensive. E-bikes provide a great alternative because of their reliability and over a short period of time become a much better investment than using the subway.
Because most e-bikes can go up to 20 miles per hour, you will still be able to transport places in a timely manner. E-bikes provide a great mode of transportation within the city, whether you are just going to work, or visiting friends.