Imagine you and your significant other on vacation, relaxing in each others' arms, sipping a glass of red wine. Outside the window is a beautiful lake, crystal clear and offering a lovely view. Things are slowly starting to open up, and it's time to plan your next romantic getaway from New York City. It doesn't get much more romantic than a retreat to a lakeside cabin, and thankfully, there are a number of easily accessible lakes near New York City that can satisfy you and your partner. Here are seven of our favorite romantic lake getaways for couples.
1. Lake George (Adirondacks)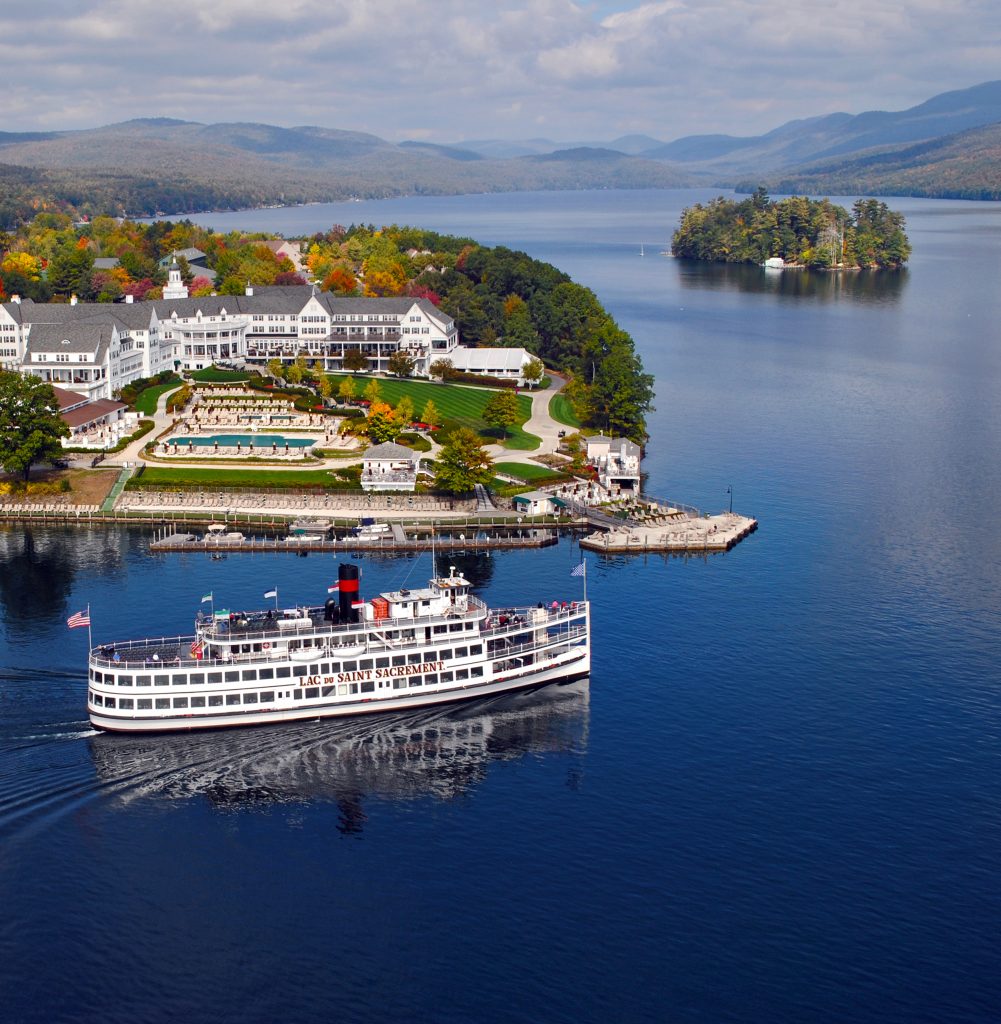 Lake George has some activities welcoming any wide-eyed couple. You could have fun cruising on the lake on the Lake George Steamboat, which runs from May to October.
There are a number of vessels you can choose from: the MV Lac du Saint Sacremen caters to the romance-loving couples by offering a dining cruise with entertainment, the MV Mohican is one for the history enthusiasts as it takes you on an in-depth tour of Lake George, and the SS Minnie Ha Ha takes you on a paddlewheel cruise, which is an enjoyable experience on its own, multiple times a day ($17.50 and up).
If you're more of a daredevil, you can stop by Bolton Landing and try out Adirondack Extreme, the largest treetop adventure park in the country. Be it climbing or ziplining, you will be able to experience hours of fun in the treetops, awakening your inner Tarzan. The season kicks off in April and concludes in November ($48 and up).
How to Minimize Your Daredevil Risks? Try 57hours
Daredevil adventures like rock climbing in the Adirondack aren't risk-free, naturally. We always recommend our travelers to minimize risks as much as they can. One great solution for this is to download the 57hours app.
These guys are in constant search for the best adventures around the world. They send their 57hours reviewers to experience these adventures and even verify client testimonials.
However, our favorite feature in 57hours is their recommendations for the best-certified guides for each trip. A good and certified guide is crucial in a bold adventure like rock climbing in the Adirondack – and 57hours get your back with this guide tip.
Once you're done having fun in the sun, you can settle down on the shores of Lake George in one of its many resorts. Takundewide Cottages, for one, offers an experience in a private lakeside cottage ($310 per night) with docks, gardens, and a large beach that will surely catch the eyes of any couple. Or you could go a bit further from the shoreline and relax at the Holiday Inn Resort ($129 per night), which is conveniently located at walking distance from Million Dollar Beach.
How to get there: Lake George is reachable by Trailways bus from Port Authority, with one transfer in Albany ($41 and up). Buses to Albany depart every four hours from Manhattan, but you may have to plan your trip ahead to catch one of the two buses (106 or 116) that go to Lake George from there daily. Visitors can also take Amtrak's Ethan Allen Express or Adirondack to Saratoga Springs before taking a 45-minute bus ride to Lake George, which is run by the same lines ($49 and up).
2. Seneca Lake (Finger Lakes, Rochester, NY)
The deepest lake in the state of New York also made it to offMetro's list of favorite romantic Lake Getaways. Seneca Lake offers a variety of activities that couples will delight in. Start with the Seneca Lake Wine Trail will allow wine aficionados to experience 35 wineries, one distillery, two breweries, and much more. You can take your partner around these various locations and choose your experience from hundreds of different wines, ranging from Cabernet Sauvignon to Chardonnay.
If you're looking to shake off the stress of living and working in the city, Issabella Spa & Salon has you covered. Indulge yourself in a Sweetheart Massage that involves service for two, not to mention decadent chocolates for you and your lover ($250 for two). Or you may want a glass of wine with that while you enjoy a Passion Pedicure ($65). Whatever the service may be, you will love this little salon that's right off the shores of the lake. No wonder it's on our list of romantic lake getaways, right?
Belhurst Castle, where Issabella's is located, can also offer you a place to stay with stunning views of Seneca Lake. The resort has two main hotels, each one giving off a different vibe.
Perhaps you'd like to awaken your inner royalty by staying in the Chambers in the Castle Hotel. Or perhaps you'd like a more modern approach and prefer to relax in a Jacuzzi in the adjacent Vinifera Inn (both ~$277 a night). You and your partner will not suffer from any shortage of romance even when you settle in for the night.
How to get there: Seneca Lake is best reached by bus from Port Authority to Aubles Trailer Park, with a transfer at Ithaca. From Aubles Trailer Park, you can take a cab for just under an hour.
There are a number of buses, run by Shortline, Trailways, and Ourbus, while the journey to Ithaca can be made on the Tompkin's County Transit's 21 bus. The whole trip would take around seven and a half hours ($86~).
3. Skaneateles Lake (Finger Lakes, Rochester, NY)
Another Finger Lakes destination along with Seneca, Skaneateles offers you the opportunity to rent your own boat, be it a pontoon or a double kayak, so you can go on a relaxing nautical excursion with your partner on the crystal clear waters of the lake. Of course, if you want to get your feet wetter, you can also rent a paddleboard or a boat tube for a speedboat to pull you around the lake. Skaneateles Marina offers both half-day and full-day rentals and is open seven days a week($185 for half-day, $275 for full-day).
If you're more into catching fish than, say, becoming one yourself, you can visit one of the many fishing points on Skaneateles Lake. According to local fisherman Frank Petrosino, the shallow north and south ends of the lake are teeming with bass, walleye, panfish, and more.
Notable fishing points include the boat launch at Pine Grove, Skaneateles Country Club, and Thayer Park. Who knows, you may be able to make both memorable Instagram moments and a good dinner.
The northern end of the lake offers some good accommodations for travelers. For one, The affordable Skaneateles Suites Boutique Hotel (around $87 a night) is a short walk away from Clift Park on the northernmost shore of the lake.
The Sherwood Inn is even closer to the park, right on the shore, and offers guests a beautiful view of Skaneateles' blue depths, albeit at a higher price (around $200 a night).
How to get there: Greyhound bus offers several services towards Skaneateles from Port Authority, with a transfer to a cab from Syracuse to the lake itself($171 and up).
4. Lake Clear (Adirondacks)
Lake Clear is not the most well-known lake in the Adirondacks, but that doesn't stop it from being a great tourist destination and part of our romantic lake getaways list. Lake Clear Lodge, nestled in the heart of the Adirondacks, is part of the massive St. Regis Wilderness Canoe Area.
You can go paddling in your own canoe literally right outside the door of your lodge, be it for a few hours or an entire day. Once you leave the shore, you reach the Lake Clear Outlet, a lovely spot that offers stunning views of both nature and wildlife, including resident bald eagles in action.
The lodge itself is a highly enjoyable experience, as it directly overlooks the shores of Lake Clear and perfectly captures one of the best sunsets in the area. If you don't want to push your body too much on the lodge's basketball court, hiking trails, and more, you can just sit in a chair on the waterfront and immerse yourself in the barely touched nature of the surrounding Adirondack Park.
When it's time for bed, you can choose from three themed accommodations: chalets with fireplaces($329~349 a night), lake view suites(around $250~310 a night), or rooms in the main lodge($189 a night). Whatever your choice is, you will be treated with an experience that is cozy, visually stunning, and of course, romantic.
How to get there: Amtrak's Adirondack offers service to Westport, from which it's an hour-long cab ride to Lake Clear. The entire journey will take 7 hours($182 and up).
5. Lake Champlain (Vermont)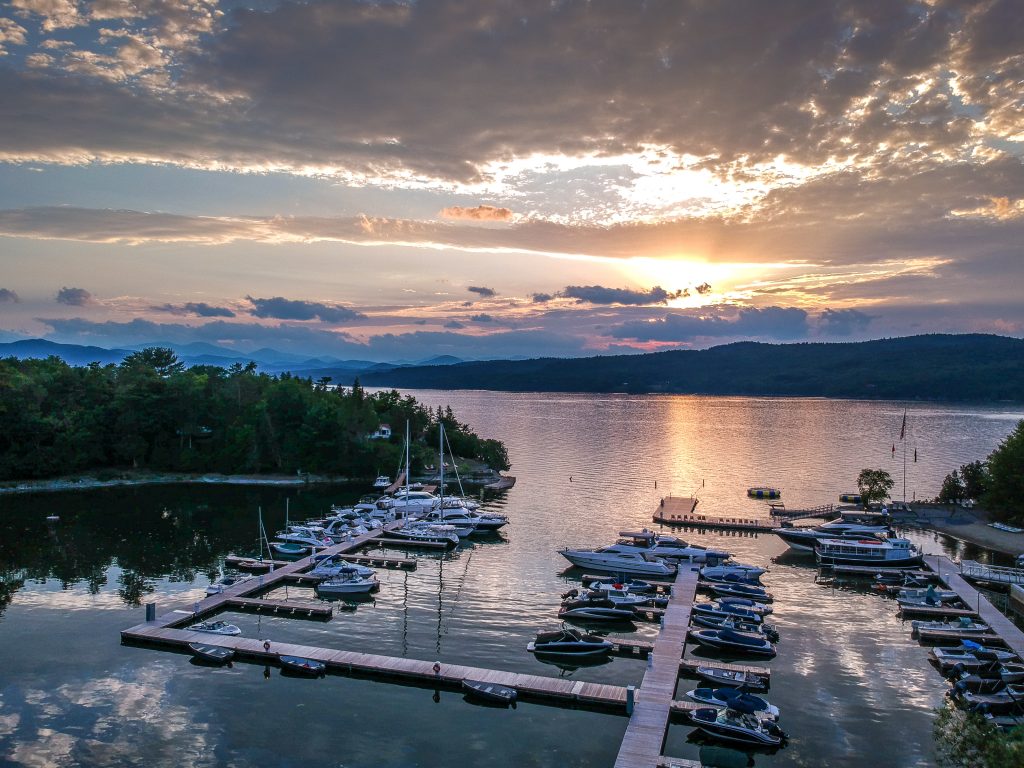 Vermont has a plethora of beautiful getaways, and of course, it has its fair share of romantic lake getaways. Among those lakes, Lake Champlain is one of the most popular destinations. Basin Harbor is a resort on the shores of Lake Champlain that has over 100 activities for visitors to choose from, whether that be a soccer/basketball game, a golf tournament, or water skiing on the beautiful waters of the lake.
More nautical activities await water-loving couples, such as kayaking and canoeing, and even shipwreck tours courtesy of the Champlain Maritime Museum's Remote Operated Vehicles(once a week in July and August, $40 for adults).
If you and your partner just want to take away all the stress that city life brings, try out one of Basin Harbor's signature massage therapies. You can choose from a packed massage menu, options including a warm stone massage ($185), an outdoor massage right by the lake ($195 and up), or even your own custom massage through consultation with your masseuse ($75 and up). Just de-stressing like that could work wonders for your relationship and make your trip even better.
Not only does Basin Harbor have a lot of options for massages, but it also has a plentiful selection of accommodations. If you prefer a more hotel-like approach, you can wind down at the resort's Champlain House, with double beds, private baths, and pet-friendly amenities. Or, if you prefer something more private, check into one of their cottages, ranging from one bedroom to three.
No two cottages are alike, but every one offers a gorgeous view of the lake from your own window. Perhaps you'd like a more modern approach and go to the Summit, where you'll be able to enjoy four-star hotel service in the resort's most recently built building($199 and up per night, depending on accommodation).
How to get there: Amtrak's Adirondack offers service to Port Henry ($70 and up), from which Basin Harbor can arrange a shuttle to the resort for a nominal fee. Guests will need to make the request via phone when making their reservation. The entire journey will take around six hours.
6. Lake Ontario, Niagara-on-the-Lake (Ontario)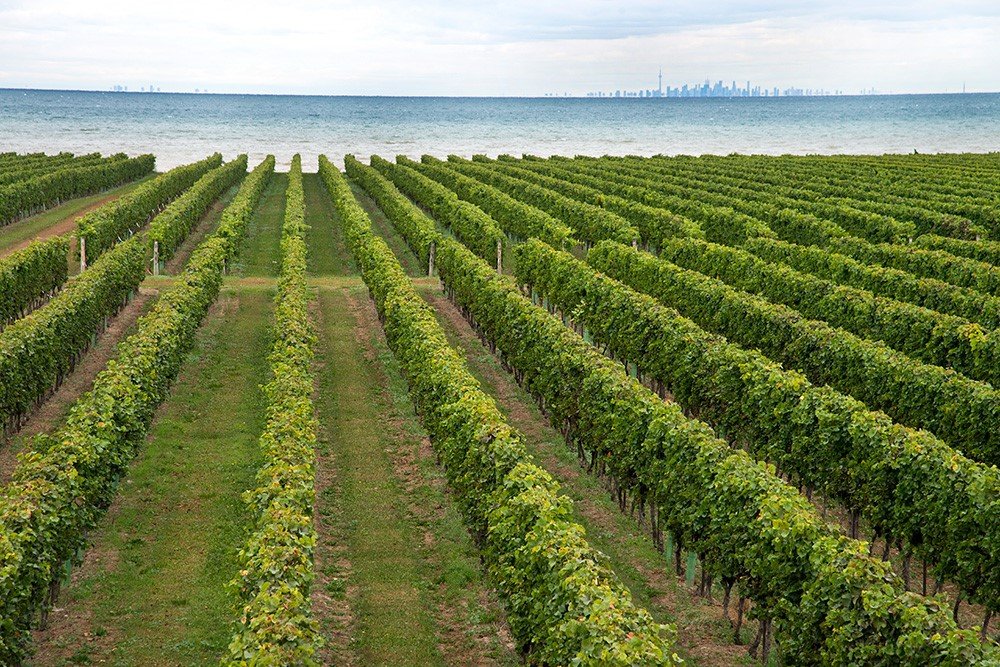 Everyone knows Niagara Falls, but how many people actually know there's a beautiful lake near it? Lake Ontario, and the small village Niagara-on-the-Lake, is a quaint, romantic setting just across the Canadian border, and is chock full of things to do despite its size.
You can start off with some wine tasting at one of the village's many wineries, such as Konzelmann Estate, which also gives guests a scenic view of a lakeside vineyard, or Inniskillin, Canada's original Estate winery. Both these wineries offer tours that include delectable wine tastings and different experiences, namely Konzelmann's Estate Cellar Experience($35 per person) and Inniskillin's Public Icewine Experience($30 per person).
If you're more of a shopping buff, the little village has you well covered. Queen Street has a plethora of shops catering to your every need, whether that be chocolates from Rocky Mountain Chocolate, a hat from BeauChapeau Hat Shop's 10,000 strong selection, or year-round, locally made Christmas decorations from Just Christmas. Because we all know it's never too early to start celebrating Christmas!
For accommodations, try the Prince of Wales Hotel ($410 a night), right on Queen Street. The Victorian-inspired hotel's classic wooden furniture and ornate silk decorations will delight travelers in comfort fit for a king and queen (or two kings or two queens).
How to get there: Amtrak provides service to Niagara Falls, where you can take a cab to Niagara-on-the-Lake($60 and up). The entire journey will take around 10 and a half hours.
#7 on our Romantic Lake Getaways List is…Elk Lake (Adirondacks)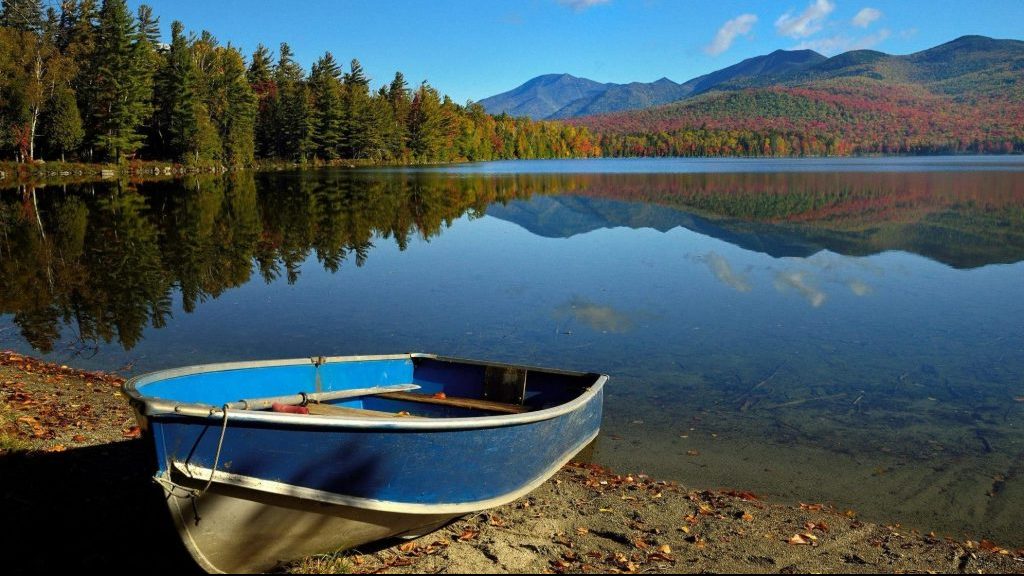 The Adirondacks have no shortage of beautiful lakes, and it would be a shame not to include Elk Lake on our list romantic lake getaways. The upstate location covers over 10,000 acres of forest reserve and is flanked by mountain ranges Dix, Macomb, Nippletop, and Colvin Range. Elk Lake Lodge is the perfect destination for this particular lake.
The many amenities in the resort are only accessible to guests, which allow for a nice, private excursion just for you and your special someone. You can sit by the lake and bird watch for loons, great blue herons, black-backed woodpeckers, and more while keeping your eyes peeled for other wildlife, maybe even a bear or a moose.
As with multiple lakes on this list, Elk Lake is a fisherman's haven, with trout and salmon plentiful in its depths. Rowboats and canoes are also available to guests. Professional guides are available through advanced booking.
If you want to observe the lake from afar, try one of the nearby 40 miles of hiking trails, again, only available to guests. One notable thing is that there is no phone service on the lake, so you will be able to be fully alone with your partner, enjoying each other's company to the fullest.
Elk Lake Lodge has nine accommodations to choose from, ranging from the Main Lodge to the Hadley Cottage. Almost all of the cottages and lodges have views of the lake and are located only a few minutes walk from the lake's shoreline($125 and up a night for Main Lodge, $225 and up a night for cottages). The resort only houses 40 to 50 people maximum at a time, so it makes for an incredibly intimate and private atmosphere that you can happily share with your significant other.
How to get there: Amtrak's Adirondack line will take you to Ticonderoga station($70 and up), where you can pre-arrange a pickup to the lodge. The entire journey will take just under six hours. Otherwise, the lodge can also pick you up from Lake Schroon Bus Station, which is serviced by Greyhound from Port Authority, with one transfer in Albany($61 and up). The journey will take about seven and a half hours.
Teddy Son is a writer who's dabbled in a variety of different fields; local news, museum exhibits, luxury establishments, sports, and so on. Travel has always been a passion of his: he's been to eight different countries in three different continents, and has loved exploring everything different places have to offer. Outside of writing, he hails from the glorious nation of South Korea, and is a huge FC Bayern Munich fan.