The Maya civilization was a Mesoamerican culture whose vast kingdom extended from what is now southern Mexico. It stretched through Guatemala, Belize, Honduras, and El Salvador. They constructed remarkable cities and complex systems of roads. The Mayans controlled the area for hundreds of years. They were master astronomers, mathematicians, artists, and skilled farmers.
Geography and History
Costa Maya Ruins Tours offer a fascinating look into the history and culture of this incredible civilization. Costa Maya was once a quiet community of fishing villages tucked away between the Caribbean Sea and the Gulf of Mexico. Now Costa Maya is a gateway to incredible ancient Mayan ruins.
According to the travel experts at Indus.Travel, Most of the Mayan ruins you'll travel to see are fabulous gems hidden in dense jungle. Over 1,000 Mayan settlements have been found, most buried under lush vegetation. You'll see gorgeous tropical flowers and dozens of different species of mammals.
Some ruins have only been recently excavated and cleared. Revealed in all their splendor, they will give you a glimpse of how these ancient civilizations lived.
Memorable Ruins to Visit on Costa Maya Tours
The Chacchoben Mayan Ruins
The Chacchoben Mayan Ruins site covers 10 acres of lush greenery and silent history. It is 90 kilometers west of Costa Maya and is only around 50 minutes from the Costa Maya Port.
Only part of the site is currently open to the public.
Around 1000 BC, the first towns in the Chacchoben ("place of red corn") area were established. Chacchoben had developed to become the most revered ritual center by 360AD. And Gran Basamento is its most important ritual plaza.
Temple One stands over the tropical forest canopy, symbolizing Chacchoben's old civilization's beauty. These spectacular constructions are well worth visiting.
Dzibanche Mayan Temples
Dzibanche is one of the most impressive Maya ruins sites accessible from Costa Maya. And a fantastic example of Maya architecture and urban planning.
The tour's grand finale is climbing Kinichna's acropolis, which rises above the treetops for stunning vistas of the jungle. The site is far from the masses, ensuring a tranquil setting. This is ideal for exploring and enjoying the relaxing sounds of the jungle.
Recent excavations have found graves with precious jade tributes for members of the ruling family. Inscriptions on the jade offerings show that Dzibanche was the home of the most powerful Maya dynasty.
The Kohunlich Mayan Ruins
There's another awesome treasure you can find in the state of Quintana Roo. Surrounded by lush jungle and ringing with howler monkey shrieks, the Kohunlich ruins are draped in moss and grass. It's a fascinating bit of Mayan history.
The 21-acre location is mostly unexplored. It was not a large city, but it was thought to have been a stopover for commerce between capitals.
The Temple of the Masks, a temple lined with huge stucco masks, is the most remarkable feature here. There is also the 27 Steps building. This is a climbable structure with a beautiful perspective of the city from the summit.
Chichen Itza Ruins
Chichen Itza is well-known worldwide as one of the New Seven Wonders of the World and one of the largest Mayan cities in the state of Yucatan. It is a "World Heritage Site" and is definitely something to see.
Especially the El Castillo – a mathematically and scientifically designed step pyramid. The pyramid best demonstrates the Mayans' knowledge of astronomy. This is the site's biggest structure and is set on a cliff overlooking the mesmerizing sapphire blue Caribbean Sea.
There are 365 steps (one for each day of the year), and a shadow shaped like a serpent appears on the pyramid twice a year. This is a tribute to the most important Mayan god, Kukulcan, a feathered serpent.
Coba Ruins
Coba, unlike its neighbors Chichen Itza and Tulum, has remained relatively unnoticed. Thick jungle too dense to enter surrounds the ruins, and it wasn't open to the public until the 1970s.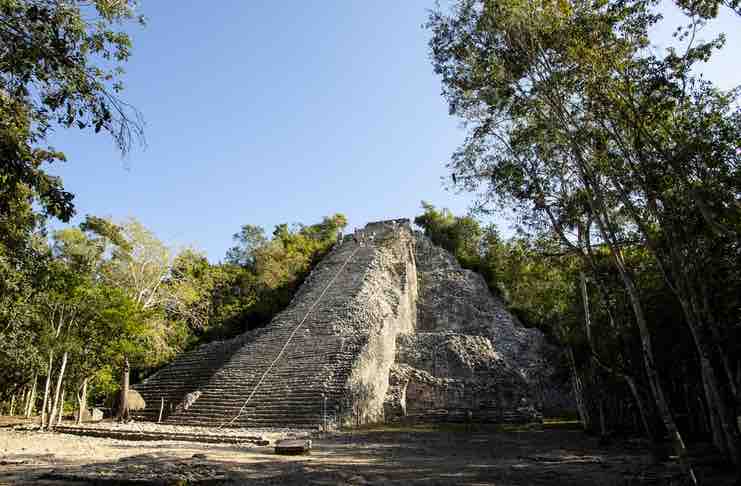 Only a small part of the site has been excavated today, although it is one of the largest Mayan towns. It spans approximately 30 square miles. Contact local bicycle rental businesses and hire a bicycle to explore the four square miles open to the public.
The best thing about Coba is that it's one of Mexico's few remaining archaeological monuments that visitors may climb. The main structure, Nohoch Mul, is the pyramid to scale. It's a tough climb up steep, slick steps, but well worth it for the breathtaking views.
Tulum Ruins
Tulum's coastal ruins are almost as well-known as Chichen Itza. The site's original name was Zama, which means "sunrise." With over two million visitors every year, it is one of Mexico's most popular landmarks. It's easy to see why: the sunrises here are stunning and well worth the early alarm call.
Around the 13th century, this city was at its peak. It served as a link between the Yucatan Peninsula, the people of Honduras, and other parts of the Gulf of Mexico.
You'll find crystal clear water and sugar-colored sand beneath the ruins – perfect for a refreshing post-tour swim.
What to Take With you on Costa Maya Ruins Tours
Be prepared for long hot trips through the humid jungle. Take water and something to wipe your face and arms. You'll find it wonderfully refreshing and cooling. Most important, wear comfortable walking shoes or boots. You'll want to be able to wander around the sites in comfort.
Watch this video to get a glimpse into the Mayan Ruins in Costa Maya:
In Conclusion
Make sure you contact local guides rather than foreigners. A guide is best unless you are familiar with the sites and Mayan history. Go before midday to avoid the massive tour buses and cruise ship crowds.
Even if you manage to visit one or two ruins, you won't regret it. These spectacular constructions give you a taste of Myan culture and family life. And Chunky Monkey offers the best and most unforgettable Costa Maya Ruins Tours.