Planning a trip to Mazatlan in Mexico? You've reached the right place. As situated along the Pacific Ocean on Mexico's west coast, Mazatlán is both a colonial city and a beach resort tourist town. Featuring tens of miles of beaches and warm weather — especially by Northeastern U.S. standards — it is an ideal year-round destination for snowbirds and international tourists alike.
With a documented history dating back to 1531, Mazatlán is currently close to 500 years old. As its large port accommodates Mexico's largest shrimp fleet, Mazatlán is also renowned as a North American hotspot for freshly-caught seafood.
I recently had the pleasure of visiting Mazatlán as a guest of the Pueblo Bonito Mazatlán Beach Resort. Voted to "The 25 Best Resort Hotels in Mexico" list by readers of Travel + Leisure, the Pueblo Bonito Mazatlán Beach Resort is reportedly one of eight award-winning properties within the Pueblo Bonito Golf & Spa Resorts portfolio.
One of the Pueblo Bonito properties offering luxury all-inclusive options, this elegant property indeed overlooks the Pacific Ocean and a private beach. Simply put, every meal I had on-site featured both excellent cuisine and hands-on service, while the views from all angles — including my third-floor hotel room, the pool and beach areas, and the lobby — were all stellar; I don't see how I could ever tire of the breakfast buffet at Cilantros.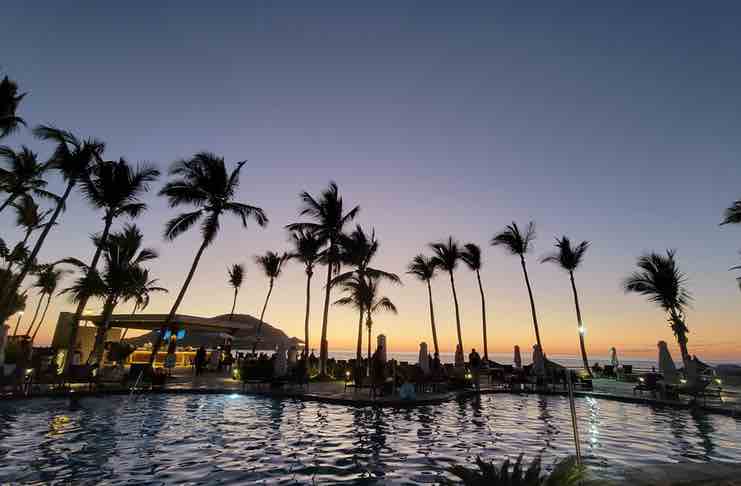 Thanks to the kind folks of the Pueblo Bonito Mazatlán Beach Resort, I had plenty of opportunities to experience off-property destinations all around Mazatlán. Some of those highlights and local recommendations, should you be heading to the area:
El Faro Lighthouse
Also known as "The Old Lighthouse," the El Faro Lighthouse is one of the highest lighthouses in the world. It is located on a hill at the entrance to the Port of Mazatlán.
You can get there via a fun hike — said to be around 745 meters — and at the top of the hill, you can step onto a glass-bottomed lookout that extends out from the hill. Be sure to wear sunscreen and comfortable shoes for this one, as it can be an intensive hike in the hot sun. Volunteer tour guides are available.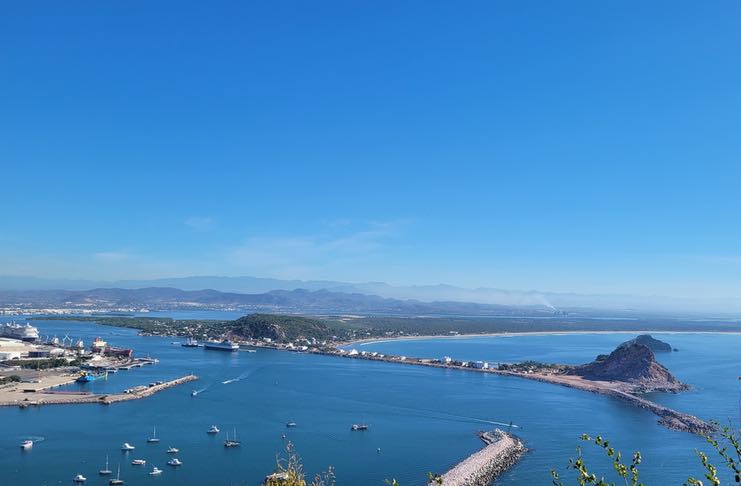 Observatorio Mazatlán 1873
Another notable and elevated historic site, the Observatorio 1873 is situated at the top of Cerro del Vigía. Before getting on the Funicular to go upstairs, visitors see a short film about the history of Mazatlán which helps to explain close to 500 years of history in about 10 minutes; a staff member kindly offered complimentary popcorn before the screening started. Once up the hill, you can see furniture from the Porfiriato era and visit a fantastic, intimate, unique bar with impressive city views (see the first featured image above!).
Colonial City
Mazatlan's historic center area, as shown in the Observatorio Mazatlán 1873's introductory video, is sometimes called "Downtown Mazatlán." While visiting the area — which visually resembles New Orleans' Bourbon Street in some spots — I had one of the best meals of my life at Casa 46.
Prior to that unforgettable dinner, I got a quick private group tour of the Teatro Ángela Peralta, named after the legendary local opera singer Ángela Peralta. I hope to catch a live performance within this historic 800-seat venue on a future visit.
Watch this to get a glimpse:
Callejón Liverpool
Down the road from the Pueblo Bonito Mazatlán Beach Resort is Callejón Liverpool, or "Liverpool Street." A tribute to Liverpool, England's top exports — especially The Beatles — it features a replica of the Beatles' home venue The Cavern Club, and an Abbey Road-era band statue you can pose with. On a future visit to Mazatlán, I look forward to experiencing the nightlife and pub fare of this very festive street.
El Quelite
Just a half hour away from central Mazatlán by car, the charming town known as El Quelite offers its visitors an opportunity to discover and enjoy an authentic Mexican town. While in town, I had a fantastic lunch at El Meson de Los Laureano and experienced some on-site cheese-making.
Watch this:
While three nights may be "too much" in many destinations, it proved not to be enough for me in Mazatlán. In turn, I hope to return to the city in the near future, and already have a few hand-picked destinations in mind for then, including:
Acuario Mazatlan
A world-class aquarium is currently under construction — rumored to cost around $95 million — and scheduled to open in March 2023.
Spa At Emerald Bay
A state-of-the-art, 16,500 square foot spa that includes steam rooms with aromatherapy, Swiss and mist showers, and hydrotherapy resources on-site.
Estadio Teodoro Mariscal
Home of baseball's Venados de Mazatlán, was built in 1962 and renovated in 2018 to hold 16,000 spectators.