If you're planning a trip to Cornwall, England in 2023, how about adding some historical sites to your list of places to visit?
With historical places dotted all over the Cornish lands, your Cornwall breaks could feature a slice of history with each visit. So, let's take a small tour through some of the places you could be wandering around on your next trip to Cornwall.
Scroll to unearth some historical places.
St Michael's Mount
Discover, what looks like a real-life Disney castle, sat on top of a mount, surrounded by Cornish waters. Part of the St Aubyn estate, the castle sits at the very top, surrounded by subtropical gardens. To make this even more of a fairy-tale, Disney-like place, the only way to access the estate and the castle is by crossing the tidal causeway.
As for the history of the place – there are lots of myths and legends surrounding St Michael's Mount, some dating back thousands of years. One myth is of seafarers being lured towards and onto the rocks by mermaids, with some even claiming to have been guided to safety by an apparition of St Michael, himself.
Will you unlock further myths and legends when you cross the tidal causeway and explore St Michael's Mount?
Watch this to get a glimpse:
The Minack Theatre
A place that was once just a clifftop with a ninety-foot drop to the sea, is now a place dripping with theatrical drama and history.
Named after the Cornish word 'meynek', which means rocky place, The Minack Theatre was created by Rowena Cade and opened in 1930. Now offering over 200 live performances each year, including musicals, operas and children's events, the open theatre attracts over a quarter of a million visitors each year.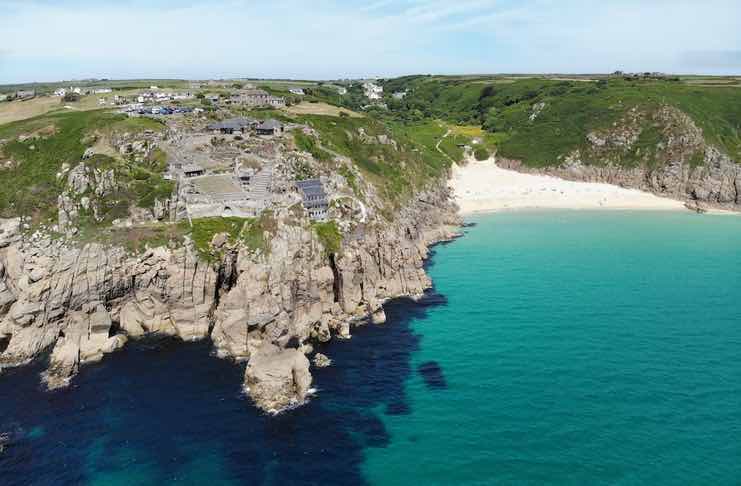 If you haven't visited The Minack Theatre before, they suggest a few things to consider before visiting:
Accessibility –Due to the site being on a cliffside, not everywhere is accessible for wheelchair and disabled visitors. There's wheelchair access to the top levels, where you can find the café, shop, toilets, exhibition, and a balcony with breathtaking views overlooking the theatre and the bay.

Be prepared for the steep steps – wear suitable footwear.

If attending an afternoon show, it can get very hot, so wear a hat and sunscreen.

If attending an evening show, the temperature can quickly change, so bring warm clothing and a blanket.

The theatre seating is concrete or grass, so bring a cushion or blanket to sit on.

Dogs are welcome during visiting hours, but no dogs, except guide dogs, are allowed to attend performances.
Tintagel
Explore over 1,500 years' worth of history hidden within Tintagel, and discover how the Arthurian legends and stories have inspired the site and castle you can visit today.
Not only can you visit the ruins of Tintagel Castle, but you can explore Merlin's Cave, and medieval garden ruins, have your photo taken with a statue of King Arthur and so much more – all whilst looking out to the Atlantic Ocean.
Will you unlock the history, myths and legends of King Arthur, as you walk the same paths he and his knights once walked?
Watch this to learn more:
Want to read more of our latest posts? Check out our post about what to do in Mazatlan, Mexico.