If you're looking for a fascinating off-the-beaten-track destination that is easy enough to get to, but demonstrably different from the US, then it's fair to say Cuba meets those requirements. Of course, this can trigger questions of its own: for example, how will I be welcomed in a country that has frosty relations with the USA? More fundamentally, can US citizens travel to Cuba in 2022? Will I need to arrange the trip secretly? The good news is that you can relax. It is entirely possible to travel to Cuba as an American citizen, and while there are bureaucratic hoops to jump through, it's not that much different from going anywhere else.
Not
that much
different?
For sure, that little phrase might have you furrowing your brow, but let's explain. You can't visit Cuba for ostensibly tourist reasons, and believe us when we say that this allows for practically limitless wriggle room.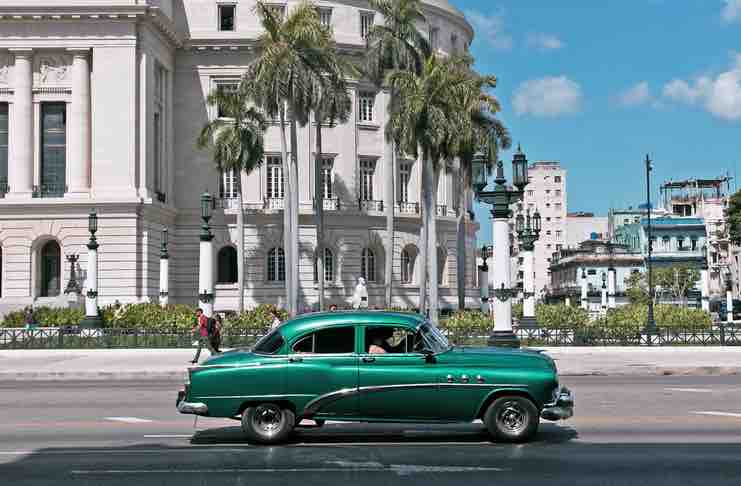 There are 12 specific reasons accepted as being valid for entry to Cuba. These include journalism, educational activities, religious reasons, and support for the Cuban people.
For clarity, the vast majority of trips will fall under that last category. If you stay in a Cuban B&B, take a Cuban taxi, or spend your money in a Cuban store, you're supporting the Cuban people.
In truth, just about anything you'd do in the context of a tourist trip to Cuba falls under this heading. You'll need to set an itinerary before you travel, and may be asked to present it to immigration on your return to the States.
This may sound punitive, but be aware that there's a 1% chance you'll be asked to present the itinerary and a 0% chance that it will be verified by the government. In other words, it's a formality – but you should create the itinerary nonetheless.
What should be included in the itinerary?
The idea behind the "Support for the Cuban people" category is that you will, through your actions bring a positive benefit to private Cuban citizens. Your itinerary should therefore show actions that achieve this.
For example, your accommodation on the island should be a casa particular (private lodging), which is a room in a family home, usually including a cooked breakfast for each day of your stay. You should eat in private restaurants during your time in Cuba – don't worry, the prices are small change by US standards. You may also attend salsa classes, take a trip to a cigar factory, visit historical sites, or do any of a number of other activities.
Here are some of the popular things to do in Cuba:
Be aware that there are some accommodation lodgings that are on a US-maintained Cuban Prohibited Accommodations List. Avoid any accommodation that is on this list, and you'll be fine.
For this reason, and a few others, it is advised that you keep all receipts and invoices for any financial transactions you make while in Cuba. File them safely for at least five years, as there is a chance that you may be asked to account for your journey at some point. You also may not, but it's better to have the documentation and not need it than vice versa.
What should you bring with you on a trip to Cuba?
Cuba is not a cash-only economy. Debit cards and credit cards are accepted in stores and restaurants. However, as there is an existing US embargo on Cuba's economy, be aware that American cards will not work, so you will need to bring cash for your trip to Cuba.
While most American citizens bring US dollars and exchange them on Cuban soil as needed, it is worth realizing that there is usually a surcharge for exchanging USD. A good way to avoid this is to exchange your dollar budget for Euros before leaving, as the Euro is not subject to this surcharge.
Visitors to Cuba are also required to have valid travel insurance covering the duration of their stay. This will ensure that you can receive medical treatment should you need it as well as a few other requirements.
You'll need to make sure your insurance is accepted in Cuba, so make a point of this when purchasing it, and bring documents to prove your insured status. Additionally, if you have medication that you use on a daily basis, bring enough for the whole trip, and clear it with the tour operator before you leave.
From an electronics point of view, the standard Cuban socket is compatible with US and Canadian plugs, so you won't need an adaptor for your chargers or any other electronics you bring. Do check with your phone provider with regard to their costs for use in Cuba.
And finally, pack clothing that will be suitable for a hot, humid climate. Loose t-shirts in light fabrics are very much advised, as are baggy shorts. Consider bringing more clothes than you need; some visitors to the island remark that the hosts at the casa particular ask them for clothes, so it's useful to have something to give as a gift.
Anything else to know about planning a trip to Cuba?
Both for the quality of service and the affordability, it is best to stay private in Cuba: as noted, private accommodation is recommended. Private restaurants offer plentiful food for anywhere between $15-30 for a full meal, cooked by expert chefs offering delicious Cuban cuisine.
Additionally, travel around Cuban cities, particularly Havana, is always best in the almendrones (private taxis). You'll recognize them as they tend to be vintage classic American cars painted in bright colors. Beautifully-restored Cadillacs and similar rides are ubiquitous in Havana.
If you happen to be traveling to Cuba for reasons of public performance or professional research and meetings, you will need an additional license from the Office of Foreign Assets Control (OFAC), so clear this in advance.
By and large, though, it's worth knowing that you can travel to Cuba and be welcomed warmly by the local people. Any hoops you need to jump through are those required by the US authorities, but they are far from onerous and won't prevent you from having a relaxing holiday to remember.