It was a Sunday and it was time to have a Brunch. Being new to the area of St. Pete Beach (for more info about it check this page on Visit Florida), we decided to try something we had not tried before. We had walked by Chill Restaurant & Bar before.
For those who don't know St. Pete Beach – take a look at this video:
It always had a nice crowd. But today we decided to give it a try. Good thing we did. Because in half an hour there was a line to get a spot. We just made it in time.
A Great Way Toi Start A Bruch in St. Pete Beach, or France?
We took a table outside in the morning sun. There was a crowd at the marketplace as we sat down and looked at the menu. Emily, who waited on us, was very kind. She answered all our questions and made suggestions.
I always ask them what they would eat if they came here. She told me her favorites and that is what I decided. It is a good way to start when the waitress tells you what she would eat. A recommendation.
We decided to keep it simple today. There is a good variety to choose from. We went for items we wanted to try.
Chill Restaurant & Bar offers a Variety to Choose From
WELCOME TO FRANCE. Or are we in a new place where we thought we had something like this before here in the US. Maybe in New York. Or is it in New Orleans where there is a combination of tastes we enjoy. We thought about this as we made our selection.
First was the CREPE with Brie and Ham. It was topped with Hollandaise Sauce. The side dish was freshly fried potatoes. This was excellent. You received two crepes that were freshly made. The flavor and the taste were ideal.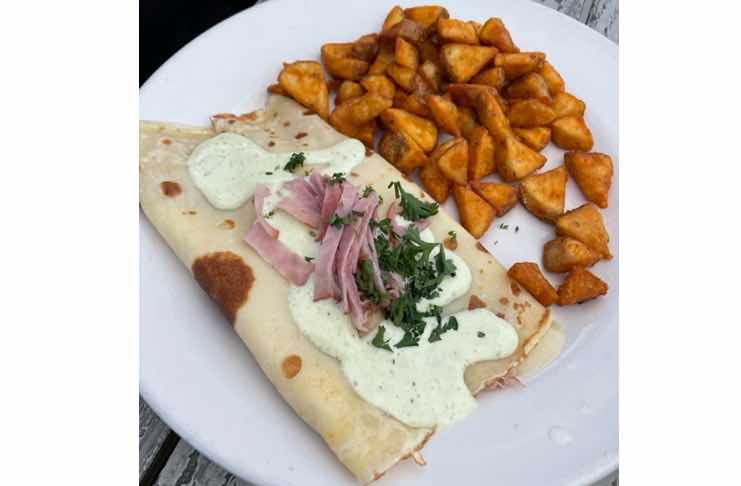 It was filled with brie and ham. Excellent. The spice and each bite you took were ideal. It has been a long time since we had this. The crepe was as they make it in Paris. We did like this.
Next, we had good old Shrimp & Grits. This was the style cooked here in St. Pete Beach. If you have it in the Carolinas or Memphis it is different. Each area creates its own version. This dish was a combination of shrimps over a bowl of rice that was topped with a semi-spicy tomato sauce.
There was even a sausage that was sliced and placed within the combination. And it is even topped with a fried egg that is over easy. Perfect. As for the shrimp, there had to be at least 12 shrimps or even more. Every bite had at least one. It was perfect. A good combination of items that was ideal with each bite you took.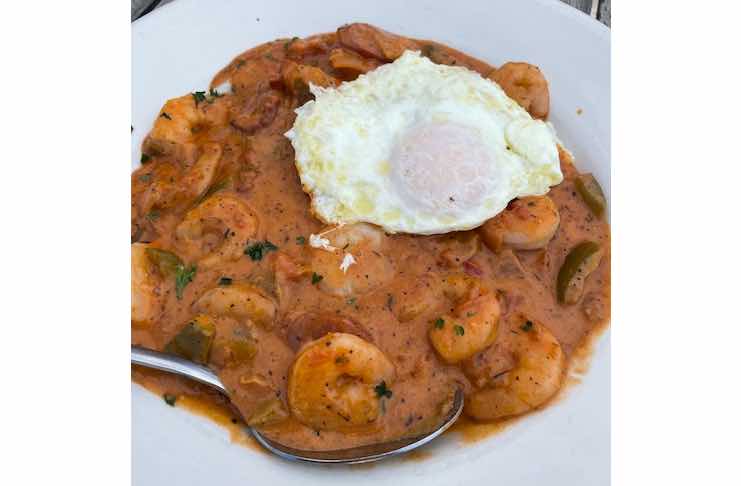 A WARM DAY. A PERFECT MEAL
We kept this simple with glasses of ice tea. Even this was freshly made and had good taste. This was not out of a container but fresh. A great item to have with each bite you took.
Being at Chill Restaurant in St. Pete Beach is like stepping into France. It is not overly Paris, but it is as if you are traveling in France and decide to stop for something to eat.
Chill is a casual-style restaurant that fuses sweet and savory ingredients to create delicious hearty dishes using only fresh, quality ingredients, with an emphasis on authenticity. Blending new American cooking with a New Orleans French technique that is simply delicious.
Owners of Chill Restaurant & Bar, Kim Beidelschies and Ken Hautmann have created a place that takes you to a place you might not have been before. It could be France. Or maybe it is back in New Orleans where there is that combination of French and Southern cooking. I do remember that well. And coming to Chill is like going back to have a meal I will enjoy today and when I come back.
We were glad we were her. Emily was very helpful. We agreed we had to come back for dinner and decide what we wanted. We already saw the menu. Thanks. Or should we say "Merci".
Check out more reviews here on Tripadvisor.
Location:
Chill Restaurant & Bar
357 Corey Avenue
St. Pete Beach, FL 33706
727-360-2445