Are you planning to visit the Spanish Capital? From going to a bar to see a flamenco show, walking along the Gran Vía, taking a beer break with some delicious tapas, to visiting museums and tourist sites, there are many activities to do during your stay in Madrid.
During your stay in Madrid, there are a lot of things you'll "need" to do like eat the famous Spanish paella, taste the local cheeses and sausages, walk around the city, watch a classic soccer match of the famous teams of the city: Real Madrid vs. Atletico Madrid. You'll also want to explore the vibrant nightlife of Madrid, visit its remarkable museums where hundreds of years of Spanish tradition and cultural richness are exposed.
While walking the beautiful streets of Madrid, you cannot miss its most beautiful buildings, which we want to share with you today.
So What are the Most Beautiful Buildings in Madrid?
Here's a shortlist of our top favorite buildings in Madrid:
Palacio de Cibeles
The Palacio de Cibeles was inaugurated in 1919 and is currently the headquarters of the Madrid City Hall. This beautiful monument was the city's main post office and was called Palacio de Comunicaciones. Its current name derives from the nearby Plaza de Cibeles. Nowadays it also serves as Madrid's public cultural center.
Palacio de Cristal
This beautiful building is located on Parque del Buen Retiro. The construction for this masterpiece began in 1887 and was designed by Ricardo Velazquez. It now serves as a gallery for art exhibits. Reina Sofia Museum owns the building.
Plaza Mayor
The Plaza Mayor is one of the leading public squares of Madrid and is in the urban center of the Old City. It used to be the Plaza del Arrabal, which was the city's primary market. The building had different names throughout history, but after the Spanish Civil War, it received the current name, Plaza Mayor.
Royal Palace of Madrid
Currently, this is the largest working Royal Palace in Europe. Both its exterior and interior are so impressive, boasting exquisite architectural qualities, as well as art collections and a wealth of culture. It was home to many of Spain's Kings, and today, it is one of Madrid's most popular tourist attractions.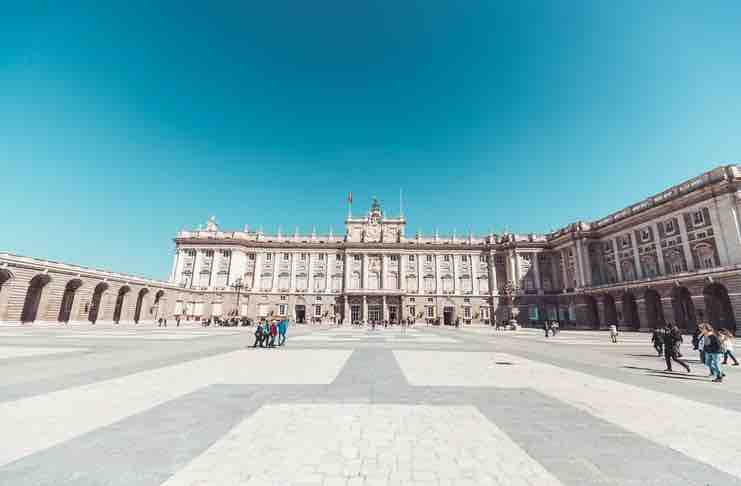 Templo Debod
This Egyptian temple was actually rebuilt and moved to Madrid. It was a gift from the Egyptian government to Spain as a thank you for their assistance in protecting the temples of Abu Simbel from flooding, after the development of the Aswan Dam in Egypt. It's an opportunity to see Egyptian architecture and get a glimpse into its culture.
Triángulo Dorado de Arte
The Golden Triangle of Art is right in the center of Madrid and consists of three art museums: The Thyssen-Bornemisza Museum, the Prado Museum, and the Reina Sofia Museum.
This magnificent building was originally built to house the Cabinet of Natural History, but King Carlos III decided to convert it into a museum of the royal collections. Today, it contains some of the most amazing paintings globally, from legendary artists like Goya, El Greco, Rubens, and more.
Edificio Metrópolis
The Metropolis Building is an office masterpiece in Madrid, located at the corner of the Calle de Alcalá and Gran Vía. Designed by Jules and Raymond Février, and built in 1911, it was once the home of the insurance company La Unión y el Fénix. The building was designed in a French Beaux-Arts style, which quite unique during those times. Its columns support four statues representing Agriculture, Mining, Industry, and Commerce. Its round cupola is covered with thirty thousand leaves of gold.
Planning to visit Madrid anytime soon? Try to learn a bit of Spanish beforehand, as it will make a big difference in how you enjoy your trip. If you plan to do a longer trip in Spain, I recommend taking some Spanish lessons in Madrid itself, as you'll be in daily contact with the language, with the local people, their customs and culture.
In addition to its beautiful buildings, art, and rich culture with centuries of tradition, Madrid has all the aspects that capital cities have: cosmopolitanism, the coexistence between the historical and the contemporary, and the confluence of people from different parts of the country.
Want to read more of our latest posts? Check out this article about where to visit during your next road trip in Scotland.