Searching for the most beautiful streets of Buenos Aires? You've reached the right place. Buenos Aires, the Capital City of Argentina, is considered a multi-cultural haven filled with incredible sightseeings and a rich atmosphere. Around every corner, there is a different activity to do and a cultural tradition to witness.
The Spanish language school in Buenos Aires offers you the chance to do so. Also, if you dare, you can make the most out of it and take a Spanish course in Buenos Aires. It is a fantastic way to learn more about the culture and bring brand new skills that you will be able to apply to your academic and professional life.
Buenos Aires has its vibe and uniqueness. Still, the city is like any significant Capital, with efficient public transportation service and beautiful streets to roam by. With this in mind, do not even think about renting a car for moving through the city. The best way to get to know Buenos Aires is to get lost within the incredible and colorful streets.
Nevertheless, there are places that you should avoid to prevent unnecessary risks and ensure your safety. When in doubt, do not hesitate to ask for help and directions from the locals. They are used to tourists and eager to help. Most of them speak English but take the chance to put your Spanish skills to the test.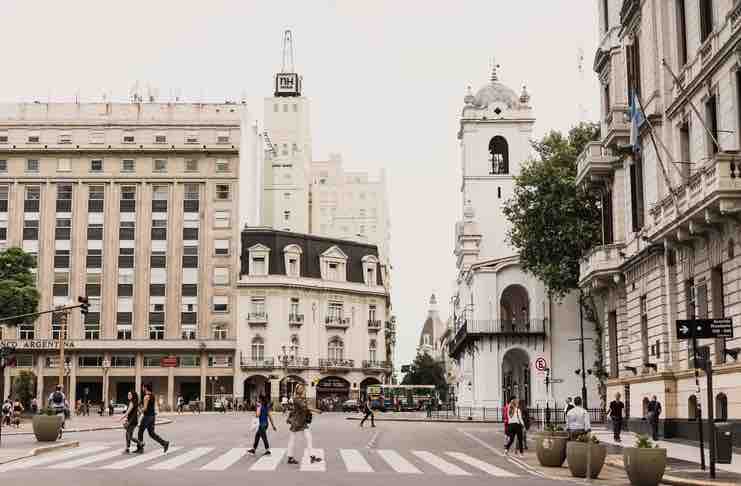 Still, here is a list of the most beautiful streets of Buenos Aires for you to explore:
La Isla, Recoleta
La Isla is a hidden area located in the beautiful neighborhood of Recoleta. To get there, you have to climb a stairway, which gives the whole experience an unmistakable Parisian vibe. The buildings nearby are ornamented and luxurious; the British Embassy is a clear example.
There are also plenty of trees and green squares nearby, where you can enjoy a picnic in the Argentine sun. There are also different bars nearby, and the whole area surrounding the Recoleta cemetery is a hot spot for the city's nightlife.
Watch this video to get a glimpse:
República Árabe de Siria, Palermo
This street may not seem that special, but it is lingering in one of the best green areas of Buenos Aires, the Botanical Garden. If you walk through this street, you will see plenty of scenic shops and restaurants.
Locals choose this area to enjoy Sunday brunch or a typical afternoon coffee. Plus there's lots more to see and do in Palermo.
Defensa, San Telmo
Save a Sunday to visit this part of town. During this day, Defensa street fills with stands of local artists that produce typical handmade pieces. The road is relatively narrow and may be crowded, but take your time to appreciate the scenery and colonial-like architecture.
San Telmo is one of the oldest parts of town, and this street is the perfect way to get a glimpse of it.
Malasia, Belgrano
Belgrano is a neighborhood of eclectic buildings and people. Still, it is one of the neighborhoods with the wealthiest and most beautiful mansions of European architectural influence.
In Malasia Street, you will see typical French, English, and even Gothic-style houses. The Street is also filled with paving stones, making the atmosphere even more unique and special.
Check out this video that explores the Belgrano neighborhood:
Plaza Florencio Sánchez, Belgrano
This street is not a street anymore; it is now one of the most stunning green areas of the city. Many years ago, cars and carriages used to go through here, but now you can appreciate the green tunnel created by the leaves of the trees placed at the side.
Take your camera with you! You will surely want to take plenty of photos here. It is the perfect place to take a peaceful walk and rest from the hectic city life.
These are some of the most beautiful streets of Buenos Aires, but not all! The city is filled with hidden passages and cool places to visit. Bars and restaurants for every taste are splattered across the city, waiting for you to discover them. Ask the locals for recommendations!
When choosing accommodation, try to pick one near the subway or the main bus. This way, you will be able to get anywhere in the city quickly and in no time.
Take a Spanish course in Buenos Aires
Spanish is the country's official language, but Argentines speak a variation of this language called "Rioplatense". It is the language of tango; it sounds like a song with Italian and Spanish influences, but an identity of its own.
If you are already curious about this and want to make this traveling experience more intense and worthwhile, you can take a Spanish course in Buenos Aires. This does not mean that you will have to study during the entire course of your stay. Expanish, an international Spanish language school in Buenos Aires, offers a variety of options suited for everyone.
Depending on your time availability and personal goals, the courses you can choose from vary from intensive to regular and from group lessons to private ones. But it's not only about the Spanish lessons. The staff organizes extra-curricular activities almost every day. This is an excellent chance for you to socialize and meet people from all over the world and practice your language skills. You will also be learning the most intricate details about the locals' culture and way of life.
Are you ready to experience Buenos Aires and learn Spanish?
Want to read more of our latest posts? check out these lovely weekend NYC getaways by plane.