There is more to the state of Victoria than the city of Melbourne, but if that is all you get to see, you are in for a treat. However, if you have a little more time on your hands, Victoria is a beautiful and diverse place to explore.
So sit back and let us walk, drive and sail you through everything the Australian state of Victoria has to offer.
Northern Victoria
The mythology and topography of Legends, Wine, and High Country have long attracted people to the deeply engraved mountain ranges, fertile valleys, pristine lakes, and waterways.
Aboriginal tribes once gathered here annually to take advantage of the cool summer climate of the High Country and to feast on the Bogong moth.
In 1824 explorers Hume and Hovell were the first Europeans to find and report what riches this part of the new world had to offer. Later in the 19th-century gold prospectors came in their thousands to toil in the valleys in search of their fortune. Along with the wealth came the infamous bushrangers, the daring exploits of whom have become an important part of Australian history.
Graziers, agriculturalists, and winemakers all prospered here thanks to the rivers, rich soils, and temperate climate.
Whatever their reason for coming, the people who were drawn to Legends, Wine and High Country contributed much in return for the prosperity they gained. They have helped shape the region's character and given it a fascinating social heritage to match its natural beauty.
Take some time out and escape to the north-eastern region of Victoria known as Legends, Wine and High Country. You will discover a place so rich in history, so full of things to do and with such breath-taking scenery that in no time at all you will forget what it was you were escaping from in the first place.
Eastern Victoria
Just a short rental car's drive from Melbourne airport is the enchanting and unspoiled natural world that is Victoria's Lakes and Wilderness regions East Gippsland. From deep gorges and rugged mountains to sandy beaches and pounding surf, Lakes and Wilderness cover a diverse landscape.
Discover gems where land and water meet by meandering along waterways, edged by the Ninety Mile Beach.
Discover the Great Alpine Road, and reminisce days gone by, bustling goldfields and heritage towns. From snow-capped mountains to carpets of wildflowers, activities range from the extreme to the serene.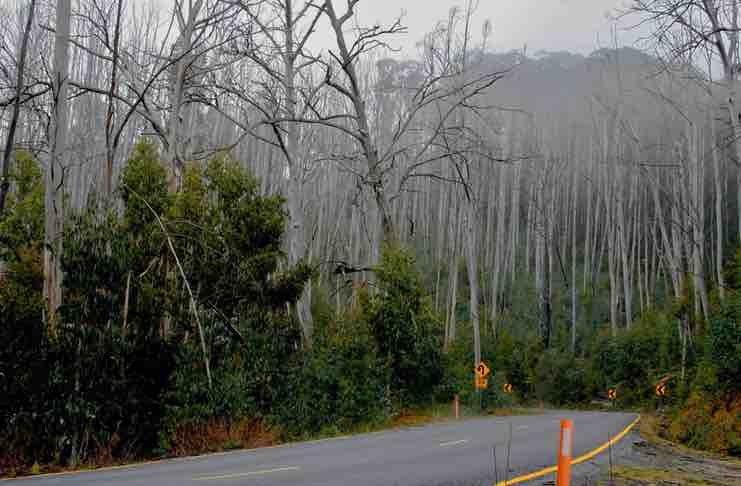 Snowy River Country is a magical place where the Snowy River meanders through national parks and farmlands on its journey to the sea.
The jewel in the crown of national parks, Croajingolong, is precious with diverse ecosystems that envelop you in natural beauty. The national park features a UNESCO World Biosphere Reserve. Escape in this place is perfect for nature lovers.
Check out this awesome clip to get a glimpse of this wonderful park:
Southern Victoria
This area is renowned for Wilsons Promontory National Park, with its incomparable coastal, bush and famous mountain walks. Equally celebrated for the endless honey-colored sands of Ninety Mile Beach, where the surf curls in with its calming rhythm.
The wise traveler does not hurry the drive between these places, as the quiet coast road slips past flawless surf beaches, rich fishing grounds, marine and coastal parks, peaceful inlets, and bays.
Not far beyond Wilsons Promontory, the green of the national park gives way to the color of Victoria's maritime history at Port Albert and Port Welshpool. This area was once so prosperous that Port Albert was an official port of entry into Australia, with ships arriving directly from London.
Gold is another chapter of Gippsland's history book. One of the richest gold-bearing reefs in Australia was found in Walhalla in Gippsland's north.
Today, Gippsland is still full of riches. Its natural produce is highly sought after by those who love the finest food, and its traditional country hospitality is very genuine and warm. The Gourmet Deli Trail winds through the Gippsland countryside. Discover fine produce from land, sea, and vine.
Sculptors, potters, painters, glassmakers, craftspeople, and Koorie artists have added the attraction of a thriving visual arts community to the natural attractions
North Western Victoria
The Macedon Ranges and Spa Country is all about pampering yourself. The pure indulgence of both mind and body. The area offers dozens of wineries (more than 30!) that lure you to come and taste their delicious pinot noirs and chardonnays.
The state's best restaurateurs want to prepare for you their best cuisine. The local food producers tempt you from the side of the road to taste their fresh berries, their honey and their orchard apples.
The region has Australia's richest concentration of mineral springs. Pump your own straight from underground at a spring or bathe in the health-giving waters at a spa. Treasure hunt in one of the many antique and old book stores. Wander through the fine art galleries. Take a hike through a forest or state park and get close to nature.
And all just an hour's drive from Melbourne.
The Goldfields
At one stage in the 1850s, it seemed as if the whole world was migrating to the Victorian goldfields to seek a beguiling fortune. And still, people come. They come to visit captivating heritage sites, sample luscious wines, fish on a still lake, wander with their thoughts through a quiet park, and dine in a range of fashionable and fashionably diverse restaurants.
They come to create their own kind of history. A region that once gave up the Welcome Stranger ' the world's largest gold nugget ' has much to reward the modern version of the 19th-century digger. You might not strike gold, but you will stake a claim to a rich vein of memories.
Getting around the Goldfields of Victoria is simply a matter of following the signs bearing the golden G, the symbol of the official Goldfields Tourist Route. The carefully planned itinerary of historical and scenic attractions will introduce you to countless stories of luck, loss and fascinating lives. Or you can trace the shorter Golden Way through an enchanting series of intact gold mining towns.
As you drive past a pristine miners cottage or a splendidly restored country hotel or enter an old mine where candles still burn brightly to light the way, remember to take your time.
Want to read more of our latest posts? Check out our favorite spots in North America for a sensational Pre-Wedding Photoshoot.