The pandemic restrictions are lifting, and life is slowly returning to normal. With 2022 right around the corner, the chance to see the world and travel again is once again possible. However, you need to remember that some standard operating procedures are still in place, and you should follow them religiously.
Wearing masks, sanitizing, and getting the vaccine are just some things we can do to ensure that the virus is contained in the coming few years. However, this article isn't about the virus; it's about you and your vacation. The pandemic shouldn't hold you back from taking the trip of a lifetime. You have earned your vacation time, and this is your chance to apply for paid leave and travel. In this article, we will go over several ideas that you can consider for an unforgettable vacation.
From the ideal accommodation solution to putting your phone away and several factors in between. Here are five tips for having an unforgettable vacation.
5 Key Tips For Having an Unforgettable Vacation:
1. Find Ideal Accommodation
When it comes to choosing a place to stay, make sure you live authentically in the place you are traveling to so that you can get a deep and complete feel of the place. For example, if you are traveling within the country and choose the Smoky Mountains, the Pigeon Forge cabins are the best solution.
Living in these rustic yet luxury cabins is the best way to embrace the mountain vibe and live authentically. Similarly, if you were to visit a place like the Maldives, it would be best to stay in the huts on the water.
Certain locations have preferred residential facilities that tourists can enjoy. Though they may sometimes cost a bit more than a hotel, they give you that added step that can help make the vacation that much more memorable. Stay true to the locations and appreciate the surroundings.
2. Journal Your Experience
Notice how we didn't say document your experience through the eyes of a lens. Sure, take your pictures and make your videos but not too many. The entire charm of traveling is that you experience the surroundings with your five senses.
Memorize the place you are in and internalize the experience. You may not get the chance if you are looking at the place through the camera's eye, and uploading to Instagram all the time.

It would be best to write down your experience in a journal instead. Writing is one of the best forms of catharsis and helps free the soul. Moreover, it's more traditional; some would argue that journaling your adventures has an aesthetic charm to it. Moreover, when you read back, you can envision your surroundings in your mind's eye. Here are some tips you should follow when keeping your travel journal.
3. Make Your Way Around
Rather than renting a car calling an Uber, make your way around on your own. If you have to get to the other side of town, consider improvising your way all the way across. You won't get to experience a place fully if you don't get down and dirty on the streets. Some people opt to rent bicycles or scooters to make their way across town.

Most places have some sort of public transport that you can use to get around. Interacting with the locals and making your way around is what it's all about. Getting up in the morning and having no idea of how you are going to get from one place to another is a charm in itself. Be one with the place. Improvise, adapt, and don't forget; when in Rome, you know the rest.
4. Try The Local Cuisine
What better way to embrace a culture and become one with a place than by trying their local delicacies? They may initially seem weird, but if you try some of them with an open mind, you won't forget them for the rest of your life. Remember, they may seem odd to use, but local culinary arts have existed for millennia in some cases.
Explore a new culture through your stomach. The local food and how you eat it tells you a lot about a place and helps you become one with your surroundings. Moreover, street food around the world is notoriously cheap, so you won't have to break the bank too much when looking for sustenance.
One thing you do want to keep an eye on is the water you consume. Typhoid and other gastrointestinal diseases are some of the most common diseases to arise when traveling.
5. Travel With People You Care About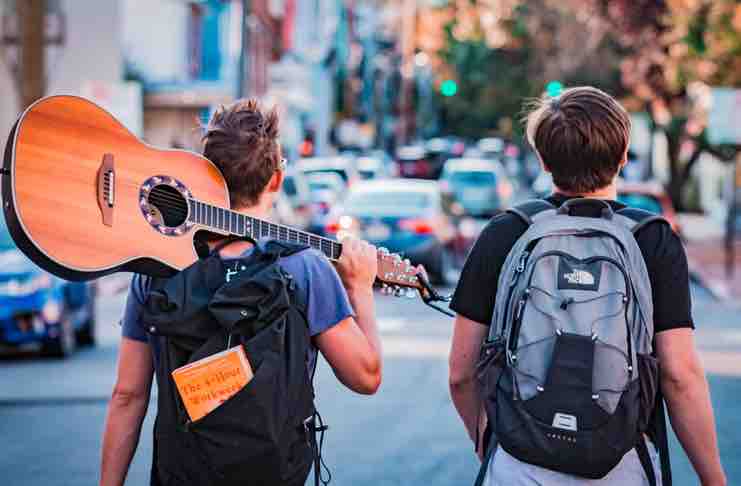 Traveling with the wrong crowd can ruin the trip entirely. The toxic people in your life should be kept at arm's length, and especially when traveling. Being cooped up with people whom you don't even like for several hours at a time can be exhausting.
Other than that, it can ruin your experience entirely and make you want to return home. Travel with your loved ones instead. Friends and family will never let you down. Go along with people you trust and watch how your vacation becomes ten times better. Not only do they add to the fun factor, but traveling in a group with familiar people adds to the overall safety factor as well.
Outsiders don't just make things awkward, but sometimes they could be borderline dangerous. Traveling for several hours with potentially dangerous people can ruin the experience and, of course, expose you to danger. Stick to your loved ones and make the most out of this travel vacation. Remember, the most fun comes from when you are comfortable. You won't be comfortable if you have strangers around you.
There we have some of the best ideas that you may want to consider for an unforgettable vacation. These ideas could help you make the most of this vacation and remember it for decades to come.
With the pandemic still looming, this would be the perfect time to travel. You don't know when you might get the chance again, so make sure you seize the opportunity while you have the chance. If there was ever a time to pull the trigger on a dream vacation, it's now.
Want to read more of our latest posts? Check out these must-read NYC Travel books for the family.