So you think Wrangler jeans and 10-gallon hats can never look trendy? In Calgary, the locals make cowboy threads look effortlessly chic, as if they stepped off the page of a Ralph Lauren ad. The city's traditional, western-infused spirit goes surprisingly well with the contemporary vibe that exists here, where the median age of its one million-plus residents is under 35. If you're interested in the arts, indigenous history, local ingredient-based dining, or the sporting scene, you will find loads of options within city limits, set against the breathtaking backdrop of the Canadian Rockies. Add great public transportation and an avid community of cyclists to the mix, and you have a made-to-order car-free vacation destination. Pack your passport and get started.
The Sporting News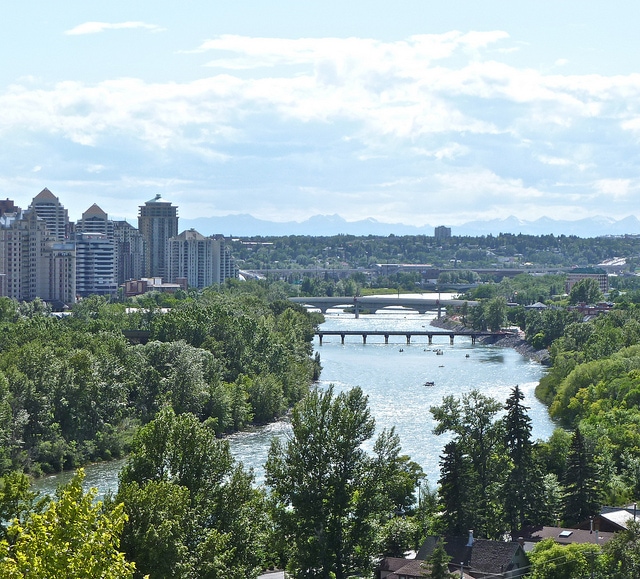 Canada Olympic Park was the site of the 1988 Olympic Games and its athletic legacy continues. In summer, popular activities include mountain biking, Eurobungy and miniature golf. In winter, downhill and cross-country skiing, snowboarding and bobsledding are all here for you to experience.
The pastoral Bow River cuts through downtown Calgary. That means that you are walking distance from some of the best fly-fishing in the world. This section of the river is famed for the size and quantity of its Bull and Rainbow Trout. Out Fly Fishing offers a variety of fishing expeditions, including a Fly Fishing 101 course for those who are just getting their feet (or waders) wet.
The Eats
Beef and beer are the traditional treats in this part of Canada. Brewery tours are a good way to mingle with locals, who are passionate advocates for Alberta beer. Big Rock and Wild Rose breweries both offer informative tours and tastings that will open your mind and palate to homegrown flavors.
Alberta beef receives global accolades for its grain-fed flavor and leanness. It is the star of many local menus, but it usually doesn't come cheap. Charcut is a local chef-driven eatery specializing in handcrafted charcuterie and charbroiled meats. It periodically offers up $5 burgers in the alley behind the restaurant, attracting hoards of frugal carnivores. The cellar and craft beer list are noteworthy as well.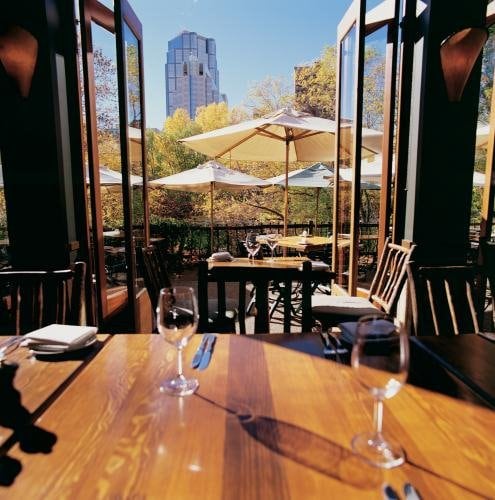 Calgary residents and chefs alike know that the freshest, best tasting foods come from local farmers and ranchers who are passionate about their products. The River Café is an example of this ethos at work. The cuisine is seasonal Canadian, and the natural artifacts that decorate the restaurant give it the nostalgic look of an old fishing lodge. The menu adheres to a philosophy of utilizing locally-sourced, often organic ingredients from small farms that adhere to sustainable farming techniques. Seasonal ingredients ensure a constantly changing menu. Adventurous types will want to try Elk Carpaccio; chocolate lovers should complete their meal with an irresistible pot de crème, made with organic, fair-trade chocolate. The River Café is scenically positioned on a lagoon in the middle of Prince's Island Park. Locals bike, stroll and frolic here in this car-free oasis.
Foodies will not want to miss a meal at Blink, offering a culinary journey inspired by the ingredients of Alberta and neighboring British Columbia, combined to create dynamic flavors. Seafood is particularly strong at Blink, but as is always the case in Calgary, you can't go wrong choosing beef. The delightful wine list highlights family-run estates that pair perfectly with the Canadian cheese offerings. Learn Chef Andrew Richardson's secrets to his contemporary cuisine on the last Sunday of the month, when he will guide you and a small group of other enthusiastic cooks through the preparation of a complete meal, using farm-fresh, local goodies. Afterwards, share the meal with Chef Richardson and the charming Restaurant Director Leslie Echino, who will select the perfect wine pairings ($125).
If you're still hungry, drop in at Jelly Modern Doughnuts. It is packed with locals buying Maple Bacon, a favorite flavor, by the dozen. Permit yourself to indulge, as these artisan treats are made with locally sourced, organic ingredients.
History, Art and Views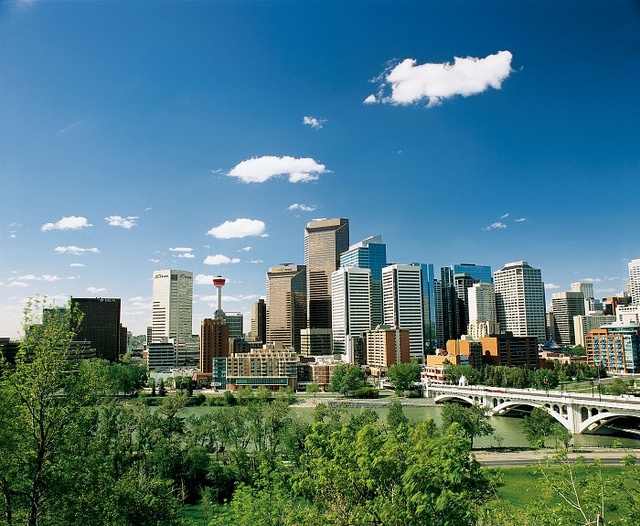 The Glenbow Museum is the place to learn about Western Canada's Native cultures in an innovative way, with evocative symbolic artifacts and interactive displays.
Calgary is rich in art galleries, both artist-run and commercial. Art Central is a community of 50 artist studios, galleries and cafes. If your visit coincides with its First Thursday celebration, held on the first Thursday of each month from 5-9 p.m., you will be treated to live music, art demonstrations and an insider's tour.
Ride the elevator to the Observation Deck at the top of the Calgary Tower for an awesome view of the majestic Canadian Rockies in the distance. Touristy, yes, but definitely camera-worthy.
Fun City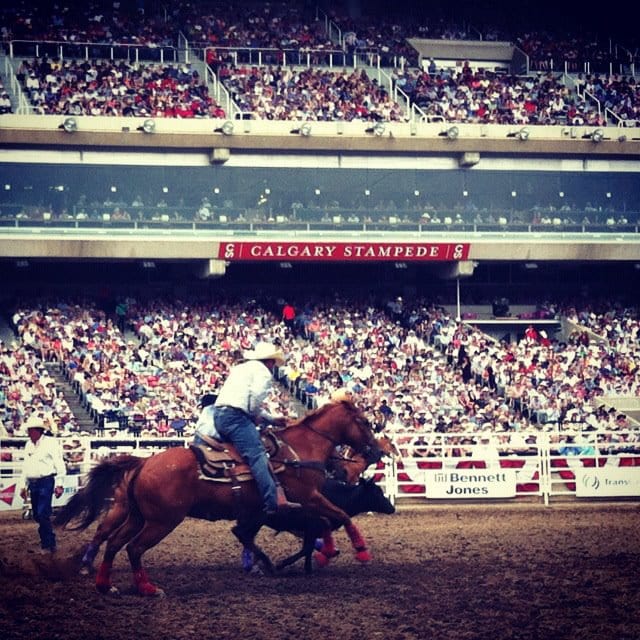 Each July, this now-cosmopolitan city on the prairie pays homage to its rural roots when it hosts the Calgary Stampede (2012 is the Stampede's centennial year). The Stampede is a spectacular celebration of all things Western—an unforgettable experience, even if you are not partial to calf roping and steer wrestling. This early summer extravaganza, "The Greatest Outdoor Show on Earth," takes over the city for ten days, as an international crowd arrives ready to party. Each day starts with a free chuck wagon-style pancake breakfast, served at a different downtown location. Parades, concerts, and merriment do not end until well past midnight.
Though Stampede is a major draw, the event calendar is full year round. Each August, the city hosts Taste of Calgary, where a mouth-watering display of Alberta edibles is served up at a reasonable price. Another summer event, the Calgary International Reggae Festival (better known as ReggaeFest), brings an unlikely sea of dreadlocks to the Rockies. In mid-winter, you'll want to be in town for The High Performance Rodeo, a month-long celebration of theatre, dance, music and comedy. Free outdoor dance parties, where ice sculptures will surround you and hot cocoa will warm you, are not to be missed.
Getting Around Calgary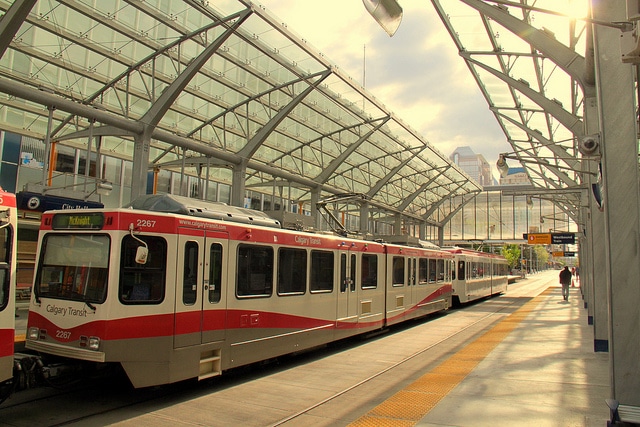 A light rail and comprehensive bus system will get you anywhere you want to go efficiently, costing $2.75 for a single ride. The C-Train light rail is free in the downtown zone. Calgary is a cycling town, and demonstrates its biker-friendly side during the 10-day Cyclepalooza each June, which aims to attract, encourage and embrace new and veteran bikers. At the Eau Claire Mall, located downtown just next to Prince's Island Park, you will find many locals busily repairing their bikes at the volunteer-run Good Life Community Bicycle Shop. It is a bicycle resource center where workshops and education classes are held free of charge, and a well-stocked repair center is available to all. Bikes can be rented in the Eau Claire Mall at Eau Claire Rapid Rent during warmer months, so you can pedal like a local during your stay.
Hotel Arts is a 175-room art-filled hotel that offers luxury accommodations in the heart of Calgary. If you want to keep in shape while on your vacation, book the Hot Yoga package, which includes a terrific yoga class at the studio next door. Even if you don't stay here, drop by the Raw Bar for a locally inspired cocktail, where patrons sip their martinis by the heated outdoor pool.
How to Get Here
Air Canada flies non-stop twice each day from SFO to Calgary in 2 and ½ hours. Airport Shuttle Express will take you to most downtown hotels in minutes for $15. Visit Calgary is a great resource for planning your trip.
Photos: naserke, Visit Calgary, wyliepoon, BillLongstaff