Cleveland, Ohio: Home to baseball's Indians and football's Browns, the Rock & Roll Hall of Fame, and more recently, home to urban farms, a burgeoning bike culture, microbreweries and restaurant menus full of locally-sourced foods.
Cleveland, the city that solidified its place in movie history as the filming location of holiday cult classic, A Christmas Story, is an idyllic destination for eco-minded, car-free travelers. And with more than $2 million of recent tourism-related investment to offer up a sparkling, clean, friendly locale, Clevelanders from the city's east side, west side and all neighborhoods in between are rolling out the welcome mat.
The Scene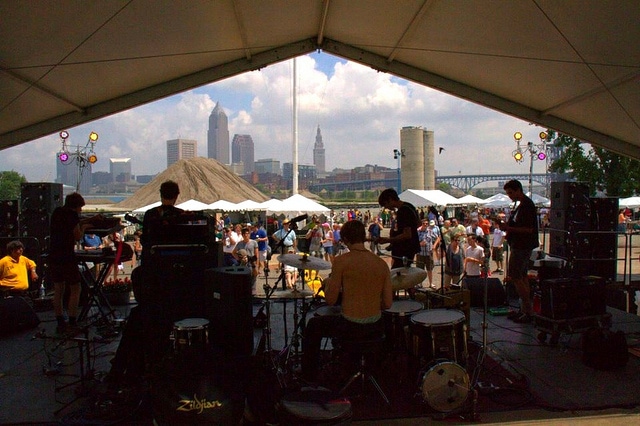 "The Brooklyn of the Midwest" was how the team at Positively Cleveland, the city's CVB presented the overall vibe of "Cleveland Plus" (metropolitan Cleveland and the surrounding towns) to us. This Brooklynite can now tell you: they were right. The laid-back, upbeat and youthful vibe assures that culture, art, film and microbreweries abound. The city is being developed and the downtown revitalized at a fast-pace but with a great respect for its surrounding environment and natural resources. Following a day of exploring that ended with a few beers over a conversation about the massive efforts underway for the continued cleanup of the once infamously burning Cuyahoga River, I considered moving to Cleveland, or at least heading back for a visit in July for the Burning River Festival on Whiskey Island.
Art
For accessible modern art and museum exhibits that push the envelope, the Museum of Contemporary Art (MOCA), which opened in fall 2012, showcases a dynamic range of contemporary art thanks to Chief Curator David Norr. The works are housed in an architecturally stunning 34,000-square-foot structure, designed to make museum goers think about their own relation to space and the social potential of experiencing others in open spaces. All five floors of the museum have a public function including workstations for local student artists and studios for community art classes. MOCA is currently pursuing LEED Silver Certification.
Another gem of the Cleveland art scene is Transformer Station, a west side gallery in the neighborhood of Ohio City. The one-room space boasts 22-foot ceilings and clerestory windows that allow the gallery to shine, whitewashed with natural light and photographic installations, part of the formerly private Bidwell Projects Collection.
To get hands-on with art, The Glass Bubble Project invites people to stop by its converted garage to create unique works of art from recycled metal and hand blown glass. Studio co-owner, Mike, has termed their "clunky and industrial" style of glass blowing "Clevetion Glass," something opposite of the more "dainty" Venetian Glass from Italy.  Group glass blowing($105-$125) or wind chime ($40-$45) classes are offered and students get to keep all of the beautiful colorful pieces they make. To sign up for a class call 216-696-7043.
Music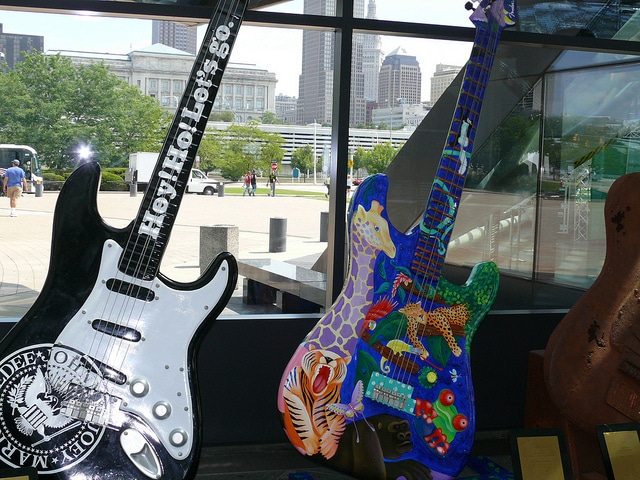 Whether it is an impromptu guitar concert on the corner of East 4th St. by the "Hippie Guitarman" or the bass-pounding trip, name-in-lights trip through music history at the Rock & Roll Hall of Fame, Clevelanders enjoy their tunes. Sacrilege is visiting the city without a trip to pay homage to the forefathers of modern music at the Rock Hall, the nonprofit organization that exists to educate visitors, fans and scholars from around the world about the history and continuing significance of rock and roll music. The bedazzled jumpsuits of Elvis; the early black matchstick suits of The Beatles; the bellbottoms of Janis Joplin; the sparkles and feathers of Diana Ross & The Supremes; the white glove of Michael Jackson; it's all here, behind the protective glass. Don't miss the Hall of Fame film that takes viewers through the past decade's inductees and their musical stylings, and the edit of Dick Clark's American Bandstand from 1950-something to the 1900s is a gem all its own.
Film
A highlight of the annual Cleveland calendar is the Cleveland International Film Festival (CIFF), put on each year in the early spring. It brings the newest and best films from around the globe in an effort to promote artistically and culturally significant films that will enrich the life of the community. It's an accessible, festive, world-class event. Each year, CIFF organizers put special emphasis on the importance of films that shed light on environmental issues with a $7,500 Global Health Award. The award attracts thought-provoking documentaries such as Musicwood which offered viewers the chance to understand different sides of an environmental issue, clear-cutting in the Tongass forest, and the ways in which people can come together for the common good of protecting our natural resources.
Beverage
Microbreweries are the way of the past, present and future in Cleveland. The city certainly knows and appreciates its top quality hops. A first beer should come from Great Lakes Brewing Company's Ohio City Brewpub on Market Avenue where one cannot go wrong with a Burning River Pale Ale or the darker, bittersweet Edmund Fitzgerald Porter, a multi-year gold medal winner at the World Beer Championships. Founded in 1988 as Ohio's first craft brewery, the Great Lakes Brewing Company is also committed to sustainability: to help reduce their carbon footprint, the company's beer delivery truck and "Fatty Wagon" shuttle bus run on straight vegetable oil, a renewable fuel made from reclaimed and filtered oil from the restaurant. Take a brewery tour to check it all out first-hand; tours are offered in the evenings Thursdays and Fridays, and on Saturday afternoons. Call 216-771-4404 for more information.
Nano Brew is the most welcoming of brew pubs. Featuring 24 beers on draft from its one-barrel brewery where the brewmasters like to invent new and experimental brews on a regular basis, this laid-back spot won't just quench your thirst, they'll also encourage you to come by bike. Because the Nano guys "love to ride bicycles almost as much as they love to drink beer with family and friends," they collaborated with their neighbors Joy Machines Bike Shop to create the Nano Brew Bike Tune-up Station…inside the bar. The Tune-up station offers the tools to ensure your bike is ready for the road; there is a drink rail upon which to place your beer while working on your bike and even oversized wood blocks hand-painted with the Nano Brew bike logo to get in a game of post-bike work Jenga. Show your bike helmet at the bar and Nano will give you half-off your first pint.
Pedal On
Biking in Cleveland is becoming more and more popular as wonderful programs like Cleveland Bike Rack and Bike Cleveland, an advocacy organization that "believes in the power of the bicycle," work to make the city one hundred percent bike friendly. Celebrate May Bike Month in Cleveland by taking part in one of the many group rides organized by Ohio Bicycle Federation.
The Bike Rack
A brilliant partnership between The Downtown Cleveland Alliance and The City of Cleveland, The Bike Rack is the region's first full service bicycle parking and commuter center, open from 6:30am to 7:00pm during the week in the warmer months. For just $5 a day, visitors can buy a bike rack pass to use the facility as they tour around town on a rented bike (bike rentals are available here for hourly, half- and full-day rates). Stop in to park your bike while at lunch, have your chain put back on by the team of bike repair experts, or even take a shower and change in their locker rooms before an evening out downtown. To join a bike tour and see Cleveland on two wheels guided by an expert, Great Lakes Tour Co. offers a weekly excursion starting from The Bike Rack to tour the historic places, architecture and charm that makes Downtown Cleveland one-of-a-kind. Visit BikeCLE.com for reservations and use the code Rack12 for $10 off the tour price.
Ohio & Erie Canalway Towpath Trail
"We like to say that we're a green city on a blue lake," says Mark Lammon, Director of Operations and Advocacy for the Downtown Cleveland Alliance. The Ohio & Eric Canalway, a national heritage area stretching 110 miles from Cleveland to New Philadelphia, is part of the reason why. A number of local conservation and governmental entities in Cleveland have joined forces to create systematic opportunities to find green space and connect the downtown area to the outlying park and recreation areas, allowing the perfect opportunity for visitors to travel just 10 minutes outside the city before they arrive on National Park land. The best way to do this is hop aboard the Cuyahoga Valley Scenic Railroad to the end, then hop off with your bike and cycle back into town, for just $3 a ticket. Visit www.ohioanderiecanalway.com for more information.
Never, Ever Go Hungry
Fresh produce, homemade sweets and locally sourced [insert almost any type of food here] are everywhere you look in Cleveland. There are urban farms, passionate foodies and award-winning chefs who have come back home to Cleveland to help cultivate the city's growth as a culinary destination.
One of these chefs is Jonathon Sawyer who honed his chops in Miami and New York City before returning home to Cleveland to open up not one, but two of the city's most delicious, happening restaurants and be named one of Food & Wine Magazine's Best New Chefs 2010. The Greenhouse Tavern is the epitome of farm-to-plate cuisine as Chef Sawyer and his team use herbs from their rooftop garden and always use as much of the animal as possible. The Green Restaurant Association designated The Greenhouse Tavern the first certified green restaurant in Ohio due to its ecologically friendly practices, sustainable architecture and local food sourcing. The décor and furniture is all made of recycled and repurposed materials and vintage bikes adorn the walls. Food-wise, the pomme frites with raw garlic, rosemary & aioli are impossible to resist and the Brown Rice & Black Bean Veggie Burger on the lunch menu is finger licking good.
Chef Sawyer's other restaurant, Noodle Cat, for which he teamed up with business partners Jonathan Seeholzer and Chef Brian Reilly, might be this writer's favorite Cleveland eatery. (There are actually two Noodle Cat's in the city, on Downtown's Public Square and inside Ohio City's West Side Market.) The Japanese-American noodle house features high-alkaline ramen noodles made locally by Ohio City Pasta which give the ramen dishes a superior texture and flavor. For its soups, steam buns (try tempura perch bun), noodles and salads, the chefs use vegetables including the freshest bok choy and cabbage from the nearby Erie Edge Farm and Red Basket Farm.
A local gem not to be missed is Tommy's Coventry in Cleveland Heights. The restaurant, which began as a small soda fountain in 1972, has now grown to become a local favorite and a place where everyone—vegetarians, vegans, meat-eaters, the health-conscious diner, and peanut butter enthusiasts—can find something to salivate over. Tommy's motto comes alive with dishes he's created and perfected over the years, and named for the people who helped to invent them with their special orders, including Tommy's daughters. Choose from The Stacey (scrambled eggs, tempeh, cheese), The Maureen (hash browns, with broccoli, green peppers, onions and tomatoes) or The Alexandra (one pancake topped with bananas and strawberries), which only costs $3.90. Almost everything is homemade, from the French onion soup and the fluffy pancakes to the falafel and the most wonderful, crunchy peanut butter, which can be ordered on anything or as its own side. To cap off any meal, any time of the day, a Tommy's classic milkshake is a must.
Sweet treats are the order of the day at BonBon Café where the delicious pastries (don't miss the Monkey Bread) and cupcakes of acclaimed pastry chef Courtney Bonning are on display at this vintage style eatery. Brunch is served all day long meaning diners can indulge in the Bubble & Squeak, a mix of root vegetables, Brussels sprouts, bacon and a poached egg.
Ohio City
The Market
The West Side Market, one of the country's oldest public markets, was once where 20th century immigrants found the foods and spices of their countries and were able to celebrate their cultural heritage through the art of cooking. Today, it is a bustling locale and singular shopping experience for fresh foods, hard-to-find ethnic ingredients, local items and much more. There is a story and history behind each booth. Shoppers can pick up varieties of roasted nuts, candies, flavored popcorn, Hungarian pastries, cheeses from around the world, and prepared foods as well including tacos, sandwiches, and sausages.
The Farm
Around the corner from the West Side Market lies Ohio City Urban Farm, one of the largest contiguous urban farms in America. Just under six acres the farm produces fresh and local ingredients to many local chefs and restaurants including to the Great Lakes Brewing Company. The farm is worked on and tended to by the Members of The Refugee Empowerment Agricultural Program providing education, employment and job training to resettled refugees with an existing agricultural set.
Bed Time
After all the eating, drinking, biking and exploration, when it's time to rest your head in Cleveland, there are a number of different options for any budget and desired experience.
The Kimpton Schofield welcomes guests with a detailed facade and Victorian era embellishments harkening back to the historic Schofield Buildings early days (built circa 1902). Once inside, you'll find colorful and simple décor with vintage Cleveland details such as framed comics. Located in prime downtown location, Kimpton also has complimentary bikes that visitors can use to explore the city with. To get there from the airport, take the RTA Red Line to Tower City – Public Square Station, cost is $2.25 each way. 
The Cleveland Hostel in Ohio City, is the city's first hostel offering 60 beds with both private and shared rooms. Rates start at just $26 a night for a simple, clean, chic room decorated by the proprietor Marc who wanted to open up a hostel boasting similar qualities to the ones in which he'd stayed during his world travels, while adding his own brand of Cleveland charm. Converted from its former life as a furniture warehouse, the hostel's second floor boasts two large lounges with exposed brick walls and large couches; a communal, open kitchen; and a roof deck offering one of the city's best views of the Cleveland skyline. Bike rental, sheets & towels, and free Wi-Fi are also available. To get there from the airport, take the Red Line train from the station below the baggage claim level to the Ohio City/W25th St. Station. The hostel is less than 5 min. walk from the station. Trains run every 10-20 minutes from 4:30am to just past 12:00 am (midnight) and costs $2.25 one-way or $5 for an all day pass.  
The Ritz-Carlton Hotel is an elegant property located in the heart of downtown offering the luxury and comfort one equates with the hotel brand. What sets it apart is the hotel's friendly and helpful staff, and the grandeur of the building makes it feel as though you're in an early 20th century mansion. Rates start at $319/night for a King or Queen guestroom. To get there from the airport, take the RTA Red Line to Tower City – Public Square Station, cost is $2.25 each way. 
Bonus Stop:
A Christmas Story House + Museum
Fans of A Christmas Story are sure to enjoy the restored Cleveland house where the classic movie was filmed at any time of the year. Visitors can hide under the kitchen sink like Randy did (kids may be the only ones who fit) and can gather around the radio to hear Little Orphan Annie's top-secret message. Directly across the street is the official A Christmas Story House Museum, featuring original props, costumes and memorabilia including Randy's snowsuit, the chalkboard from Miss Shields' classroom and the family car. Don't worry, there's no chance you'll shoot your eye out when you go.
How to Get Here: United Airlines flies non-stop from New York's LaGuardia Airport operated by Chautauqua Airlines. At the Cleveland airport purchase a pass for Cleveland's public transportation system – the train, Health Line hybrid buses or the RTA Trolley Service. $5 per day or $2.25 per ride.
Photos: Silvie Snow-Thomas, marada, Cleveland Hostel, Ritz Carlton