St. Augustine is our nation's oldest city. Founded by the Spanish in 1565, a 21st century visit will immerse you in the melting pot of cultures that have enriched this quaint locale for nearly 450 years. But don't get the idea that this venerable town is frayed around the edges. Nightlife, unbeatable restaurants, cultural attractions and an array of ways to exploit the glorious waterways keep the pace brisk and infused with fun.
The Must-Do Experiences
There's plenty to do in this compact walking town, but to fully soak in its joie di vivre, you'll need several unscheduled hours to lose yourself. Stroll the romantic maze of pedestrian-only streets graced with old-world architectural gems. Come dusk, live music fills the streets, beckoning you to come in or just let the sounds drift as you wander.
Castillo de San Marcos is the best-preserved example of Spanish colonial fortification in the continental U.S. Its straightforward layout and thick coquina walls protected St. Augustine from both pirate raids and Spain's major rival, Great Britain, for hundreds of years.
Speaking of pirates, do your best Johnny Depp imitation at the St. Augustine Pirate & Treasure Museum. It's the largest collection of pirate artifacts in the world and a visit here is a kitsch-filled, spine-tingling romp in a buccaneer's treasure chest.
If you are seeking a collection that's a bit more sophisticated, a highly eclectic assortment of relics from America's Gilded Age are on display at the Lightner Museum. The building is an attraction in itself, as is its appealing palm-studded courtyard. Standouts include Victorian cut glass, an Egyptian mummy and an assortment of antique music boxes.
Across the street is Flagler College. Once a posh hotel, today it's a small liberal arts college brimming with lucky undergrads. Take the guided tour of this Spanish Revival style structure and marvel at its glorious details, including turrets and stained glass by Louis Comfort Tiffany.
Get nautical with the help of St. Augustine Eco Tours. Captain Zach McKenna and his staff offer intimate, nonintrusive excursions around the local estuaries. You may glimpse dolphins, sea turtles and waterfowl, being careful not to disturb them in their natural setting. McKenna is a passionate naturalist, whose ethical intelligence and love of marine ecology is infectious. Choose to sail, kayak or ride in a state-of-the-art research boat.
This is Florida, so for many visitors a splash in the Atlantic is de rigueur. Pedal over the Bridge of Lions and you'll soon arrive at Anastasia Island. Anastasia State Park provides swimmers and sun-worshippers with pristine sand, sea, nature trails and an abundance of wildlife. Dry off and head to the St. Augustine Lighthouse & Museum. Ascend the 219 steps and you'll be treated to a stunning 360-degree view.
The Eats
To call this town a culinary destination is an understatement, it's more of a foodie's dream-come-true. The number of eateries for such a small city is staggering, the quality stellar. Talented chefs are drawn here for the fresh Florida seafood and fertile farms that simultaneously stimulate their creative juices and their customer's palates.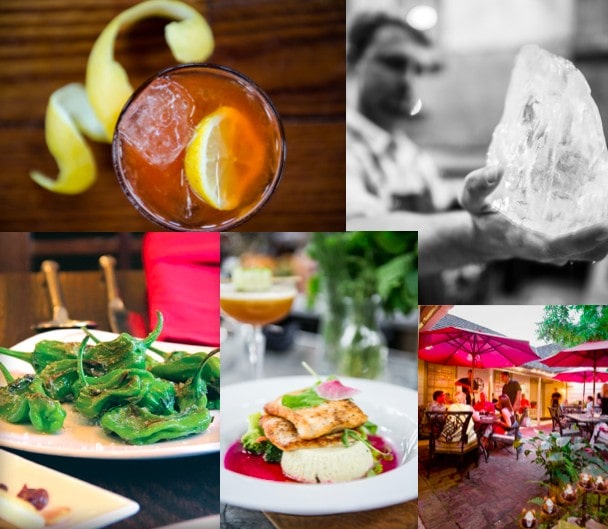 The Ice Plant has a prohibition era vibe. The bar features a farm-to-table menu and a grain-to-glass bar. Housed in a former ice plant, they adhere to the theory that ice is an integral component to creating the perfect cocktail. Bartenders cut the ice to a specific size to precisely and properly dilute each drink. Pair your boozy beverage with something from the casual and inexpensive menu of bar snacks, perhaps wild boar salami or soft pretzels served with beer cheese fondue. A complete meal is a delicious idea, as produce, meats, fish and spirits come from carefully chosen local purveyors and are beautifully prepared.
The Tasting Room has garnered a national reputation, with its photogenic Chef Michael Lugo gracing several popular cooking shows. Born in Puerto Rico, his technique combines his native island's traditional cuisine with pan-Mediterranean finesse. The tapas menu is popular, but it's the new Chef's Table that has the town abuzz. Book it and Lugo and his personable team will narrate a multi-course menu for you. In-depth descriptions, interaction with the chef and sophisticated wine pairings enhance and personalize this mouth-watering evening. Expect the meal to last for three to four hours, including the amuse-bouche, 4 courses, plus an additional cheese course and dessert selection. The cost is $125 per person, with all those fine wines.
The Drinks
St. Augustine Distillery is producing premium, small batch spirits. Their commitment to local is fierce. Not only is the distillery a locally owned business collaborative, but nearby farmers have been brought in to grow heritage crops unique to the region. Take a free tour and watch them mix, mash, cook and distill small batch vodka, rum, gin and whiskey. They share the building with the Ice Plant, so it all takes place in a historically renovated 100-year-old ice manufacturing plant. The free tour is offered daily and includes a generous tasting.
The Insider Tip
Datil peppers were originally brought to Northeast Florida by Minorcan immigrants in the late 18th century. They have a hot yet sweet flavor profile, reminiscent of a habanero. Diffused throughout local menus, datils impart a zesty boost to dishes like Minorcan Clam Chowder. This potent tomato-based fish broth can't be found anywhere else, so epicurean adventurers should give it a try. If you find yourself addicted to this special pepper's fruit-forward heat, drop by Hot Shot Bakery n' Café. They sell a veritable pepperpalooza of fiery products, including a feisty chocolate-dipped datil pepper. If you like your heat chased with a quench, join the locals on line at The Hyppo. The artisan popsicles are made with flash-frozen, all-natural Florida ingredients. Whimsical flavors such as Champagne mango and hometown favorite datil pepper and strawberry are two of the hundreds of refreshingly inventive flavor combinations.
The Digs

The Historic District is loaded with B&B's and the city's true character is best explored by staying at one of these small properties run by a hands-on innkeeper. If you are seeking a great location and warm hospitality, the 15-room Bayfront Marin House (from $179) has your name written all over it.
Owners Sandy and Mike work alongside a can-do staff. Mary is the breakfast cook, who whips up early morning sunshine in the form of blueberry waffles, eggs Benedict and vegetable quiche, served when and where you like.  The garden gazebo is an especially nice place to dine. Rooms are mini-sanctuaries with fireplaces, double Jacuzzis, flat screen televisions and water views. Complimentary beach cruisers and helmets make pedaling around town a breeze. The early evening happy hour is not to be missed, thanks to dynamite sangria served alongside yummy nibbles. Homemade desserts are available nightly, so save room for an irresistible after-dinner treat.
Getting Around

A car is redundant in and around the Historic District, where parking is a drag and many streets are restricted to motor vehicles. Stroll or pedal the cobblestone walkways, catch a horse-drawn carriage or ride the trolley. The Old Town Trolley Beach Bus connects the Historic Downtown to several popular beaches.
How to Get Here
Flights from NYC to Jacksonville take two hours. From Jacksonville International Airport, it's an hour shuttle ride to St. Augustine. For more information, go to floridashistoriccoast.com.
Photos: Mike, Allison Tibaldi, Craig Conley, Tasting Room, Ice Plant, Bayfront Marin House