One of the ironies of experiencing the wide-open spaces that North American National Parks offer is the lack of public transportation available to reach or explore these pristine places. Personal vehicles are a major cause of pollutants that are contributing to devastating environmental effects in our National Park system.
What if an alpine wilderness of supreme beauty existed, that was blissfully easy to reach without a car? What if, once you arrived, there was a network of inexpensive buses so extensive and frequent that all of nature's glories were easily accessible? What if the town center offered fine dining and shopping, without intruding on the pristine surroundings?
Head north to the Canadian Rockies for things to do in Banff, and you will see that ecologically-sound dreams really do come true.
The Banff Transportation Scoop
Getting around Banff is super convenient, thanks to Roam, the public transit bus system. Roam operates three bus routes that cover the whole town, with bus stops near just about any spot that you could want to get to. Roam is Canada's first all-hybrid bio-diesel/electric bus fleet, so your energy-efficient conscience can rest at ease. They are user-friendly, accepting U.S. and Canadian currency for the $2 single fare. The three-day, unlimited pass is a bargain at $12. MTA, if you're listening take note, buses can be attractive. Roam hybrid buses feature eye-catching mountain wildlife imagery that brightens their exteriors with graceful photographs of local bears, elks and goats.
Experience the Natural Beauty of Banff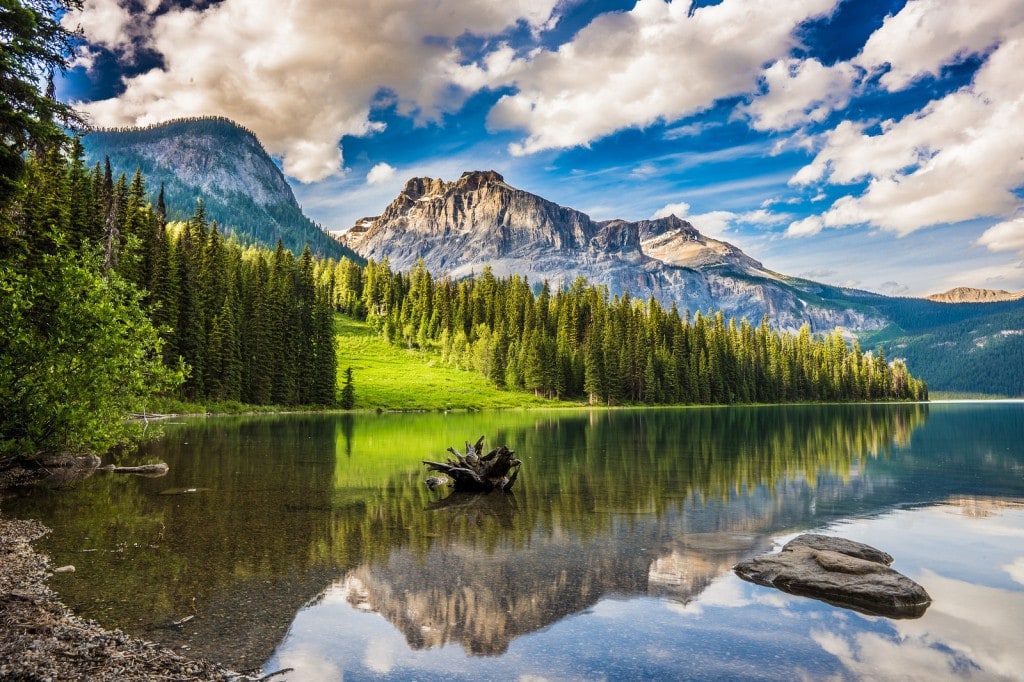 Banff has an extensive trail network, with something for all levels of hikers. If you're after sweeping vistas without sweating too much, try Tunnel Mountain Trail, about a 15-minute walk from the town center, or a five-minute bus ride. Reaching the summit takes about an hour of steady uphill walking, but your efforts will be rewarded with one of the most gorgeous panoramas in the Rockies.
If your muscles are feeling a bit sore after the exertion, hop on the bus and head straight to Banff Upper Hot Springs. Luxuriate in the comfort of these soothing outdoor hot springs, set against the backdrop of stunning alpine scenery. The mineral-rich water's temperature is consistently between 98-104 degrees, so it feels good year round, and that rotten-egg sulfur smell is hardly noticeable once you're immersed in the water. They even rent swimsuits, so there's no excuse not to take the plunge.
Nothing says Canada more than canoeing, and Banff is a lovely place to spend some time engaging in this pursuit. The Bow River runs through town, and Blue Canoe is the place to rent kayaks and canoes. The helpful staff is always ready to give novices some instruction before they start paddling, and they even have guided trips for those who desire expert company.
Rocky Mountain Raft Tours has several daily float trips, providing a free shuttle to the launch site. The floats traverse a calm section of the Bow River, making it a good choice for those who want to experience the river without getting too wet. If you're looking for more thrill-inducing whitewater, Chinook Rafting has a half-day trip that should suit you. The Horseshoe Canyon trip serves up big waves and Grade IV whitewater, alongside spectacular scenery, and includes shuttle service.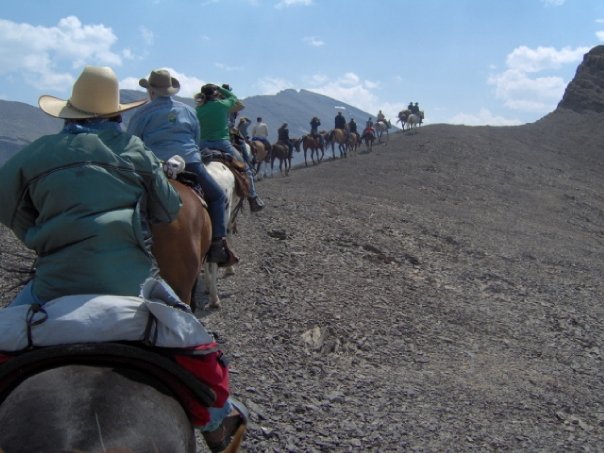 If you're itching for a truly Western experience, get on a horse. Holiday on Horseback has a varied selection of trail rides with something to suit all levels of equestrian skill. The Wilderness Cookout ride will have you feeling like an extra in a John Wayne movie.
Banff is a cycler's paradise, and renting a bike and helmet is easy at Bactrax, located on Bear Street in downtown Banff. There is a good selection of bikes in excellent condition, and the staff will be happy to point you in the direction of some great rides, where you are likely to cross paths with a herd of grazing elk.
Shopping in Town
Banff is a world-class resort town, and you will find many shopping options. If you want to bring home a piece of the West, Trail Rider Store will be more than happy to oblige with Boulet Boots and Stetson Hats. Canadian global favorites Lululemon and Roots are here too, and don't miss a scoop at Cows on Banff Avenue, known as Canada's best ice cream. After you've finished your cone, wander into one of the many art galleries that represent local, Canadian and international artists.
When Hunger Strikes

You will build up an appetite in the mountain air, and Banff restaurants will satisfy your cravings. If you're wanting a smattering of belly dancing and plate smashing with your Moussaka, head to family-run Balkan for good food and entertainment at a reasonable price. The Sleeping Buffalo Restaurant at the Buffalo Mountain Lodge is just outside of town on Tunnel Mountain Road. Set amidst breathtaking beauty, this casually elegant restaurant is the place to sample regional Canadian cuisine. For a sophisticated tangle of flavors, start with the Charcuterie Platter, a smattering of locally smoked and cured meats, served with house-made fruit relish. The wine list features some good Canadian choices from Niagara and British Columbia.
Where to Stay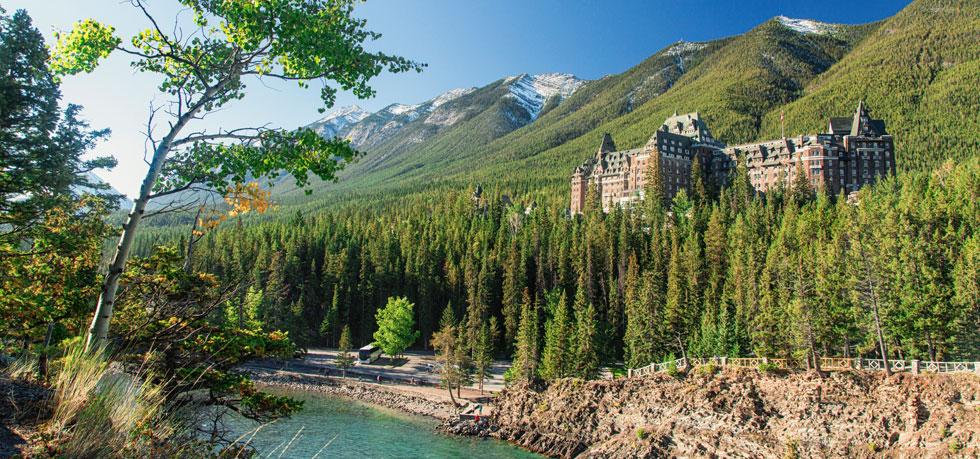 The Buffalo Mountain Lodge (from $169) is just outside of town, in an unsurpassed natural setting, easy to reach by bus or on foot. Offering a two-night stay and soak package for $120, Banff Mountain Lodge is located in the heart of town and is run by the YWCA and has clean and comfy private and dorm accommodations at low prices, with amenities like wifi, a cafe and a cook-it-yourself kitchen. The iconic and eco-friendly Fairmont Banff Springs Hotel (from $240), which sets guests up with everything from horseback riding to rafting to a day of skiing, is magnificent in its castle-like splendor.
How to get there: Air Canada flies non-stop from Newark to Calgary daily, in four and ½ hours. The Brewster Banff Airport Express runs 7 times each day, will get you from the airport to Banff in 90 minutes. These comfortable buses have WiFi on board, and cost just under $50 each way. The Banff Lake Louise Tourism website is full of useful information that will help you plan your active getaway.
KPICASA_GALLERY(ThingsToDoInBanffCanada)
Lead photo by Rick Schwartz, lake shot by Krishna Santhanam