You already have photos of your tots and tweens grinning under the twinkling LED lights in Rockefeller Center or in front of the Macy's window displays. This year, rally the family troops for a different day (or weekend) outing.
From Dickens's Christmas Carol in a 17th century church in Sleepy Hollow to tea parties at the Ritz in Boston, these eight holiday activities for families will jump-start the joyous wintry season. (Of course, all destinations are accessible without a car as you are never too young to lighten your carbon footprint.)
1. The Boston Holiday Tea Party


A trip to Boston is a festive way to ring in the season. Book a bargain-priced seat on the spacious Wi-Fi-adapted Megabus to Boston's South Station. (Board the double-decker early to ensure an upper-level front-row seat with cool views for both you and the kids.) Head over to Boston Common, a scenic winter wonderland that is home to the Frog Pond, a perfect place to lace up your ice skates. Best of all, kids under 58 inches tall skate for free. After twirling on ice, head to the Boston Ballet to see a holiday favorite—The Nutcracker. And if you're in a giving mood, make reservations for Teddy Bear Tea at The Bristol, Four Seasons Hotel, where young guests are invited to bring a teddy bear to give to those who are less fortunate.
How to get there: Consult oM's Boston Transportation Guide for alternatives to Megabus. Note that Boston Common is a 20- minute walk from the bus station or on brisker days, take the T one stop on the orange line to Chinatown. When you exit the T take a left on Washington Street and then the first left on Avery Street. The hotel is on the left and at the top of Avery Street you will see Boston Common. Advance reservations are recommended for both holiday teas.
2. Arts & Crafts in the Bronx
Riverdale's garden gem Wave Hill is closer to home, but its tranquil winter landscape feels miles away. Upcoming events include the Family Art Project: Season's Greetings (December 7) and Holiday Workshop Weekend (Dec 6 and 7) that are free with the garden's admission price (enjoy Target Free days on Tuesdays and Saturdays 9am-noon). Stroll the stunning grounds, peek inside the greenhouse, and pause for a hot chocolate at the café before catching the free shuttle van to the #1 train.
How to get there: Read oM's in depth article on Wave Hill for more information and specific directions from Grand Central to Riverdale.
3. Celebrate the Holidays in Sleepy Hollow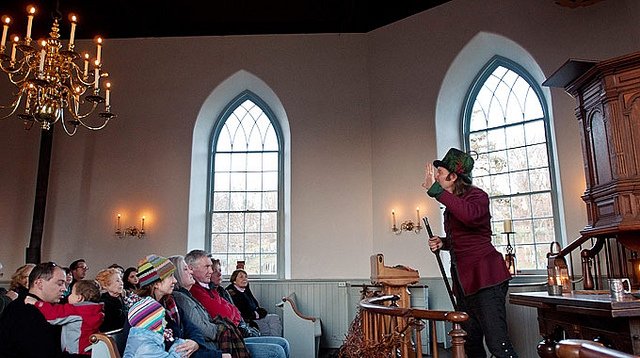 Before or after the Dickens's Christmas Carol (Dec. 7, 14, 21) at Old Dutch Church, constructed in 1685, make time to explore pedestrian-friendly Sleepy Hollow, home to Washington Irving's horror novel about Ichabod Crane and the Headless Horsemen. Peruse Pretty Funny Vintage, which offers a wide selection of furniture, clothing, and trinkets. Further down Broadway is Whimsies Incognito, which is somewhere between a gift shop and a gallery, stocked with everything from The Indie Rock Coloring Book to kitty greeting cards to local artisan crafted house wares. Tiptoe around Sleepy Hollow Cemetery, then stop into the cozy and quaint Silver Tips Tea Room for a pot of ginger peach tea and a balsamic turkey wrap.
How to get there: From Grand Central Station, take the Hudson Line on Metro North to the Tarrytown or Philipse Manor stops. Visit hudsonvalley.org for more ideas on things to do here.
4. A Wild Holiday Trip to the Zoo
Though its famous holiday light show has gone to the wayside in an effort to reduce its carbon footprint, the Bronx Zoo is still a great place to rev up your family's Christmas spirit. Holiday weekends at the zoo feature ice carving and wild reindeer encounters, and more.
How to get there: Take the #2 or #5 train to East Tremont Ave/West Farms Square. At street level, walk straight (follow train uptown) on Boston Road 2.5 blocks to the Zoo's Asia gate entrance (Gate A). For more holiday events, visit bronxzoo.com.
5. Holiday Fun on the Farm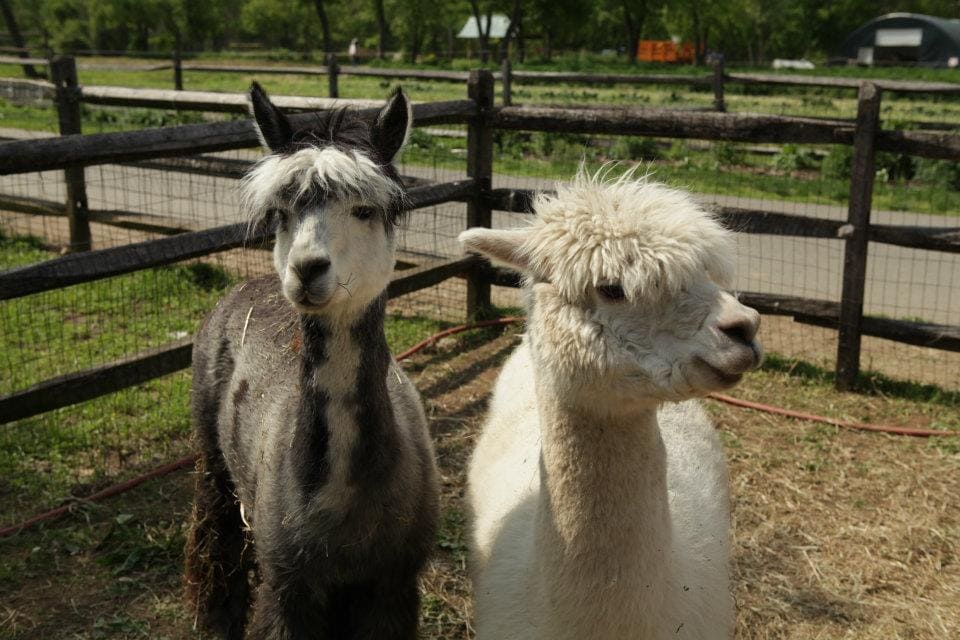 The Queens County Farm Museum is the only working historical farm in the five boroughs. It's fun to milk the cows, ride the ponies, and feed the animals anytime of the year, but they go all out sprucing it up for the holidays. On December 26th, 27th, and 28th, the farm hosts its annual free holiday open house, with craft activities and farm fresh food. Christmas trees and poinsettias are available until December 24th.
How to get there: E or F Train to Kew Gardens/Union Turnpike Station Q46 Bus (eastbound on Union Tpk.) to Little Neck Parkway Stop. Cross Union Turnpike and walk North on Little Neck Parkway three blocks to the museum entrance. More information about the farm can be found at queensfarm.org.
6. Skating on the Harbor
Port Jefferson, Long Island is a picturesque village with a scenic harbor. The Dickens Festival takes places every December, featuring Dickens characters like Tiny Tim and Ebenezer Scrooge. If you miss the fest, the town's gorgeous ice-skating rink is open from November 28 to mid-March. Warm up at The Secret Garden Tea Room for their Carols by Candlelight (December 13, 20, or 27), which includes sparkling cider, homemade soup, three tiers of freshly baked scones, savories, and petits fours.
How to get there: The MTA Long Island Rail Road's one-day "Port Jeff Village" non-escorted package is the best way for families to get there. The package includes discounted round-trip rail tickets from Penn Station, two Lindy's Taxi stubs, which will get you from the station right into to town, and a "LIRR Port Jeff Customer Coupon", which gives discounts at several local establishments. The package cost is $25 for adults, $10.00 for children 5-11.
7. Make Time for Trolley Rides and Classic Holiday Movies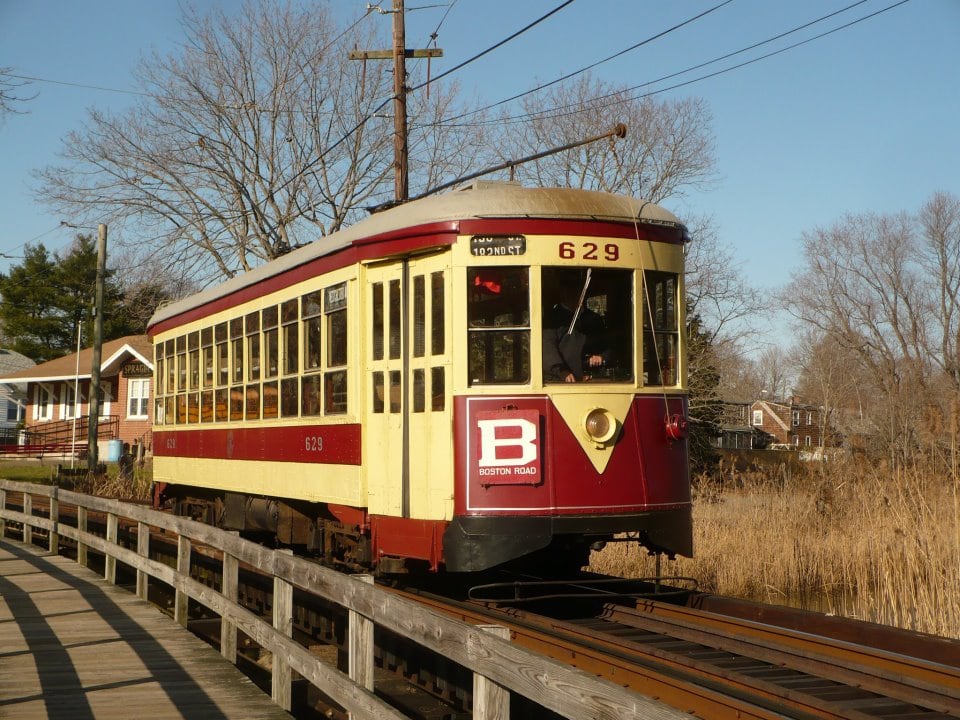 If your little ones are on a first name basis with Thomas (the Tank Engine) and Percy, James and Gordon, a visit to East Haven Connecticut's Shore Line Trolley Museum can make holiday dreams come true. Beginning November 28, ride in comfort on the heated trolley with Santa then explore the museum's nearly 100 vintage vehicles. While you're up here, don't miss a stop in New Haven. Its historic Criterion Cinemas features classic holiday films for families each weekend, such as It's A Wonderful Life and White Christmas. Check out the schedule online at bowtiecinemas.com. When small tummies start to grumble, your family can join in the town's famous pizza rivalry and choose between two venerable joints: Sally's or Frank Pepe. Let budding gourmands choose between Pepe's clam pizza (a local favorite) and Sally's good ole cheese pie.
How to get there: Metro-North's New Haven line takes you from Grand Central Station to Union Station in 2 hours. From Union Station, catch a waiting taxi to East Haven, and you will be there in minutes for $1 (or $6 for kids).
8. Educational Adventures at the New York Botanical Garden
On display November 15-January 19, the New York Botanical Garden Holiday Train Show is so spectacular that it has become a holiday tradition right up there with the Rockettes. Bright lights, model trains, a bar car for adults, and meticulously accurate mini-replicas of 140 famous New York landmarks will put the rose back in those cold cherubic cheeks. Have a look at Gingerbread Adventures, featuring a giant ginger bread house festooned with sugary-treats that kids can step inside.
How to get there: Take the Metro-North Harlem local line to Botanical Garden Station. Walk across Kazimiroff Boulevard to the Garden's Mosholu Gate entrance. It takes 20 minutes from Grand Central Station. By subway, take the B, D, or 4 train to Bedford Park Blvd Station. From the station exit: Take the Bx 26 bus east to the Garden's Mosholu Gate entrance. OR walk eight blocks down the hill on Bedford Park Blvd to the end (approximately 20 minutes). Turn left onto Kazimiroff Blvd and walk one block to the Mosholu Gate entrance. For more information on holiday events at the garden go to nybg.org.
Lead photo: wundoroo
Allison is a native New Yorker, who has lived in Rome, Tuscany, Melbourne, Toronto and Los Angeles. She frequently contributes travel pieces to Family Travel Forum, using her own children as guinea pigs as they travel the globe. She is fluent in Italian and Spanish and laughably adequate in French. Her background as an Early Childhood Educator gives her an added understanding of what it takes to travel with kids in tow. She firmly believes that the most important part of education takes place outside of the classroom, on the road, around the world. She never misses a chance to sample local delicacies, as her love for travel goes hand-in-hand with her love for food and wine. Follow Allison at @gourmetrav.