Because there is no sense roaming on an empty stomach.
It's easy to dismiss hotel restaurants as overpriced, under-seasoned dining traps designed for the inexperienced traveler. But with award-winning chefs steering the ship and culinary trends invigorating menus, it doesn't have to be the case. In fact, some in-house establishments are so good, they lure guests all on their own.
Here, food-obsessed travel writer Joanna Prisco shares her monthly picks for where to stay if eating well is high on your list of getaway necessities.
Life After Chowda at The Charles Hotel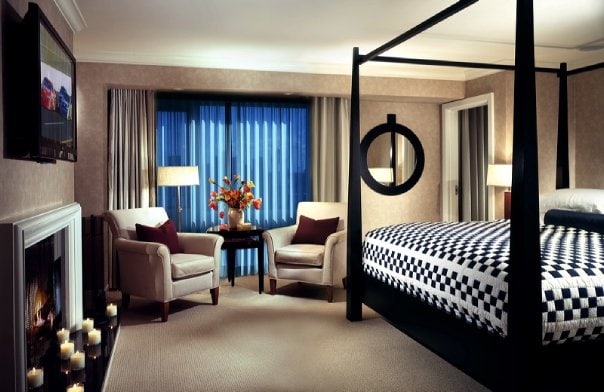 Boston offers many pleasures for the nostalgic food lover. From Parker House Rolls to fluffy cream pies, the city is steeped in proud, traditional food lore. But should you choose to explore beyond historical haunts, book your room across the river at The Charles Hotel.
Located at the Harvard Square stop on the T in Cambridge, The Charles is home to not one but two award-winning restaurants, making it difficult not to eat there in between every excursion. Start the day greeted by the Roasted Root Vegetable Bloody Mary at Henrietta's Table. Combining pureed roasted root vegetables with tomato juice, horseradish, celery seeds, Worcestershire sauce, Tabasco, salt and cracked black pepper, this morning refresher has more kick than a cup of coffee (and, let's face it, more fun too).
Chef Peter Davis is a huge proponent of sustainable foods, and his cooking reflects that with seasonal produce sourced from 15 regional farms (including one Farm School) and prepared at the peak of harvest. Pair that Bloody Mary with a stack of Davis's Whole Wheat Hotcakes or Cream Chipped Beef on Buttermilk Biscuits and you'll be ready to take on the city.
Across the lobby, James Beard award-winner and Top Chef Masters alum Jody Adams's flagship Rialto has been a pillar of the New England dining scene since 1998—and for good reason. Adams' attracts a steady stream of returning guests and locals with an ever-changing menu focused on French, Spanish and Italian cuisine.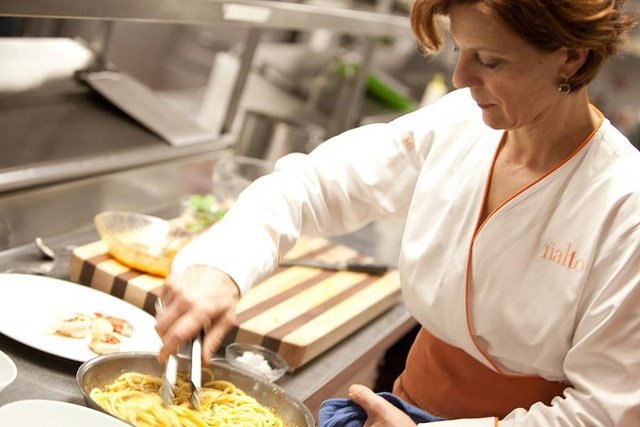 On a recent visit, the Cacciucco, a soulful stew of salt cod, shrimp, clams, mussels and lobster swimming in charred tomatoes and spices was a welcome respite for those who tire of Boston's ubiquitous bowls of steaming, cream-kissed clam chowders but still want to enjoy local seafood. Likewise, guests cannot go wrong with the Ricotta and Parmesan Gnocchi, studded with funky black truffles, earthy red kuri squash, and a sprinkling of Brussels sprouts and walnuts. Adams' current culinary obsession? Lazio, a region of Italy where offal, artichokes and toasted flours reign supreme. Upcoming 2013 culinary classes with Chef Adams include Comfort Cooking For Company: Recipes for a Buffet, Cooking for the Ones You Love with Taza Chocolate, and Carbo-Loading, Pasta, Pasta, Pasta.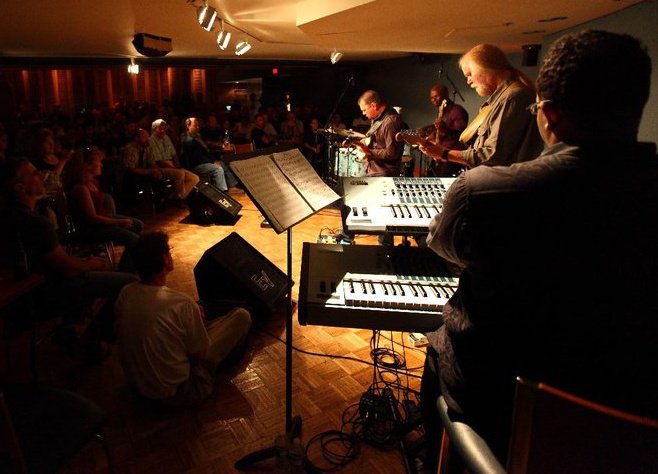 If all that (plus a rooftop garden) weren't already enough, The Charles Hotel is also home to two other venues at which to while away the evening—Regattabar. At the former, you'll find a 220-seat venue where some of the finest jazz musicians are scatting and wailing in standalone sets as well as for the annual Jazz Festival.
At the latter, look for luscious cocktails like the Dark Passage, a sinful mix of Stoli Vanilla, blackberry brandy, lemon, Guinness and Old Fashioned Bitters, to send you to bed with sweet dreams.
Sigh. Looks like we'll be booking another trip soon.
How to get there: Visit megabus.com or consult offMetro's Boston Transportation Guide for more travel details. Take advantage of the free bikes and on-site ice skating rink when you visit The Charles Hotel. Rates from $259/night. One Bennett Street, Cambridge, Mass.; 617.864.1200; www.charleshotel.com
Photos: The Farm School and all others by Charles Hotel