"It's like grandma's house. On pontoons," my friend Jason said, sinking into a wicker chair at Green Turtle, a floating bed and breakfast in Boston Harbor. Last weekend, I visited my old college town to find there's plenty to do beyond scrambling after fly balls at Fenway and succumbing to sales on Newbury Street.
With fervor to rival that of our own New York City, Boston prepares for next season with contemporary craft markets, bike tours, harbor ferry rides for the price of iced coffee and sheets of pappardelle wrapped in Bolognese from a star chef in the up-and-coming neighborhood of Fort Point. We sampled the latest additions along with some stalwarts to make the most of weekends in Beantown.
Where to Stay in Boston
I arrived at The Inn @ St. Botolph late Thursday evening where I entered my personalized access code in the front door keypad to let myself in. By eliminating concierge service and the check-in process, St. Botolph offers the luxury of a boutique hotel without the cost of hiring all-day staff. Each suite is outfitted with chic cinnamon-and-black furnishings, a steel four-poster bed, and a full kitchenette. Laundry and fitness rooms complete the feel of a posh Midtown flat. (The Inn @ St. Botolph, 99 St., Botolph St, 617.236.8099, rooms from $209)
The next day, I moved to South End's beloved Encore Bed and Breakfast where innkeeper-architect Reinhold Mahler reflected on his childhood in the German countryside where his father ran an inn. "It was before the age of Internet so we were entirely weather-dependent. Sometimes [in bad weather], it would be completely empty!" he said, swearing he'd never follow in his old man's footsteps. But sometimes a reprise of the past is hard to turn down as he learned in 2000, when he and his partner David Miller bought the top floors of their 19th century townhouse.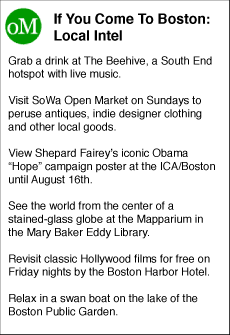 Combining their architecture and set design expertise (David directs Boston's Zeitgeist Stage Company), the pair created four charming guest rooms bathed in natural light. The lavender Edward Albee room is especially popular with honeymooners who enjoy a private balcony and a panoramic view of the Boston skyline. (Encore, 116 West Newton St., 617.247.3425, rooms from $140-$240)
On Saturday, I took a ferry to the Green Turtle floating B&B in Charlestown. To get there, I happily paid $1.70 for the scenic ten minute cruise from Long Wharf to historic Charlestown Navy Yard, passing Bunker Hill and "Old Ironsides" on the way.
Upon reaching Pier 8, innkeeper Karen Maciejewski greeted me with the gusto of a relative you haven't seen in years because she's been living on a sailboat—with the tan to show for it. With her husband Jon Dolence, Karen opened the two-bedroom houseboat last June. Drawing from decades of working in the service industry, the two look after every detail from hailing your water taxi to tending the flower boxes and arranging the breakfast baskets each morning.
Green Turtle comes with all the amenities one expects from a traditional, land-based B&B with the addition of a soft sea breeze, the pleasure of lounging on the pier, and life vests under the bed. That said, you don't need Dramamine. Few boats pass in the evening so any waves are merely gentle lulls. (Green Turtle, Shipyard Quarters Marina, 13th St., Charlestown, 617.337.0202, rooms from $260 in summer/fall)
Where to Eat
While Boston touts lodging options from land to sea, it also indulges preferences of the culinary kind especially during Restaurant Week, which returns August 18-23 and 25-30.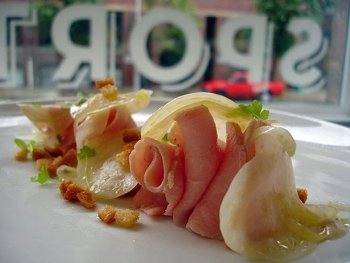 In Fort Point, acclaimed Boston chef Barbara Lynch opened Sportello to cater to savvy diners in the rapidly developing neighborhood. The trattoria boasts a sleek space dominated by counter seating and a menu that spotlights fresh, housemade pastas. Stop by the bakery for sticky monkey bread and Peruvian coffee or head downstairs to Drink where we hear the cocktails could compete with the best in our own metropolis. (Sportello, 348 Congress St., 617.737.1234/Drink, 617.695.1806)
Make the most of your Charlie Card and take the T to Central Square. Once there, a ten-minute walk brings you to Oleana. With a flair for layering flavors and spices, chef-owner Ana Sortun turns traditional Arabic-Mediterranean cooking on its head by making the likes of ordinary lamb steak an adventure with Turkish spices and serving it with fava bean moussaka. Arrive early for your reservation and ask for a table in the back patio beside the blue globe alliums. (Oleana, 134 Hampshire St., Cambridge, 617.661.0505)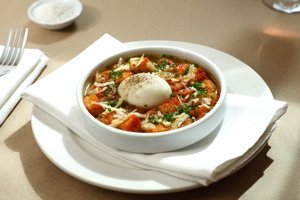 Further along the Red Line, Ten Tables proprietor Krista Kranyak welcomes Harvard Square neighbors to the second branch of her popular Euro-influenced New American restaurant. The four course $45 Chef's Tasting Menu is a steal considering the quality of the often local, organic ingredients. On the night of my visit, a crowd-pleasing handmade ricotta cavatelli stole the show. To top off my meal, I sampled the signature Thai basil ice cream on rich chocolate terrine—a sweet that divided my party, to say the least. While herbaceous ice cream piques my palate, my dinner companions turned to the creamy panna cotta. To each his own, I thought, as I exited the subterranean dining room past hungry diners piling up by the door. (Ten Tables, 5 Craigie Circle, Cambridge, 617.576.5444)
While we aimed to explore the less eaten path, sometimes the call of cannoli, Boston cream pie, and buttery lobster rolls can't be ignored. For a perfectly toasted brioche roll brimming with lobster meat, locals suggest Neptune Oyster, where $25 buys the goods and a heaping plate of fries. Go during lunch to avoid the inevitable dinner wait. For a cold rendition, try the lobster roll at Chef Lynch's B&G Oysters, featuring a charming outdoor garden in the South End. (Neptune Oyster, 63 Salem St., 617.742.3474/B&G Oysters, 550 Tremont St., 617.423.0550)
The cannoli competition continues between North End neighbors Mike's Pastry and Modern Pastry, which pleases those who pit one ricotta cheese-filled pastry against the other in epic taste battles. Before committing to either one, I asked a waitress at Neptune Oyster for her pick. She prefers Modern, she said, because "They fill the cannoli as you order" to ensure the fried wafer shell maintains its crispness. (Mike's Pastry, 300 Hanover St., 617.742.3050/Modern Pastry, 257 Hanover St., 617.523.3783)
For a sweet cannoli-free finale, waddle over to Flour—a bakery that just celebrated its 10th anniversary with a new cookbook—where mouthwatering sandwiches, oversized cupcakes, and moist apple spice cake maintain the good rep of the namesake ingredient. Otherwise, go native with a slice of the custard-filled Boston cream pie, 'cause you certainly can't get that in New York. (Flour, 12 Farnsworth St., 617.338.4333 and 1595 Washington St., 617.267.4300)
How to get to Boston from NYC: Take the bus or train from Manhattan. Consult offMetro's Boston Transportation Guide for more travel details.
For more information on Boston, visit Greater Boston Convention & Visitors Bureau or call 888.733.2678.)
Photos: Courtesy of Amy Cao, The Mary Baker Eddy Library, and ICA/Boston

View Where to Stay and Eat in Boston in a larger map
KPICASA_GALLERY(WhereToEatAndSleepAndPlayInBoston)