Charlotte, North Carolina is a city with a lot to offer, and you can discover the charm and allure with this visitor's guide to top attractions, local favorites, and essential safety tips.
Before you explore the city in person, you can plan out your trip with us as we venture through exhilarating theme parks, impressive museums, enticing culinary delights, hidden gems nestled within vibrant neighborhoods and more.
We already covered Charlotte before, but this article will come from a few different angles. So read on and start putting your own itinerary together with a little help from us!
Must-Visit Attractions: The Queen City's Crown Jewels
Charlotte, often called the "Queen City," boasts a variety of attractions that cater to diverse interests and travelers of all ages. Here are some must-visit destinations during your stay:
U.S. National Whitewater Center

(USNWC): Experience outdoor adventures like whitewater rafting, mountain biking, zip lining and more at this unique facility.

NASCAR Hall of Fame: Discover the rich history and stories behind America's favorite motorsport in this interactive museum.

Carowinds Theme Park: Enjoy thrilling roller coasters, family-friendly rides, seasonal events, beautiful landscaping blended with North and South Carolina themes.
Watch this video review of Carowinds Theme Park:
No trip to Charlotte is complete without exploring these remarkable attractions. They offer something for everyone while showcasing the city's vibrant culture. Be sure not to miss out on these crown jewels as you delve into all that Charlotte has to offer!
Hidden Gems: Explore Charlotte Like a Local
Charlotte has numerous hidden gems that are loved by locals but often overlooked by visitors. Stray from the beaten path and discover some lesser-known hotspots:
NoDa (North Davidson) Arts District: Immerse yourself in this eclectic neighborhood filled with art galleries, wall murals, local breweries, and unique dining experiences.

Camp North End: Wander through this repurposed industrial site turned iconic creative hub boasting trendy shops, eateries, studios, and community events.

Romare Bearden Park: Relax at this picturesque urban green space offering serene city views; catch free live music during the summer months.
Watch this video to get a glimpse of NoDa:
Embrace the local charm of these off-the-grid spots as you wander through the fascinating fabric of Charlotte's diverse neighborhoods, some of which can rival those of NYC. You'll gain memorable insights into what makes each locale strikingly remarkable while indulging in authentic city living.
Navigating Charlotte's Roads: Tips for Safe Driving
Charlotte, North Carolina, is a bustling city with plenty to see and do. When navigating the busy streets, it's crucial to prioritize safety behind the wheel. Keep a few key tips in mind during your Charlotte adventures:
Stay alert and focused on the road: Avoid distractions like texting or eating while driving.

Be mindful of speed limits: Adhering to posted speeds reduces your chances of accidents.

Watch out for pedestrians and cyclists: With an increasing number of people exploring Charlotte on foot or bike, vigilance is essential.
In case you find yourself in an unfortunate accident situation despite taking precautions, know that Charlotte's car injury lawyers are always available for support and guidance. Remember that safe driving ensures not only a good time but also protects yourself and other travelers around you from potential hazards.
The Culinary Scene: Savory Delights and Quaint Cafés
Charlotte's culinary landscape is rapidly evolving, with innovative restaurants and cozy cafés serving up delicious food that pleases the palate. If you're up to speed with culinary trends, treat your taste buds to some of these delectable delights:
Bar-B-Q Joints: Dig into mouth-watering Carolina-style barbecue at spots like Midwood Smokehouse or Mac's Speed Shop.

The Fig Tree: Get your tongue tingling with the upscale, fine dining fare that's available at this well-loved eatery that's got rave reviews from locals and visitors alike.

Amélie's French Bakery & Café: Unwind in a beautiful setting while indulging in scrumptious pastries, desserts, and European-inspired dishes.
From Southern comfort cuisine to international flavors, Charlotte has an array of dining options awaiting exploration. Experience Queen City's gastronomical variety for a more intimate connection with its local traditions, culture, and passions.
Watch this video to see some of the best restaurants in Charlotte:
Family-friendly Fun: Activities for All Ages in Charlotte
If you're renting a place in Charlotte with your family, the city offers a plethora of activities that will entertain and engage visitors with diverse interests. Here are some delightful ideas for an unforgettable family experience:
Discovery Place Science Museum

: Ignite curiosity at this interactive museum featuring hands-on exhibitions, educational programming, and live animal experiences.

Daniel Stowe Botanical Garden: Explore magnificent gardens, lush conservatories, whimsical outdoor sculptures on a picturesque 110-acre site.

Ray's Splash Planet: Beat the heat with refreshing water slides, lazy river float adventures, and aquatic playgrounds geared towards fun-seeking families.
Watch this video to get a glimpse of the Daniel Stowe Botanical Garden:
Whatever your preferred activity or age group may be, these hotspots provide engaging entertainment options perfect for bonding and shared memories. Experience the best of Charlotte as you embark on adventures designed to appeal to both young travelers and those young at heart.
A Walk Through History: Notable Museums and Landmarks
Charlotte's rich history is elegantly displayed across a collection of museums, landmarks, and historic sites. Uncover the city's past with these enlightening cultural experiences:
Levine Museum of the New South

: Discover Southern history from post-Civil War to modern times through interactive exhibits and thought-provoking programs.

Historic Rosedale Plantation: Step back in time at this 200-year-old gem boasting beautiful gardens, Federal architecture, and illustrious heritage.

Charlotte Liberty Walk: Follow a self-guided tour along commemorative markers highlighting notable events leading up to America's Revolutionary War.
Watch this video to learn more about the Historic Rosedale Plantation:
Immerse yourself in Charlotte's colorful past by visiting these extraordinary destinations that showcase different facets of its history. Delve deep into tales filled with triumphs, struggles, and resilience – each reflecting an essential piece of this captivating Queen City.
Final Thoughts
So, what are you waiting for? Pack your bags and embark on an unforgettable journey through Charlotte's bustling streets, awe-inspiring attractions, and exquisite local gems.
As you get enveloped in the unique charisma of this vibrant cityscape with family and friends, remember to stay safe while navigating its roads. Plan your trip to discover all that the Queen City has in store for you today!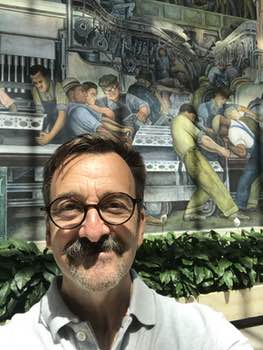 "The Jaded Traveler". Ron Rossi was born and raised in New York. A globalist at heart, Ron is a marketing director by trade, and has lived and worked around the world including Asia, Europe, Africa, and South America. Food is one of the best ways to learn about a country, a people and a culture. So, Ron is always looking for the best in mid-range to budget and street food. He is always on the hunt for a good meal anyone can afford. It is the food of the average citizen that excites him. And with having visited close to 100 countries on 6 continents so far, there have been some pretty good meals.