Being here in the southern part of the US is a great place to be if you want real BBQ. Every place has it. Every place does it. But when you try real BBQ you might not taste the same thing when you are there.
Every place has a different cook and a different place. That is the path you take when you are driving through or here on a visit. It is what we expect every time we are driving through from New York to the South.
This was the time we spent the night in Smithfield, NC. It was time for dinner and we needed to find a place on a Sunday night. As we know, not every restaurant is open on a Sunday night, so we had a limited selection. We asked the Hilton Manager where we were staying and she recommended her favorite place that she knew would be open on Sunday.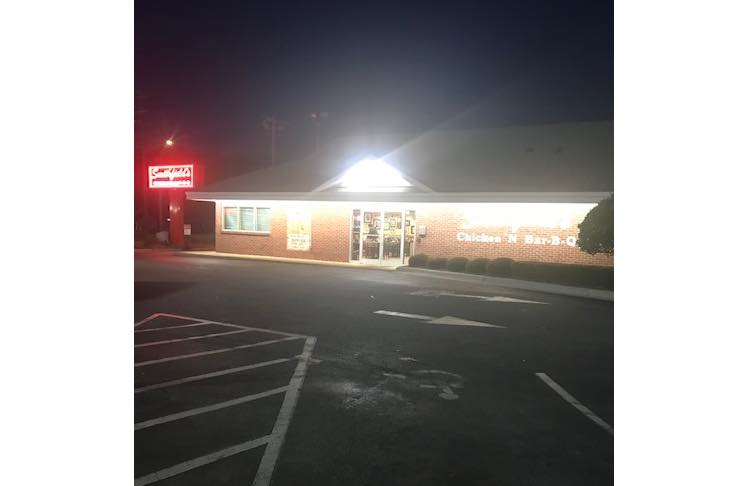 Welcome to Smithfield Chicken 'N Bar-B-Q.
Enter and taste something new.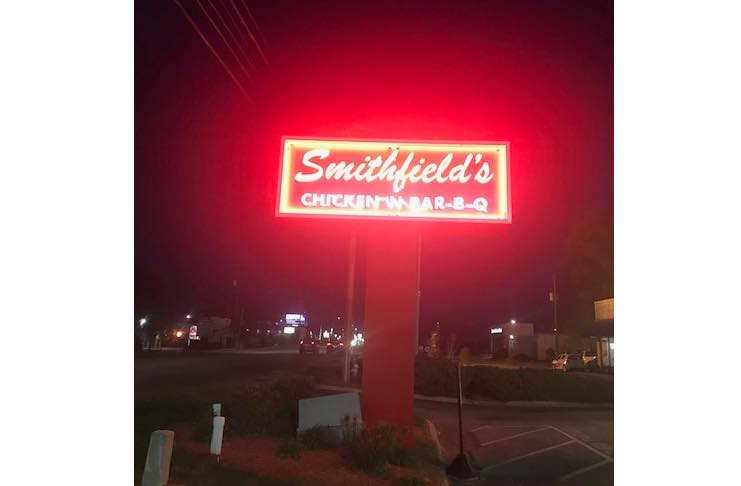 When you enter Smithfield Chicken 'n Bar-B-Q you would think you are entering a small fast-food restaurant here in Smithfield. You step inside and see the counter where you go to order what you would like to eat. The menu is on the counter and up in front of you.
There is a person at the window who will take your order, answer your questions, make recommendations and assist you in a way that will make it easy for you. There is not a long list of selections to choose from.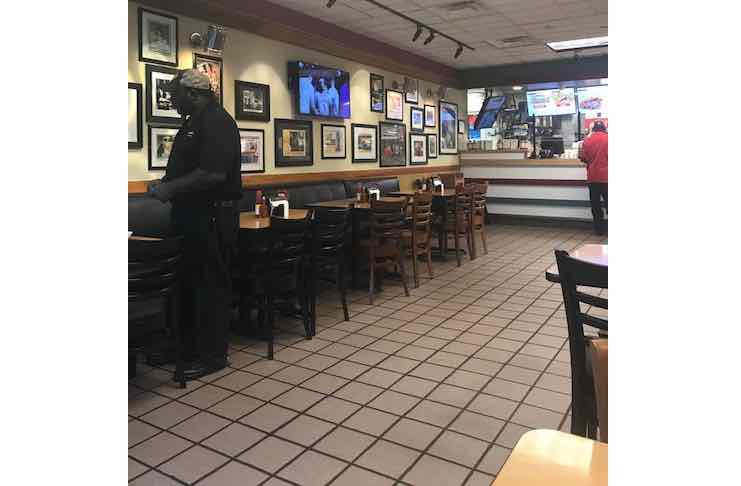 There is a small amount to choose from. You can have a sandwich. Or maybe a plate. You can have just chicken or maybe just shredded pork. There is even a combination to try.
When you order a plate you will also receive hushpuppies, coleslaw, and potato salad. This is all freshly made that day. It's not from the freezer or from the week before. This is made in the morning and ready for you.
If there was nothing left you would know. There even would be a signup front that would tell you it was not available at that time.
There is not the biggest selection, but the choices are fine. It is what you would like to have when you are there. And like the side dishes, everything is freshly made the day you are there.
The chicken is cooked and is available for the hour. If any is left it is going to be used the next day for the homemade Brunswick Stew. And this is truly homemade right there by the cook.
For us, we ordered the plate combo. We had our chicken and our pork. You can have your choice of white chicken or dark chicken. We had a little of each. To go with this you even have your selection of a good bbq sauce if you want.
On the table is more traditional bbq sauce including the vinegar-based style that is what you would find in every home in the area. It is a taste you would not find in other states. It is from this region. It will add a flavor you will enjoy.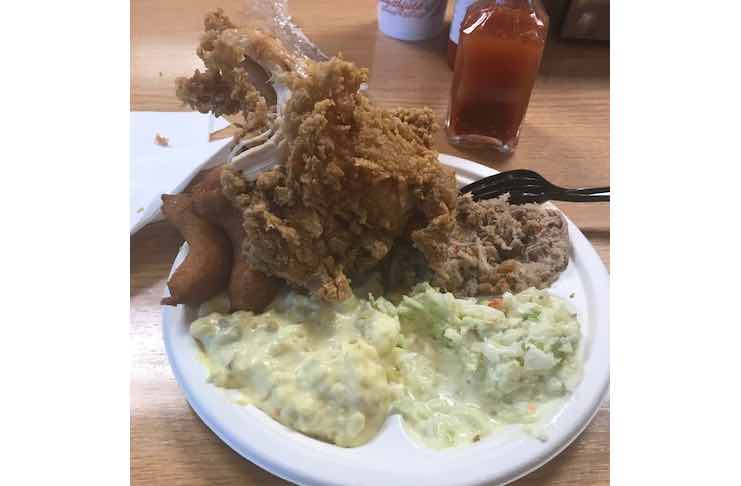 Time to sit and eat: Homemade coleslaw and potato salad
Once you make your order, and what beverage you might want with the meal you pay the cashier. That is it. The prices are not expensive. Especially when you see what you receive. The meal is greater than the price you pay for this.
We took our drinks and sat at a table to wait as they recommended. Once we settled in they brought over our meals. It was that fast. They brought everything we ordered including the special sauces we wanted to try. They provided everything and were always available if you had any questions. Once they left it was time to begin.
And how do you begin? This was not a small plate. It was filled with everything you ordered and presented like we would receive if you were sitting in their kitchen at home. It was huge.
The smell was first. You knew it was just made, It was fresh. It had the smell of a good fried chicken and real pork that was made that morning. It was a true bbq. It also came with everything they had mentioned that would come with it.
There was the homemade coleslaw and potato salad. It was not the standard type you might expect from a deli or from another chain restaurant. This was made as they would normally make it if you were in their kitchen and learning how it is done. This was at the right temperature. Not hot. Not cold. And a taste that was the best with each bite you took. Moist. Juicy. Just the right amount of spice to make it a good compliment to the dish itself.

Don't forget the hushpuppies. These are the best. I have had them before but this time it was soft and moist and sweet and perfect. It came with the meal but I could have this alone as a dessert with tea or coffee. It was perfect with this meal.
With each bite I took I never knew where to begin. Start with the chicken and then the pork. Or start with the pork and then some chicken. It did not matter. The extra bbq sauce they offered was a good match to the chicken.
I put the special vinegar that was created here in Smithfield to compliment the pork. It was a nice touch and made me wish for more. It was ideal for this meal.
There is no rush to eat. You can take your time and enjoy it as you move along.
Smithfield Chicken 'N Bar-B-Q is a place to explore.
Smithfield is an interesting place. You might pass by the place and stop in when you are hungry. You think it is fast and typical of a fast chain. But when you get inside you realize you are home. That is the way you are treated. That is the way you eat with what they have to offer at that time.
We were lucky enough to sit next to one of the Smithfield Executives – Mr. Loken.
He has been with Smithfield for many years already and told us a great deal. Right now there are over 40 locations in the Carolinas. Half are owned by corporate. Half are franchise partnerships. Each location fools guidelines.
Each week each location will speak with the corporate team who comes in to make sure everything is run properly. They will try each sample of every course to be presented.
Everything is correct so if you went to one location it would be the same at another one you try. It is to make sure that the visitor will have the same meal no matter where they visit. It is home cooking.
We also met with the Manager, Mr. Henderson. A nice gentleman to discuss what it means to be at Smithfield and offer the best to every visitor. Also what it means to work for the team and ensure that everyone is supported if assistance is needed.
Even the cook stopped by and we learned that every morning he makes the traditional Brunswick Stew that follows the old recipe. Brunswick Stew is a tradition and was first created in the fields of the south centuries ago.
They still make it that way every morning. And once the pot is finished by visitors that day there is no more. You need to wait another day. Now that is home cooking.
The history of Smithfield Chicken 'N BBQ is that it first started in Smithfield which is also famous for those who are movie fans. It was the place where the great actress Ava Gardner was born and raised. She is famous for many movies including Show Boat.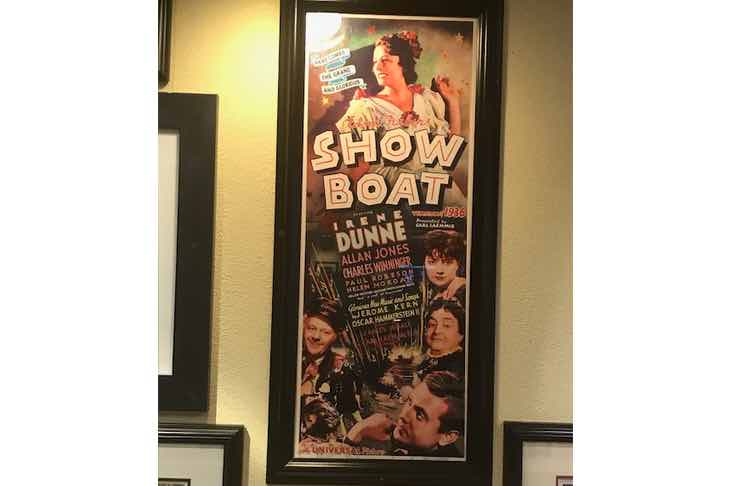 It is a 1951 American musical romantic drama film, based on the 1927 stage musical. She was the actress Julie LaVerne in the movie. There are photos of her in various films she was in with famous actors. It was interesting to see those on the way as you are enjoying a meal.
Any time is a good time for Smithfield BBQ
Whether you are hungry for breakfast, lunch, or dinner, Smithfield is the place to step in and enjoy home cooking. It is made like you would have if you visited someone's house. aThe taste is great. The choices are ideal. The price is something you can afford. And the team is like being with someone you know.
Even though I did have my first dinner at Smithfield I will truly stop by any Smithfield I did see as I am there in the area. I already know what I will have and what I want to try next. Even the leftovers the next day are great and taste well. It is the same as what you expect. Perfect.
Stop by Smithfield Chicken 'N Bar-B-Q. Welcome home!
Location:
Smithfield Chicken 'N Bar-B-Q
924 Brightleaf Boulevard
Smithfield, North Carolina 27577
Phone: 1-919-934-8721
Here's their Website.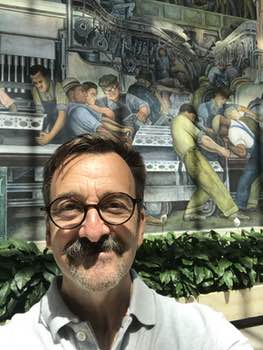 "The Jaded Traveler". Ron Rossi was born and raised in New York. A globalist at heart, Ron is a marketing director by trade, and has lived and worked around the world including Asia, Europe, Africa, and South America. Food is one of the best ways to learn about a country, a people and a culture. So, Ron is always looking for the best in mid-range to budget and street food. He is always on the hunt for a good meal anyone can afford. It is the food of the average citizen that excites him. And with having visited close to 100 countries on 6 continents so far, there have been some pretty good meals.