We all should have THE list. Places I should go before I die.
My list includes such places as Tuscany, Paris, Fiji, and Boston.
Yes, Boston. There are so many more places to add to my personal list that are in the US and abroad but Boston always drew me in.
Red Sox/Yankee rivalry is unavoidable as a NYer.
Late-night TV watching where everyone knows your name.
Lobsta.
History and so much more have drawn me to this city.
How lucky am I to receive an invite to Winter Wonder in Boston by the Greater Boston Convention and Visitors Bureau.
4 days and 3 nights packed full activities featuring the best of Boston during chilly February.
My mission – experience all and report about my very first visit to Boston.
Taking the Amtrak From the Historic James A. Farley Post Office Building
It began on a Thursday taking us on a train ride.
We departed from the new Moynihan station inside Amtrak Train Hall in the historic James A. Farley Post Office Building which recently opened.
It is just lovely. One of those "it's about time" thoughts at first sight while remembering the old Amtrak through Penn Station.
The beauty of a train station is worthy to have this NYC address with a stunning sky lite.
Shops and restaurants are still moving in and are more than welcome.
I love a train. I believe it is perhaps the most romantic mode of transportation.
Time to sit and stretch out, walk around and visit the dining car. A great people-watching venue.
The mere 3 ½ hour trip goes by quickly.
We were met at the Boston station for a quick ride to the Omni Boston at the Seaport Hotel.
Staying at The Luxurious Omni Boston Hotel at the Seaport
The Omni Hotels have always been lovely. Omni Boston at the Seaport is stunning.
A revitalization of the Seaport District is the perfect setting for the Omni.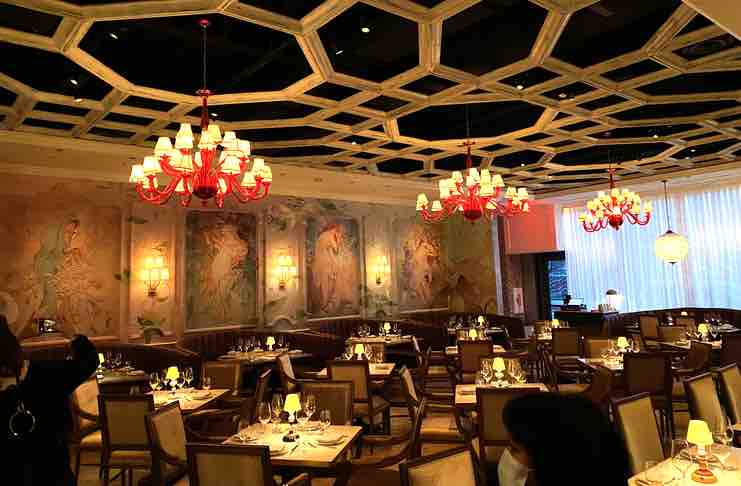 Immediately you are taken in by the panel of screens behind the front desk displaying the algorithm of the master's beautiful art.
The artist theme is throughout the hotel naming the accommodations The Artist tower and the Patron tower.
Entering our suite in the Patron tower to a spacious elegance with every comfort necessary and a breath-taking view overlooking the water and harbor.
Not overlooking any detail to make your stay a place you never want to leave.
Luxury for this simple gal with spa bathroom, the living area was spacious and the bedroom with the most inviting king-size bed draped with a complimentary bathrobe. Always love a plush bathrobe.
The huge soaker tub was put to good use during this chilly visit.
The evening included an extensive tour of the hotel.
Seven restaurants beginning with The Crescendo Lobby Bar. Inviting bar with a spacious lounge area. A floor-to-ceiling wall printed Beethoven's 5th and Black and White photos curated by local Charlotte Riggs.
A display of layered auto paint can be enjoyed in this area then homage to Boston's as the sneaker capital, a proud fact of Boston which I was not aware of.
Breve is a Full-Service Spa
Inspired by ancient techniques and modern therapy, Breve has eight treatment rooms ranging from full-body reflexology to facials with state-of-the-art HydraFacial equipment and products from 111SKIN. The services also include massage, a blow-out bar, nail treatment, light and sound therapy, CBD products, and makeup application
The Sporting Club is a must-see for sports fans and non-sports fans. It is just plain fun.
As a sports fan, I was thrilled to stand on the original floor of the Celtics training facility.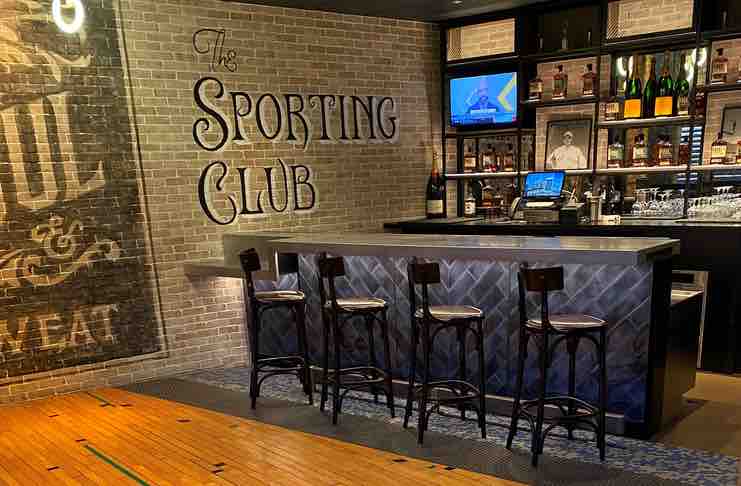 Walking through the entrance as if you are walking through the tunnel of any sporting venue.
Housing a glass chill-out room the Club Room features twelve high-definition televisions featuring the Trophy Wall.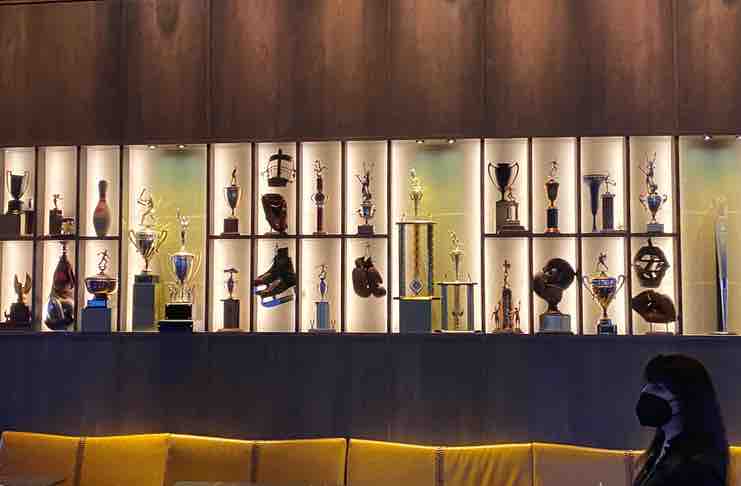 Trophies and memorabilia with a collection as a social media outreach donations from locals of items ranging from a little league award to the Olympic torch.
The banquet is designed with stitched seams like a baseball mitt.
The tour continued with the highly regarded Coquette. The outstanding French restaurant featuring flavors from the Basque Country along the Spanish-French coastline,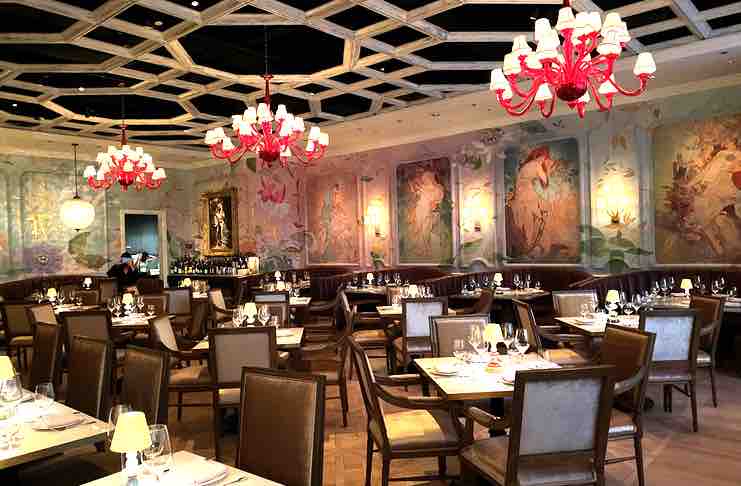 The décor takes you to the best of French art.
A very soft, light, and elegant environment, consisting of light pink ceiling accents, large pastel murals along the walls, light stonework, and overall an airy atmosphere.
Moving throughout the Omni tour which covered the huge event spaces, guest rooms, pool, and lounge we concluded our first-day tour at then Impressive Presidential Suite for a reception.
Day 2 – Arts, Culture & Sports
Kestra serves three meals a day. We enjoyed breakfast every day.
The hospitality was above and beyond. Every morning we were greeted by the friendly smiling faces of their staff.
Styled after Boston's rich orchestral history, with a very inviting fireplace and display of a library wall.
Breakfast was a treat.
Michael had the SMOKED SHORT RIB HASH with Yellow potatoes / fried eggs / Calabrian chili aioli
I ordered the SEAPORT SCRAMBLE Local crab / roasted mushrooms roasted vine tomatoes/baby kale salad
One of the other journalists in our group was the winner of the morning with the BAKED APPLE PANCAKE Cinnamon butter / whipped goat cheese
Great start to a busy day.
Beginning with a choice of Frida Kahlo at The Castle or Van Gogh – The Immersive Experience at the SoWa Power Station.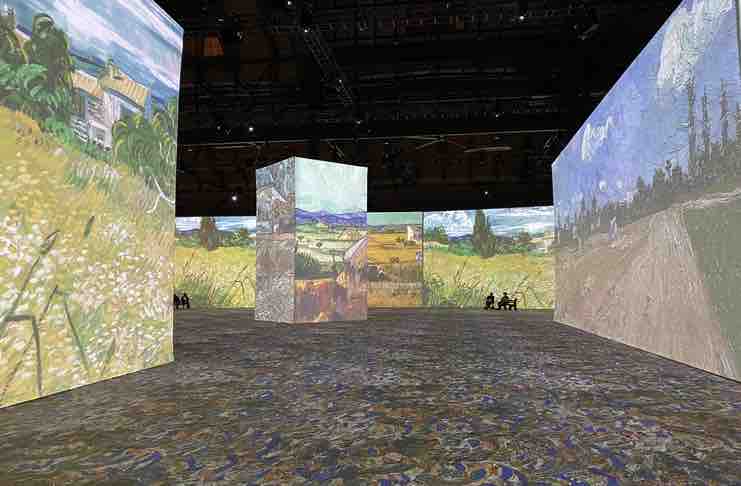 This was a group of accomplished journalists, which I continually questioned why I was so lucky to be part of this group. I just took it all in with great appreciation.
We were in the Van Gogh group.
Driving from the Seaport to SoWa Power Station we were able to get a little taste of Boston.
SoWa Power Station is a renovated power plant in the Artesian district. A perfect temporary home for Van Gogh, one of my favorites. The Immersive Experience is something everyone should do at least once. Stepping into Art and letting yourself sink into a moment of Van Gogh is a dream.
This was a limited tour in Boston but should be sought out wherever you are.
Time for Sports
Boston Garden Theatre tour given by Richard Johnson, the curator of The Sports Museum. There was an emphasis on the NY vs Boston sports talk. A friendly debate that can be found in any Irish pub in NY and Boston. The TD Garden Boston is filled with rich history and a museum that may end the debate. At least as far as who may have the best Sports memorabilia in a sports venue.
Every sport from basketball, hockey, baseball, etc. is featured and honored.
Following was a trip to Boston's Little Italy or the North End. Trattoria II Panino.
Our host sent out a variety of appetizers Mom's Meatballs & Ricotta, Zucchini Flowers, Caprese, Shrimp and so much more. Zucchini Flowers were scrumptious.
I had the Ravioli Porcini which was served in a pan! All the entrees were served in a pan. Genius!
The Best Ravioli Porcini I Ever Had
Our server recommended the Ravioli. After one bite I know why. This was the best Ravioli Porcini I ever had.
All pasta is made in-house.
Trattoria II Panino is the oldest Trattoria in Boston. Of course, all the pasta is made in-house. Original family recipes made with love.
The love of the owner and chef came through with every bite and smile of their staff.
This was a great Boston taste that warms your heart and fills your belly.
Fenway Park: Where All My Dreams of Boston Start
On to Fenway. This was the one I was waiting for. All my dreams to visit Boston would start with a visit to Fenway.
A tour of Fenway is everything and more. Entering the field, standing on the warning track, and sitting in the visitor's dugout is a baseball fan fantasy.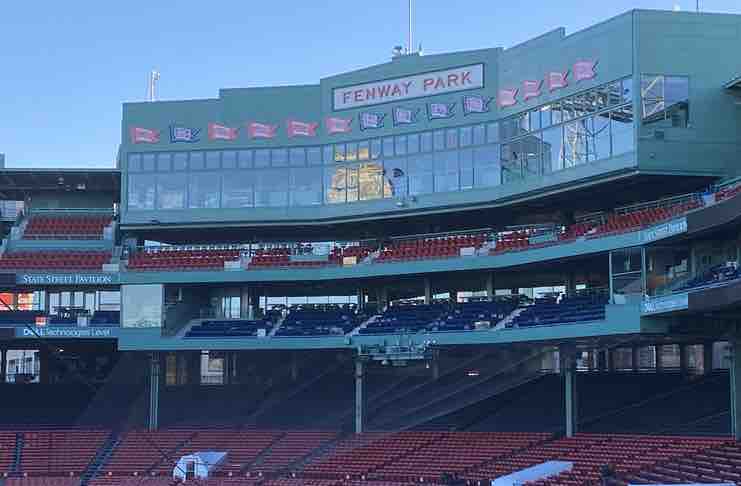 The extensive tour was truly one of the highlights of the entire weekend.
A day of Art, great food, and sports were followed by a visit to the Fenway neighborhood with Ice Skating and Time Out Market Boston which is next to Trillium Brewing Company's Taproom. Time Out Market holds twelve culinary favorites as well as activities for singles, families, and visitors.
Day 3: Gorgeous View of the Boston Waterfront
Another amazing breakfast at Kestra then a brisk walk to the Institute of Contemporary Art (ICA). Gorgeous view of the Boston waterfront.

Architects Diller Scofidio + Renfro designed the building both "from the sky down," as a contemplative space for experiencing contemporary art, and "from the ground up," providing dynamic areas for public enjoyment.
Watch this clip to get a glimpse of the place:
The design melds interior and exterior space, creating contemplative moments of the waterfront throughout the museum's galleries and public spaces.
The features exhibit was Yayoi Kusama's LOVE IS CALLING currently on view through December 31, 2022, as part of the exhibition The Worlds We Make: Selections from the ICA Collection.
Infinity Mirror Room is an immersive experience of inflatable sculptures covered with the artist's signature polka dots surrounding visitors. The dark, mirrored room creates an illusion of infinite space with a sound recording of Kusama reciting a powerful love poem in Japanese.
We then went on the Live Like a Local Tour with Collin Knight. Collin created a tour to take you through some of Boston's oldest neighborhoods. We came across many old breweries which no longer exist to eventually arrive at Turtle Swamp Brewing for a tasting and local Dominican dish, Mofongo.
Traveling back to the downtown area is a great treat in a sneak preview of High Street Place. A new food hall featuring twenty food and beverage concepts from some of the city's celebrated chefs.
The beauty of being in a glass atrium and enjoying a glass of bubble is only enhanced by the exciting culinary experiences available.
Ending this day with the vibrant Seaport District.
Winter activities like curling at snowsport, an iceless curling destination. Along with the Rocks at Harbor Way, the Singing Trees and Harbor Way art feature murals throughout.
All of this has revitalized the Seaport to a destination all year round.
Day 4: Visiting the Famous Cheers Bar
After a quick breakfast at Kestra we loaded on our bus for the On Location Tour traveling throughout the city at movie shoot locations.
Of course, this also included the famous Cheers bar.
I love movies and I love seeing the places where the magic happens.
Boston is like NYC as the city becomes a costar in the story.
Movie moments from Goodwill Hunting, The Town, Heat, Boston Legal, Gone Baby Gone and Free Guy to mention a few.
Free Guy became one of our favorites with Officer Johnny who was played by our very own tour guide for the day.
A visit through Southie with a quick stop at L Street Tavern for a Guinness and sit at the table where Robin Williams with cast and crew would sit nightly after a day of shooting Goodwill Hunting.
We bid a fond farewell to Boston. At least for now. Can't wait to see you in the Spring.
The perfect ending to a perfect visit to an impressive town.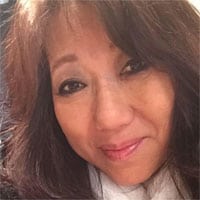 Living and loving in NYC, food has been a passion of hers. East Coast to West, Faith's goal is to explore and learn with the contribution of other like-minded foodies. Faith Rein has written for 2Girlsfromabar@blogspot.com. Youtube channel – faith.rein, love food love faith. You can find her @: Faith.rein/facebook (always looking to add friends) / faith rein@twitter / faith.rein@instagram /