Nantucket draws in vacationers like a magnet with stunning natural wonders exceeding our wildest dreams. From sprawling beaches to exotic cultures and spectacular topography, the scenic island oozes sultry charms that will bring you back again.
If you're planning to tick Nantucket off your bucket list, you must know which months are the best to visit for a one-of-a-kind vacation experience.
Normally, Nantucket brims with exciting sights and activities year-round. However, each season has its own appealing factor!
The best time to plan your Nantucket vacation is from March through to April (spring) and from September to October (Autumn). The island is pleasantly crowd-free, and the rates are at their lowest. Plus, you get to be part of plenty of exciting festivals.
Find out why you should visit Nantucket during spring and autumn and the thrilling activities that deserve a spot in your itinerary.
Why Visit Nantucket during Spring or Autumn?
Summer getaways! Two words that excite us and conjure up the grandest plans: Surfing on the wildest turfs, lounging on the beach, and kayaking on the pristine waters. Although Nantucket is a year-round playground, the island is a beehive during summer. You can expect droves of tourists, so there is plenty of traffic and the price of nearly everything doubles.
But if you're on a tight budget and are crowd-phobic, you can consider planning your trip during spring- March to April. Most exciting destinations such as museums are open in preparation for peak season. Also, accommodation rates are lowest during this season.
Alternatively, you can consider planning your visits around the fall season- Mid September to October. The cool temperatures drive out the sun lovers. There's still a decent variety of exciting festivals, and costs ease up. You can easily grab coveted hotel reservations and rentals in Nantucket at a decent bargain.
Here are the most exciting things to see, eat, and get involved in the next time you're at the seaside haven of Nantucket.
3 Fun Things to Do in Nantucket during Spring:
1. Take part in Nantucket Daffodil Festival
The spring season is undoubtedly a fabulous time to visit Nantucket. The last week of April marks the beginning of the spectacular Daffodil Festival- a series of thrilling events to usher in springtime on the island.
What started as a Daffodil planting project has since grown over the decades to become an all-time favorite for islanders and vacationers. The charms of Nantucket's Daffodil Festival are innumerable, including flower shows and a variety of exciting events at the Children's Beach, such as:
Bike parade

Family events

Tailgate picnic in Siasconset

NiSHA Daffy Dog Parade

Antique Car Parade on Main Street

Daffodil Festival Bazaar
Take in the sheer excitement, spectacular performances, and colorful parades when you participate in Nantucket's most fascinating festival.
Watch this video to get a glimpse of Nantucket:
2. Go to the Wine & Food Festival
In one of Nantucket's most anticipated events of the year, you can expect to sample a variety of gourmet wines and savory eats, all while creating memories.
Founder Denis Toner in partnership with local retailers and restaurateurs launched one of the most sensational foods and wine extravaganzas in the world. This magical tradition now draws in 3000 attendees to the island every year and boasts of a growing family of eccentric hoteliers, highly acclaimed chefs, wine experts, and culinary influencers.
Nicknamed "The Grey Lady," the alluring culinary destination is famous for its intimate setting, legendary delicacies, grand tastings, and luncheons. Need we say more? No doubt it continues to attract thousands of foodies each year.
3. Visit Coskata Coatue Wildlife Refuge
For the ultimate jungle experience, book a wildlife getaway to Coskata-Coatue Wildlife Refuge. Cruise along the twin peninsulas brimming with picturesque flora and fauna.
The eco-destination is a treasure trove of beach plum, bayberry, beach grass, and heather. Look out for shorebirds, seals, horseshoe crabs, and deer.
Coskata prides itself on having the largest red cedar woodland and savannah in New England – The Cedars.
Explore about 1,110 acres of overland vehicle trails and beachfront and complete the excursion at the iconic Great Point Lighthouse. Take in the picturesque views of rolling dunes, sandy beaches, and rugged landscape. Hunting is permitted, so wear bright colors during the hunting season.
Also, always keep your dog on a leash and look out for greenhead flies and saltmarsh mosquitoes prevalent in July and August.
3 Exciting Things to do in Nantucket During Fall:
1. Nantucket Restaurant Week
Nantucket's impressive culinary scene comes alive during the Nantucket Restaurant Week. The festival celebrates the longstanding diverse culinary and cultural heritage.
The food extravaganza, held twice a year, brings 27+ restaurants on board with signature dishes, next-level amazing drinks, and royal hospitality on the menu. Over seven days, your favorite restaurants will be offering delicacies at slashed prices.
A huge chunk of Nantucket's A-class restaurants, including Black-Eyed Susan's, Brand Point Grill, Dune, and Straight Wharf, have been featured in the past. Moreover, each participating restaurant gives you a chance to dine on three-five course exquisite dinners at price points of $25 to $50.
You get to enjoy delectable fine dining at a steal and try out new dishes. You can choose to fly solo or tag along with your best buddy. And you thought Nantucket couldn't get any better!
2. Cranberry Festival
Cranberries are at the heart of Nantucket, which earns them a celebration every year. They have been part of Nantucket's tradition and history for over 200 years.
Mark your calendar and round up your family for some feast and fun at the Nantucket Cranberry Festival. Plus, you'll learn about the history of cranberry farming and harvesting.
Every year, locals flock to Milestone Cranberry Bog to celebrate the cranberry harvest during the "cranberry month" of October.
Events include the sale of cranberries and NFC (Nantucket Conservation Foundation) merchandise. Also, there'll be guided tours on cranberry operations, Nanpuppet shows, school tours, live music, and presentations.
3. Go Scalloping
Fish and taste the freshest, tastiest gems of the sea when you participate in Nantucket's fall scalloping season. Scallops harvesting is unique and special to the islanders, especially after the summer crowds have shifted to the mainland.
To take part in the charming "family" scalloping adventure, you must have a scallop license and visibly display your shellfishing button. But if you're snorkeling, you can pin it on your dive flag. A shellfishing license costs $35 annually, but it's free if you're over 60. Non-residents will have to pay $50 for a week or $125 for a year.
You can get a scalloping license at the Nantucket Public Safety Building and equipment at the local marine stores like the Tidal Creeks Ships store.
You'll need warm clothes, a push rake, waterproof gloves, a wet suit, and a clam basket for scalloping.
Monomoy and Madaket are the most popular go-to spots for scalloping. You'll find a variety of bay scallops, but look out for those with a well-defined lifted growth line.
The Nantucket Bay Scallop is a tasty delicacy. Sautee a handful in a buttered pan with salt and pepper – tastes way better than its sibling, the sea scallop.
Want to read more of our latest posts? Check out our visit to Smithfield's Chicken N' Bar-B-Q in NC.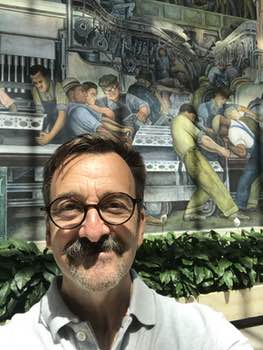 "The Jaded Traveler". Ron Rossi was born and raised in New York. A globalist at heart, Ron is a marketing director by trade, and has lived and worked around the world including Asia, Europe, Africa, and South America. Food is one of the best ways to learn about a country, a people and a culture. So, Ron is always looking for the best in mid-range to budget and street food. He is always on the hunt for a good meal anyone can afford. It is the food of the average citizen that excites him. And with having visited close to 100 countries on 6 continents so far, there have been some pretty good meals.