From the world-renowned Calgary Stampede to Banff National Park's awe-inspiring beauty, Alberta offers plenty of thrilling adventures for both visitors and locals. Whether you're planning a vacation in Alberta, a road trip from NY to Canada, or want to move there permanently, these are must-see sights, events, and attractions worthy of every bucket list. From the Calgary Stampede to Wood Buffalo National Park, here are the top attractions in Calgary.
1. Calgary Stampede
The Calgary Stampede is an exciting rodeo/exhibition/festival that takes place every year during July in Calgary. Known as "The Greatest Outdoor Show on Earth," this world-famous event attracts over a million visitors each year who come to experience the excitement of chuckwagon races, midway rides, stage shows, agricultural competitions, and more. The Stampede is one of the most popular reasons why people not only visit but move to Calgary.
The heart of the Calgary Stampede is its thrilling rodeo events. Visitors can watch cowboys compete in various categories, such as bull riding, barrel racing, steer wrestling, and tie-down roping. The competition culminates with the Rangeland Derby—a high-stakes chuckwagon race that keeps spectators on the edge of their seats.
Beyond the rodeo grounds lies a bustling midway filled with carnival games and amusement park rides for all ages. From adrenaline-pumping roller coasters to family-friendly attractions like Ferris wheels and bumper cars—there's something for everyone at the Stampede Midway.
In addition to fun shows, the Calgary Stampede is also known for competitions and exhibits. These are some of the most popular:
Livestock Shows:

Witness top-quality livestock exhibits featuring cattle breeds from around Alberta.

Horse Shows:

Enjoy equestrian events showcasing dressage performances or show jumping competitions.

Dog Agility Demonstrations:

Watch talented dogs navigate obstacle courses at lightning speed.
Whether you're a rodeo enthusiast or just looking for an unforgettable experience, the Calgary Stampede is one of Alberta's top attractions that should not be missed.
Watch this video by Imagiscope Travel & Tech to get a glimpse of the Calgary Stampede:
2. Banff National Park
Located in the Canadian Rockies of Alberta, Banff National Park is one of Canada's most popular tourist destinations. Outdoor pursuits like hiking, skiing, camping, and wildlife observation can be experienced in the majestic mountains of Alberta's Banff National Park.
Banff National Park boasts breathtaking mountain vistas, crystal-clear lakes like Lake Louise, and lush forests that are perfect for nature lovers to explore. The park has an area of 6,641 square kilometres, offering plenty of chances to get in tune with nature.
The park features over 1,600 kilometres of maintained trails suitable for all skill levels. Popular hikes include the easy Johnston Canyon Trail leading to picturesque waterfalls, or the more challenging Plain of Six Glaciers Trail, offering spectacular glacier views.
In winter months, Banff becomes a haven for skiers and snowboarders with three world-class ski resorts: Mt. Norquay Ski Resort, Sunshine Village Ski & Snowboard Resort, and Lake Louise Ski Resort.
Or, if you prefer to rough it in the woods, there are also several campgrounds to choose from. These include:
Tunnel Mountain Campground:

Located just minutes from downtown Banff with full amenities, including showers and Wi-Fi access.

Two Jack Lakeside Campground:

Offers stunning lake views and easy access to hiking trails.

Lake Louise Campground:

Situated near the iconic Lake Louise, perfect for exploring nearby attractions like Moraine Lake and Victoria Glacier.
No matter your interests or skill level, Banff National Park has something for everyone looking to experience Alberta's natural beauty at its finest.
Watch this video by Sammy and Tommy to get a glimpse of Banff:
3. West Edmonton Mall
The West Edmonton Mall is a must-visit attraction in Alberta, as it holds the title of being the largest shopping mall in North America. With over 800 stores and services spread across five themed areas, there's something for everyone at this massive retail destination.
This massive mall provides more than just shopping, as it has plenty of fun and exciting activities to keep visitors entertained. Some highlights include:
Galaxyland:

This indoor amusement park features thrilling roller coasters like the Mindbender and family-friendly rides such as a carousel and bumper cars.

World Waterpark:

Escape the cold weather outside by diving into this tropical paradise complete with a wave pool, water slides, hot tubs, and even surfing lessons.

Ice Palace:

Lace up your skates and glide around on this NHL-sized ice rink located right inside the mall.

Aquarium & Marine Life Caverns:

Get up close with fascinating marine creatures, including sea turtles, sharks, and stingrays, at Sea Life Caverns or watch live penguin feedings at Penguin Cove.
No matter what you're interested in—from fashion to food or fun-filled activities—West Edmonton Mall has got you covered. It's truly an all-in-one destination for those looking to experience some of the top attractions during their stay in Alberta.
Watch this video by Explore Edmonton to get a glimpse:
4. Royal Tyrrell Museum
The Royal Tyrrell Museum of Palaeontology is a must-visit attraction for anyone interested in dinosaurs and prehistoric life. Located in Alberta's Badlands, the Royal Tyrrell Museum of Palaeontology houses an impressive collection of dinosaur fossils from millions of years ago.
As you explore the museum's exhibits, you'll be transported back millions of years to when these magnificent creatures roamed the Earth. Visitors of all ages can explore the interactive displays at the Royal Tyrrell Museum for an exciting and educational experience.
The highlight of any visit to the Royal Tyrrell Museum is undoubtedly its Dinosaur Hall, which showcases over 40 mounted dinosaur skeletons from various species such as Triceratops, Stegosaurus, and Albertosaurus. You can also witness paleontologists at work in the Fossil Preparation Lab, where they carefully clean and restore newly discovered specimens.
If you're visiting Alberta, don't miss out on visiting this incredible attraction that offers a fascinating glimpse into our planet's ancient past.
Watch this video by Down the Wrabbit Hole to get a glimpse of this museum:
5. Head-Smashed-In Buffalo Jump
Head-Smashed-In Buffalo Jump is a UNESCO World Heritage Site located near Fort Macleod in southern Alberta that was used by Indigenous peoples for thousands of years to hunt bison by stampeding them off a cliff edge. Visitors to the World Heritage Site of Head-Smashed-In Buffalo Jump are presented with a chance to gain insight into the culture and heritage of local Indigenous peoples.
The buffalo jump at Head-Smashed-In is one of the best-preserved examples of this ancient hunting technique, which allowed hunters to efficiently harvest large numbers of bison without using weapons or horses. The area features various trails and viewpoints where you can witness firsthand how these hunts took place.
To enhance your visit, make sure to stop by the award-winning Head-Smashed-In Buffalo Jump Interpretive Centre. Here, you'll find engaging exhibits detailing the history, culture, and traditions surrounding this remarkable site. You can also participate in interactive displays that demonstrate traditional tools and methods used during these hunts.
In addition to its historical significance, Head-Smashed-In Buffalo Jump hosts various cultural events throughout the year celebrating Indigenous heritage. These include drumming circles, storytelling sessions, traditional dance performances, and guided tours led by knowledgeable interpreters who share their insights on local customs while exploring this fascinating destination together.
Watch this video by APTN News to get a glimpse:
6. Lake Minnewanka
Lake Minnewanka, situated in the eastern area of Banff National Park, is a breathtaking glacial lake surrounded by picturesque mountain landscapes. This popular destination offers various recreational activities for visitors to enjoy throughout the year.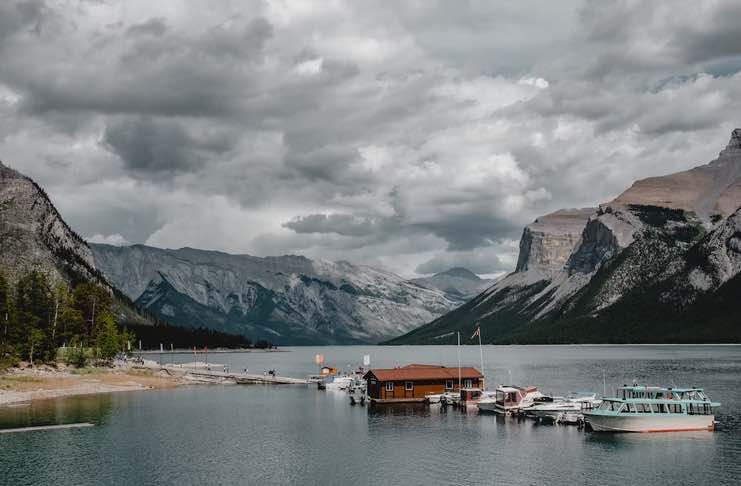 In the summer months, one of the best ways to explore Lake Minnewanka's beauty is through a guided scenic boat tour. These tours offer an enlightening look into the lake's past, geological makeup and diverse fauna, as well as stunning sights from all directions. Additionally, fishing enthusiasts can cast their lines into these pristine waters teeming with trout species such as rainbow and brown trout.
The area surrounding Lake Minnewanka boasts an extensive network of hiking trails suitable for all skill levels. Popular routes include Stewart Canyon Trail or Aylmer Lookout Trail, which offer incredible vistas along your journey. As you hike through this diverse ecosystem, keep an eye out for local wildlife like bighorn sheep, elk, deer, or even bears.
During winter months, when snow blankets the Banff National Park landscape, transforming it into a magical wonderland, visitors can partake in activities such as cross-country skiing or snowshoeing around frozen shores on designated trails.
Lake Minnewanka, situated in the Canadian Rockies, is renowned for its stunning blue waters and offers an array of recreational opportunities.
Watch this video by StepHenz Vlogs to get a better understanding:
7. Heritage Park
At Heritage Park Historical Village in Calgary, visitors can experience the past firsthand through its carefully preserved buildings, costumed interpreters, and various exhibits. This popular attraction lets visitors step into the past and learn about life in Calgary from the 1800s to the 1950s in this fully interactive experience.
At Heritage Park, you can explore over 180 attractions spread across four distinct areas: The Hudson's Bay Company Fur Trading Fort (pre-1864), Pre-Railway Settlement Village (1880s), Railway Prairie Town (circa 1910), and Heritage Town Square (1930s to 1950s). Each area features authentic structures, artifacts, and activities that bring history to life.
Beyond its fascinating exhibits, Heritage Park also offers a variety of educational programs for all ages. These include school field trips tailored to specific grade levels as well as adult learning opportunities such as workshops on traditional skills like blacksmithing or quilting. Additionally, there are numerous special events held throughout the year, including holiday celebrations like Christmas at Heritage Park or seasonal festivals such as Harvest Days.
No visit would be complete without sampling some delicious food from one of several dining options available within the park—whether it's enjoying fresh baked goods at Gunn's Dairy Barn or indulging in hearty fare at Wainwright Hotel Dining Room. You can also find unique souvenirs inspired by Western Canadian heritage at various shops scattered around this charming village setting.
Watch this video to see if it's worth your visit:
8. Lake Louise Ski Resort
Located in Banff National Park, the Lake Louise Ski Resort offers an unparalleled skiing experience with its breathtaking views and varied terrain. Famed for its picturesque views and varied slopes, this ski area promises a remarkable time for skiers and snowboarders of all aptitudes.
With over 145 marked trails spread across 4,200 acres, Lake Louise Ski Resort caters to everyone from beginners to experts. The resort features a variety of runs, including groomed slopes for novices and challenging backcountry areas for experienced adventurers.
Nestled in the stunning Canadian Rockies, this ski resort presents a remarkable sight that will surely leave you mesmerized. Take a pause from your winter sport and take in the stunning scenery—it's absolutely incredible.
Beyond skiing and snowboarding, Lake Louise offers various other winter activities such as snowshoeing, cross-country skiing, ice skating on the picturesque lake itself, or exploring nearby frozen waterfalls like Johnston Canyon.
Watch this video by snowboardtraveler to get a glimpse:
9. Wood Buffalo National Park
As the largest national park in Canada, Wood Buffalo National Park is a must-visit destination for nature enthusiasts. This immense UNESCO World Heritage Site encompasses a region larger than Switzerland and is an ideal spot to explore diverse ecosystems like boreal forests, wetlands, and grasslands.
The park is also a haven for many iconic Canadian species, such as bison, moose, black bears, wolves, and lynx. Birdwatchers will be delighted by the presence of endangered whooping cranes that nest here during their migration season. Not interested in looking for wildlife? There are plenty of other great activities to partake in here, including:
Hiking:

With numerous trails ranging from easy strolls to challenging treks through rugged terrain, there's something for every skill level.

Camping:

Immerse yourself in nature with various camping options available throughout the park—from fully serviced sites with amenities like showers and fire pits to more rustic backcountry experiences.

Paddling:

The extensive network of rivers and lakes within the park provides excellent opportunities for canoeing or kayaking adventures amidst breathtaking scenery.

Night Sky Viewing:

As a designated Dark Sky Preserve since 2013, this park offers some of North America's best stargazing spots thanks to its minimal light pollution—perfect for astronomy buffs.
In addition to these activities offered year-round at Wood Buffalo National Park, visitors can also enjoy seasonal events such as the Wood Buffalo Frolics winter festival and various cultural programs hosted by local Indigenous communities.
Watch this video by Camping Across Ontario to get a glimpse of this national park:
10. Canmore Cave Tours
Experience the thrill of exploring Alberta's underground world with Canmore Cave Tours. Located near Calgary, these guided tours take you deep into the heart of Rat's Nest Cave, a vast and fascinating subterranean network formed millions of years ago.
There are different activities to choose from depending on the type of experience you want. Here are some of the different opportunities offered:
Adventure Tour:

This popular tour offers an unforgettable experience for visitors aged 12 and up. This tour, lasting about six hours, provides visitors with the opportunity to investigate the cavern's chambers and traverse through its passageways while admiring stunning formations such as stalactites and stalagmites.

Solitude Tour:

For those seeking a more intimate caving experience or celebrating a special occasion, this private tour is tailored to your group size (up to eight people) and can be customized based on your interests.

Educational Programs:

Canmore Cave Tours also offers educational programs for schools and youth groups that focus on geology, ecology, history, and teamwork skills development while providing hands-on learning experiences in an extraordinary environment.
No prior caving experience is required as professional guides ensure safety throughout each adventure. Equipped with helmets and headlamps provided by Canmore Cave Tours, along with appropriate clothing recommendations from their website, you will be prepared for this unique journey beneath Alberta's landscape. So why not add some excitement to your home search in Calgary by embarking on an awe-inspiring exploration into one of nature's hidden wonders?
Watch this to get a glimpse:
Explore Alberta Today
Alberta is home to some of the most incredible natural wonders and cultural attractions in Canada. From the world-renowned Calgary Stampede to breathtaking Banff National Park, Alberta offers a wealth of activities and attractions. No matter what you're interested in, you can find it in Alberta. So what are you waiting for? Start scratching these items off your to-do list today!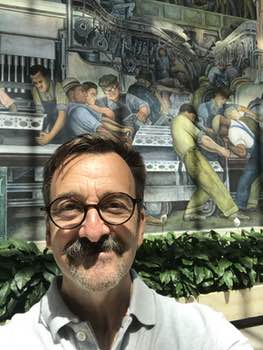 "The Jaded Traveler". Ron Rossi was born and raised in New York. A globalist at heart, Ron is a marketing director by trade, and has lived and worked around the world including Asia, Europe, Africa, and South America. Food is one of the best ways to learn about a country, a people and a culture. So, Ron is always looking for the best in mid-range to budget and street food. He is always on the hunt for a good meal anyone can afford. It is the food of the average citizen that excites him. And with having visited close to 100 countries on 6 continents so far, there have been some pretty good meals.