Planning a trip away from your hassle-filled life in New York? You may be planning to take a flight and visit some beautiful places in Canada. We can assure you will love your trip as Canada has a lot to offer, from quaint villages to breathtaking sceneries. Here are 6 places worth visiting in Canada.
1. Visit Banff
If you want to enjoy the Swiss ski resort lifestyle, Banff is a place for you. Banff was ranked 14th on the list of the most beautiful places. This Alberta city is full of famous dine-ins, breweries, local cultural shops and art galleries.
Traveling here saves not only travel time from the US but also money. Banff is suitable for tourists who want to enjoy luxury stays. Banff National Park is a must-visit and is popular for its bizarre colored lakes, view of breathtaking mountains and endless outdoor activities. It is the first and third largest Canadian national park in the world.
2. Prince Edward Island
This Canadian province is best known for Anne of Green Gables, golf courses and beautiful sandy beaches. Additionally, PEI is a superb gastronomic destination offering world-class seafood.
Start your day exploring the island and finish the evening by enjoying freshly caught roasted lobster and champagne-braised oysters. It boasts some of Canada's best beaches and the warmest waters in Northern Virginia. PEI is a destination that offers something for everyone. Whether it's a fun family vacation, a honeymoon getaway, or a weekend getaway with friends, there are options for every traveler.
3. Whistler
Whistler is not just famous for ski activities but also non-ski activities such as movies, shopping, and a variety of non-ski outdoor sports. There are also many spa options to choose from.
There are several luxurious and brand-new vacation rentals in Whistler offering world-class luxury experiences to tourists. The picturesque mountain town also offers many eclectic dining options that add to the overall holiday experience. Whistler boasts of 2 mountains- Blackcomb and Creekside. Blackcomb is the largest of the three parts of Whistler village and has the most pubs, restaurants, and hotels.
4. Niagara Falls
Niagara Falls is considered one of the world's greatest natural wonders and has evolved into one of the best honeymoon destinations. Besides breathtaking waterfalls, the fast-paced wedding destination is home to several best resorts in the area. Take a stroll through the Ice Wine vineyards at Inniskillin Winery or admire the beautiful romantic surroundings of the Niagara Parks Botanical Gardens. For more fun in the area – check out this dinner cruise near Niagara Falls.
Watch this to get a glimpse of the famous waterfalls:
5. Quebec City
Quebec City is an excellent choice for those interested in culture, ancient history, architecture, and wildlife. Quebecers are famous for their friendliness, warm nature and hospitality. You'll be welcomed with a wide smile anywhere you visit. Locals are proud of their Francophone heritage and North American background.
Once in Quebec, you get to immerse yourself in this unique and vibrant cultural richness with various activities and attractions throughout the year.
The people you meet at the city's various attractions, both in French and English, will happily share their enthusiasm for the region. Additionally, Quebec City is a great gastronomic hotspot. The culinary geniuses are popular for bringing new trends to the restaurant and serving the best delicacies.
6. Montreal
Montreal is multidimensional and combines 18th-century architecture with its 21st-century skyline. The city embodies the fusion of the old and the new. You can see rainbow flags made from beautiful textiles worldwide and carrying symbols from India, Portugal, and France.
Montreal is a famous gastronomic hub and serves traditional French pastries that are sold alongside uniquely sweet Montreal-style bagels with sesame seeds. World-class museums and bustling markets are some of the biggest attractions in this flexible city.
Canada offers many tourist attractions, and you will have plenty of places to choose from to make your trip from NY truly memorable.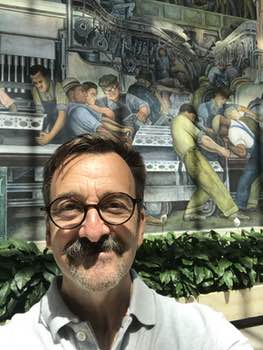 "The Jaded Traveler". Ron Rossi was born and raised in New York. A globalist at heart, Ron is a marketing director by trade, and has lived and worked around the world including Asia, Europe, Africa, and South America. Food is one of the best ways to learn about a country, a people and a culture. So, Ron is always looking for the best in mid-range to budget and street food. He is always on the hunt for a good meal anyone can afford. It is the food of the average citizen that excites him. And with having visited close to 100 countries on 6 continents so far, there have been some pretty good meals.