Searching for a few useful tips for Winter Surfing in the Atlantic Ocean? You've reached the right place. If you're quite new to surfing or have just been doing so during the summer on lovely sunny beaches, this may sound crazy – but it's not. Winter surfing is super FUN, and surfers from New York City have created a real community around this. Some of the most popular surfing destinations for New Yorkers are the wonderful beaches along the Atlantic Ocean, be it Brighton Beach, Coney Island beach, Long Beach (Long Island), Rockaway Beach, and more.
Everybody knows the best waves can be found during the (stormy) winter days, but the temperatures can go down to the lower 30s, even on a nice day with a little sun. There's no doubt that winter surfing requires you to have that fearless and adventurous soul, but you also need to be well-skilled, in good shape and know some basic things that will make the experience more enjoyable. Here are some of the key tips for winter surfing in the Atlantic Ocean.
1. Pick the Right Surfboard
I usually surf with a shortboard because it's easier for me to paddle out with it. However, according to the experts at South Bay Board Co., during the winter, it's wiser to ride on a bigger board. Why? The added winter gear! During the stormy winter days – you'll need to protect yourself from the cold. You'll be wearing a wetsuit, surf boots, gloves, and hoods, which means much more added weight. A bigger surfboard will offset this added weight and make it easier.
South Bay Board Co. is a family-owned Board & Beach company that we truly love because they just make way better boards, both for beginners and intermediate surfers. They create custom-designed boards, with custom materials, beautiful colors, patterns, and shapes that make you feel really proud to own one. For more details about South Bay Board Co. – check out their website.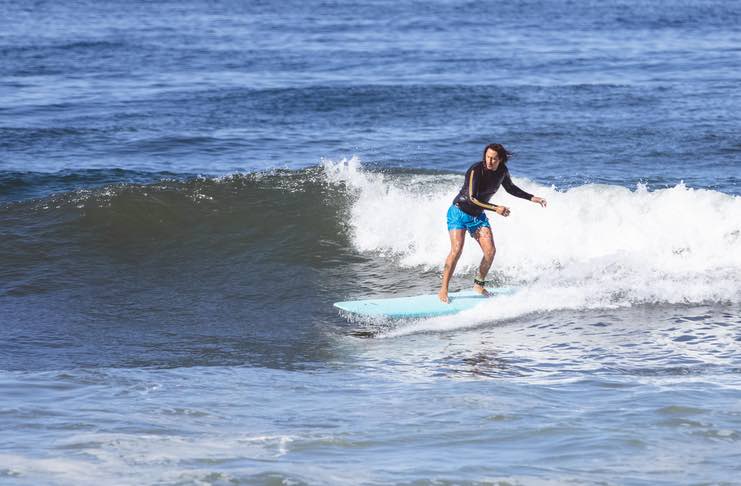 2. Pick The Right Gear
As mentioned, Winter surfing requires additional layers of clothing to protect you from the cold. The most important element is getting a good wetsuit. This means picking a quality suit that is thicker but still flexible. A thicker wetsuit will retain most of the heat ensuring your body doesn't drop the temperature at a fast and unhealthy rate. Also, you don't want to end up with holes or leaks while surfing…
In addition to the other additional surfing gear for the winter (surfing boots, gloves, and hoods) – you'll need warm clothing for after you surf. A good jacket, raincoat, warm socks and hats, and good cozy shoes are all super important so you don't get yourself a cold after catching some waves in a winter storm.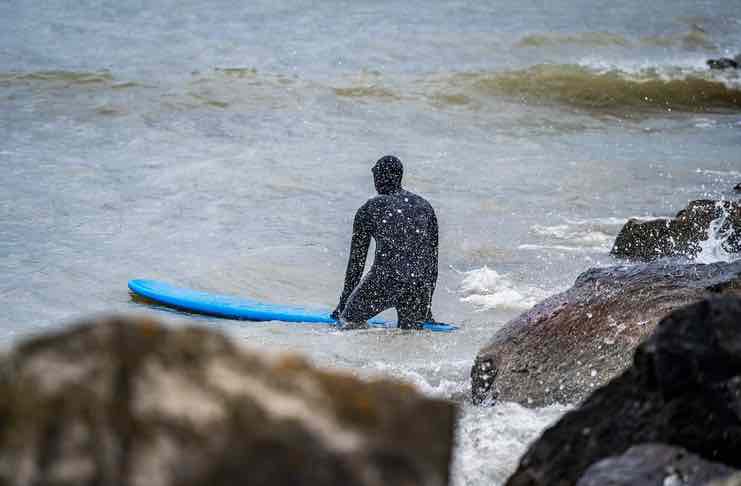 3. Pick the Right Day
You might be tempted to go surfing on a stormy windy winter day to catch that BIG BIG wave. Please don't. According to the experts at South Bay Board Co., the most enjoyable days to surf during the winter are the days when the wind is minimal. Strong wind pounding on your wet face can be deadly…Also, winter swells are usually bigger than summer swells. More winds = choppier waves and unclean breaks.
Be aware of the weather and forecast at all times. Pick nice sunny days during the winter to go surfing. This will ensure the air and water temperature are more amiable – so your face and body don't freeze.
In addition to picking the right day to surf, it's key to pick the right time of day…It's always wiser to go surfing early in the morning – before the stronger winds arrive.
4. Pick the Right Wax
Waxing your surfboard is key, we all know that. But did you know that there's a different wax for colder temperatures? If you wax your board with warm-water wax during the winter, the wax will harden in the cold water and won't give you the traction you need. Always apply the temperature-specific wax (for winter – cold-water wax) on top of the base wax.
5. Pick The Best Beaches For Winter Surfing
There are plenty of options when it comes to winter surfing in the Atlantic Ocean. My personal favorite is Rockaway Beach with its huge waves and audacious surfers. Situated in Queens, Rockaway Beach is easily accessible with the A train or the Rockaway S shuttle. The best beaches for surfing are Beach 67th street, Beach 69th street, and Beach 92nd street.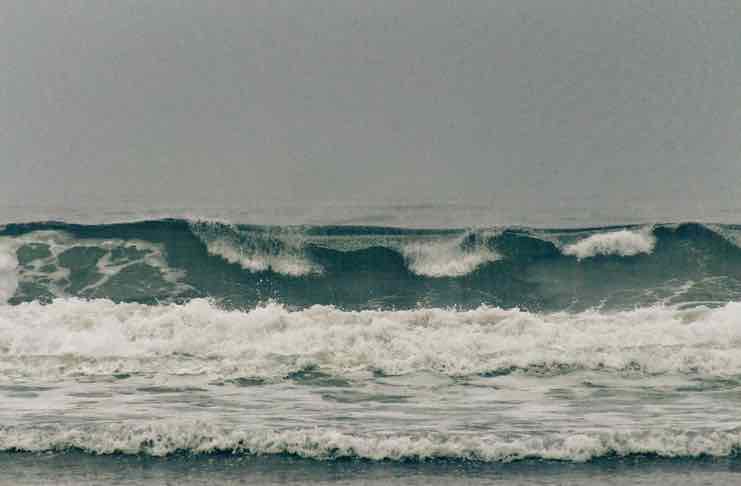 Another one of my favorite beaches to surf during the winter is Ditch Plains beach, Montauk. Situated at the eastern edge of Long Island, only 2.5 hours from NYC, Ditch Plains is a stunning beach you shouldn't miss. Why is it so popular among surfers? Well, the rock bottom of the ocean floor at Ditch Plains has a unique feature that causes the waves to have this long-peeling character, creating the "perfect wave".
Other recommended beaches aside from Coney Island, Long Beach, and Brighton Beach, are the lovely beaches of Jones Beach State Park, Cooper's Beach in Southhampton, Orchard Beach in Pelham Bay Park, Jacob Riis Park Beach, and Asbury Park Beach in New Jersey.
6. Pick the Right Things To Bring
During the winter, you need to know what key things will make your winter surfing experience a more delightful one. Things like a large thermos with hot water will help you peel your wetsuit. During the cold wind, peeling your suit can be a bit nasty. If you pour a bit of warm water on yourself will make it a bit more pleasant.
A moisturizing lotion is also a key item to bring along during the winter days, as your skin will dry out pretty quickly, especially your hands.
And of course, a thermos of hot coffee (or tea) will take the whole experience a notch higher ?
Karen works for a big hedge fund, she's awesome with numbers and loves what she does, but above all – she loves traveling. Whenever she's on the road, she tries to get into the gritty tiny details of every location she explores.