The prospect of biking in a foreign country is certainly intimidating. A whole host of factors contribute to this: signs can be in different languages, you might not be familiar with what routes to take and the varying cultural rules of the road that are hard to manage even to seasoned locals can be quite daunting; it's no wonder most travelers stick to public transportation.
I tend to be one of those travelers, so on my recent trip to Montreal, I was hesitant to step out of my comfort zone and pedal into a bike lane to tour the city. Foregoing the bike in Montreal, however, seemed like an impossibility as the city is practically synonymous with that particular mode of transit.
Montreal has over 600 kilometers of bike paths, which thousands of commuters and recreators use daily, and can lay claim to being the first to launch a bike share in North America, Bixi. Cycling, it seems, is as deeply ingrained in Montreal culture as other staples like poutine or hockey. If I was going to eat fries covered in gravy and cheese curds and try to learn the rules of Montreal's pastime, I was going to have to bike too.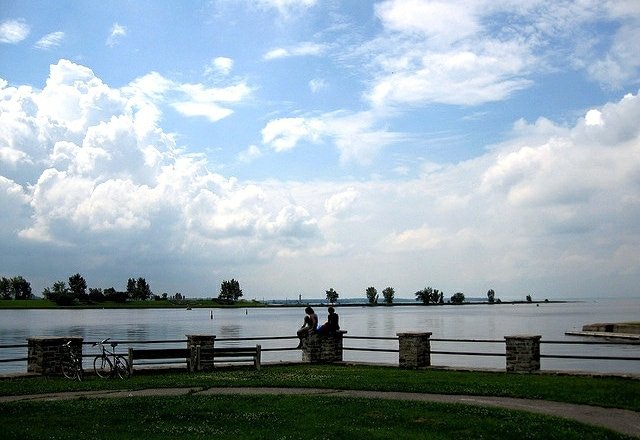 I quickly found there was nothing to be scared of. To my delight, I found paths and lanes to be well marked and there didn't seem to be a rivalry between cars and cyclists (at least compared to New York). In addition to the infrastructure that's in place to support cyclists and their needs, the city is teeming with organizations that are bike-based. Velo Quebec is one of those organizations. A Montreal based non-profit, Velo Quebec is responsible for Route Verte, a network of bike trails and road routes that is thousands of kilometers long and spans throughout the province of Quebec. If you are taking a spin around the city, chances are the lane you are in or the trail you just used was created by Velo Quebec. And their cyclist stewardship isn't just limited to the road—the non-profit also teaches bike safety classes and lobbies on behalf of the environment. The spirit of Velo Quebec was alive and well in other businesses I visited, including Ca Roule, one of the best places to rent a bike in Montreal and the spot where my journey began.
I wanted a few things from my bike ride around the city. I wanted to avoid cars for the most part and to ride at least a segment of my journey on the Route Verte. I also wanted to see the Saint Lawrence River and to visit one of Montreal's acclaimed farmer's markets. It was also important that I get some exercise. After eating some of Montreal's finest poutine and other specialties (think Montreal-style bagels, smoked meat sandwiches and other rich snacks that will have your waistline screaming 'STOP!' after a few days), I knew I needed to get my heart rate up. So I brought my checklist and a big Nalgene of water to Ca Roule and with a little help from a guy there I developed the following loop around the city.
Ca Roule
I reached Ca Roule in the Old Port at 10am on a Saturday morning and there was already a line out the door, but it moved quickly as there were several guys who clearly had bike renting down to a science. The man who helped me with my rental also was eager to talk bike routes and gave me a helmet, repair kit, and map with all the paths marked clearly with a key that became the most important navigation tool on my ride.

Tip: Make a reservation. By the time I had gotten my bike and was ready to hit the road, they were already turning people down as they had rented all their bikes for the day.
Atwater Market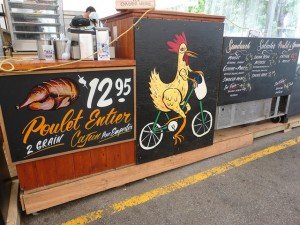 The Lachine Canal runs from the Old Port toward Lake Saint Louis. The 14.5km paved path that runs alongside it offers a good way to see the more industrial parts of Montreal, as well as passed manicured parks, lawns, and the magnificent Atwater Market. Housed in a beautiful art deco building, I could see the Market's clock tower from the bike path, and there was a small foot bridge that I took over the canal to the Market. In addition to finding local produce, you will also encounter several delicatessen style stands where you can get kebabs and sandwiches. Roule Ma Poule, just one of the many food stands at Atwater market, makes and packages rotisserie chicken in a bike friendly way, so you can pick up your lunch and throw it in your basket without having to worry about leaks. I opted for a piece of cheese from La Fromagerie Atwater and a baguette from one of the bakeries as my lunch and put it in my backpack for later. One thing this particular market is known for is its flowers and after I made my purchases, I strolled through the rows of gladiolus, dahlias and daisies. The florists have arranged their booths with a touch of whimsy— the color coordinated beds will have you trigger happy with your camera.
Tip: Definitely get cheese here. La Fromagerie Atwater carries cheeses from France and other parts of Europe that are illegal in the United States because of pasteurization laws. Sample some young raw-milk cheeses you won't be able to find anywhere south of the border.
Parc René-Lévesque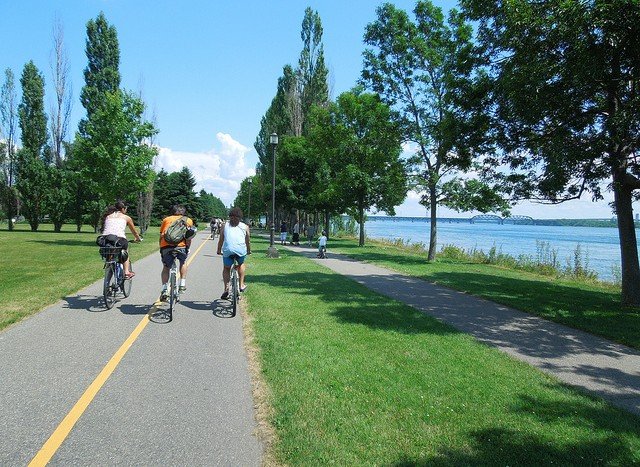 Once you have stocked up on lunch at the Market, get back on your bike and continue on toward Rene Levesque Park. At its entrance, you will find a small food stand that is also a good place to stop and do any bike maintenance as a little bike store shares the space. As part of the Lachine Museum, there is a series of sculptures that appear sporadically on the park's long lawn that is similar to the Storm King Art Center in upstate New York. These are worth the exploration – so take some time with them, be it up close or from far away. As you proceed you will reach the jetty of the park that juts out into the river and marks your turn around point. When I pulled up here, I felt like I had reached the edge of Montreal – it was windy but it felt good to sit down and enjoy view of the white caps, boats and birds that circle the shore.
Tip: Even though it may be a little blustery, have your lunch near the tip of the park. The views of the massive Saint Lawrence river are unbeatable and there are bathrooms and water fountains here as well.
Lasalle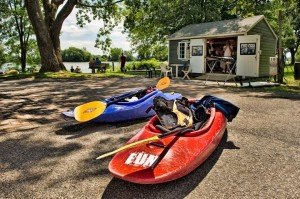 Once I turned around at the park, I was headed back toward the city. While riding east along the Saint Lawrence River, my neck began getting sore from looking out at the view of the sea way. This area along the river is called LaSalle and it is home to one of Montreal's best surf spots—a long, rolling river break that attracts kayakers, surfers and stand-up paddleboarders to its shore. LaSalle served as a welcome respite from the ride and a great place to lay out and watch people playing in the wave. (If you're up for a unique urban adventure, rent from Kayak Sans Frontières.)
Tip: Bring binoculars. The river is massive and there are boats and islands scattered in it that you will want to get a better view of.
The Extra Mile
The Estacade Bike Path Bridge is a one mile bridge that crosses the Saint Lawrence River to Montreal's south side to an area called Saint Lambert. I was having such a good time on my ride, that as I reached the point where it was time to head back to Ca Roule, I wanted to continue despite my rubber legs. I had heard of the Estacade bridge and had been observing signs for it along the bike path and in a moment of delirious enthusiasm, decided to take the bridge. It was worth it. Out over the water you can see for miles in both directions down the river and it gives you great perspective of the city and the seaway.
Tip: If you are tired from a day of riding, opt out of the Estacade. The wind is high on the bridge and there were moments when I was pedaling and was making little-to-no progress moving forward. If you are pumped to ride on, don't miss this bridge.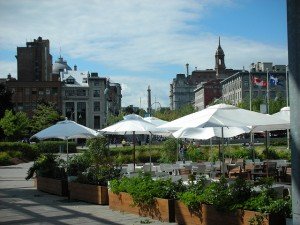 I reluctantly pedaled back to the city to return my bike. I had an unprecedented buzz as I de-biked and handed over my helmet and lock to the guys at Ca Roule. My ride exceeded my expectations. What stood out most to me was how carried away I got on my ride. I found myself, no avid cyclist by any means, pedaling full steam ahead toward the south side of the river with the city disappearing behind me. Before unwinding back at the Fairmont Queen Elizabeth, I decided to stay on a little while longer in the Old Port. I sat down at a local bar to reward sore legs and noticed all the bikes locked up right outside. For a city that had so many modes of transportation, I thought, the people certainly have their mind made up on one. I bought a beer, opened my map from Ca Roule and started to plan my bike route for the next day.
Visit Tourisme Montreal for help planning your trip.
How to get there: Amtrak's Adirondack from Penn Station to Montreal provides you with some lovely landscape views for much of the 10-hour ride.
Photos: alexandermensa, mooniker, tiagovaz, Kea Krause, abdallahh, mobyhill, KSF, Yoav Lerman