9am: The Escape
Monday, 8:58am. Midtown in its usual frenetic state, folks rushing along in power suits, an already warm morning promising a heavy afternoon haze. But not for us.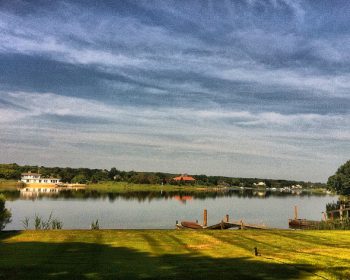 We're feeling unusually calm for these parts, waiting on the corner of Third Avenue and 44th Street for the chariot that will soon whisk us away to smaller towns, cooler climes, and a slower pace.
That chariot, a large green bus that reads "Hampton Jitney" in familiar bubbly letters, is soon lumbering on its way, and out its windows we watch city buildings give way to stretches of green, farm stands and picturesque small towns.
11:30am: Turning Up Treasures in Greenport
Two-and-a-half hours later, we step off the Jitney in Greenport, a minuscule (and adorable) North Fork fishing village that never really loses its magic—and always has a surprise or two up its sleeve.
A pit stop at the old train station (where the bus lets off) leads to the discovery of the East End Seaport Museum, a small but fascinating homage to sailors and their trade, replete with model ships, artifacts, and a massive and stunning Fresnel lens (one of the few in existence) from the Little Gull Island Lighthouse.
We spend some time chatting with Sean, who travels the world to fill his shop Knotted Dreams (471 Main Street) with great global goods, and then we stumble into another great surprise. A stately Victorian turret announcing "AUDITORIUM" in peeling yellow letters inspires a peek, and soon we are picking our way through mattresses in "Goldin Furniture" (434 Main Street), gaping at the intact stage and gilded balcony of the auditorium that served as the town's cultural center the late 1800s until 1938.
That's the thing about Greenport: No matter how "normal" it may seem, everything—from the regular old furniture store to Bruce's Cheese Emporium (208 Main Street), which sells an array of gourmet food items in a lovely restored building—wears its glorious past on its sleeve.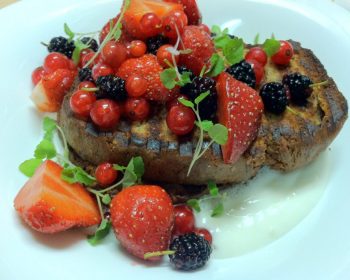 First and South, a recently opened restaurant just off the main drag, manages this feel well, adopting a sleek-meets-Americana decor and a modern "down-home" menu. The friendly bartender and his off-duty buddy regale us with tidbits about the menu: local wines on tap, greens from the restaurant's own garden, "spent grain bread" made by a tasting room employee at Greenport Harbor Brewing Company…
We take our leave feeling full of good food and a cozy, communal feel.
4pm: Breezy Boat Ride
We head back to the harbor and board the Peconic Water Jitney (since closed), a brand new Catamaran-style ferry that zips across from casual Greenport to the more upscale Sag Harbor. The cheery boat is docked right behind the Carousel on the seaport, and we walk right on, greeted by some friendly crew members. It's relatively empty on the lower, covered deck, but every bench on the upper deck is occupied when we get up there (it's good to arrive early and snag a seat).
We stand against the railing for the first portion of the ride. It makes for good viewing, but with our hair flying every which way, we're pleased to sit when a couple of passengers head below. The ride is smooth and relaxing—simply sunshine, a light breeze, sailboats drifting past, and opulent mansions dotting the greenery of Shelter Island. After a few hours in a clearly maritime town, it's a real treat to be out on the water.
5pm: Hobnobbing in Sag Harbor
After the 40-minute ferry ride we step off on the Sag Harbor dock, passing the famed Dock House seafood shack before hitting Main Street, a wide, leafy avenue lined with stately historic homes and a fair share of American flags. Its belle of the ball is the American Hotel, a 19th-century brick structure with a gorgeous trellised porch and restaurant filled with historic treasures. This is where the elite meet (and the rest of us have drinks).
We dine instead at the Dockside Bar & Grill (26 Bay Street), a casual (Hamptons-style) spot set in the former American Legion building across from the yacht club. The crowd here is "low-key upscale" (we spotted Jane Krakowski with her parents and little one in tow), and the menu is fresh and unique—plenty of the expected seafood options, plus everything from burgers to chile rellenos. A parking lot separates the pretty patio from the marina, but that doesn't make the sunset views any less breathtaking.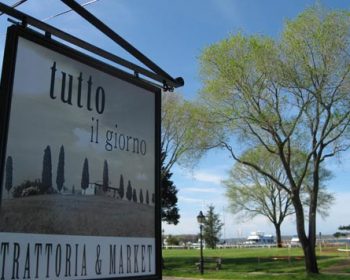 On day two, we have a long, luxurious Italian lunch in the rustic garden of Gabby Karan De Felice's restaurant Tutto il Giorno (6 Bay Street), followed by an exploration of her mother (Donna Karan)'s fabulous store, Urban Zen (4 Bay Street). Selling everything from handcrafted furnishings to ready-to-wear apparel, the store itself is a work of art. And its mission, to empower and support artisans (all profit from Karan's Haiti Artisan Line go directly back to Haiti), is incredibly inspiring.
We take a frolic through the old-fashioned Variety Store, which sells everything from beach toys to fabric to glass-bottled Sag Harbor sodas, then bop into several other shops. When it's time for an afternoon pick-me-up we hit Sag Town, a new kid on the block set off the street on a brick alleyway. Two enormous wooden lions guard the counter in this casual surfer-owned cafe, which sells surfboard wax along with its La Colombe coffee and gourmet foods. There is a chilled-out, beachy feel here, from the window seats made of patched together sailcloth to the crayons and books available for guest creativity. It's the perfect last shot of small town cool before catching the Jitney back to the city.
We're enjoying our coffees and people watching on a bench in front of the movie theater when the bus arrives—right on time. The attendant makes all the usual announcements ("No cell phones, please!") before making her rounds through the aisles, offering drinks and snacks to a clearly well-rested and refreshed group. As we roll along in the carpool lane, zipping past the afternoon traffic, we relive our adventures. And anticipate our next escape.
Where to Sleep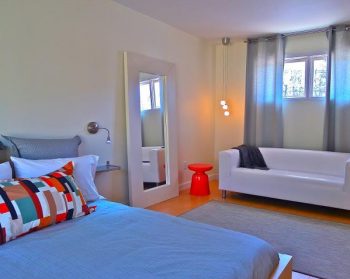 The last Jitney leaves at 10 p.m. (arriving in Manhattan at 12:30 a.m.), making the Greenport-ferry-Sag Harbor jaunt a fabulous and easy day away. But for those who crave a little more seaside time there is Forever Bungalows, an eco and affordable (for this area) option just 1.5 miles outside of town.
Surrounded on three sides by lush woods, the property feels a bit like a (luxurious) summer camp for adults, offering simple yet stylish hotel rooms and bungalows equipped with small kitchens. The place is run by Sag Harbor locals and some of the friendliest hotel staff we've met in a while, all happy to share "insider tips" and offer extra personal service (ask ahead and they can offer transportation into town).
Guests have access to the hotel's beach passes, bike rentals, and one of the most impressive hotel book shares I've seen. (From $250 in peak season, $200 in fall).
KPICASA_GALLERY(AdventuresInGreenportSagHarbor)
Photos: despitz, Tomas Fano, innuendo