Searching for a shortlist of fun things to do in Maine in the Spring? You've reached the right place. Maine is a stunning state known for its rugged coastline, beautiful lighthouses, and abundant natural beauty. As the weather begins to warm up in the spring, there are countless outdoor activities to enjoy and scenic locations to explore in Maine. We actually have a whole section and guide on Maine, but we thought a short guide on what to do there during the spring would be a handy post to have. Here are some of the best things to do in Maine in the spring.
1. Visit the Lighthouses
Maine is home to many stunning lighthouses that are worth exploring. Some popular ones include Portland Head Light in Cape Elizabeth, Nubble Light in York, and Marshall Point Light in Port Clyde. Take a leisurely drive along the coast and stop at various lighthouses to take in their beauty and history.
Watch this to get a glimpse of Portland Head Light in Cape Elizabeth:
2. Explore Acadia National Park
Acadia National Park is one of the most beautiful natural areas in Maine and a must-visit in the spring. The park offers hiking trails, breathtaking views, and an abundance of wildlife to observe. Some popular trails include the Jordan Pond Path, the Beehive Trail, and the Precipice Trail.
Take a glimpse into Acadia National Park:
3. Take a Whale Watch
If you haven't done this before, then this is definitely one of the most amazing things to do in Maine in the Spring. As the weather warms up, whales begin to migrate through the waters off the coast of Maine. Take a whale-watching tour and see these magnificent creatures up close as they pass by. You may even be lucky enough to spot a humpback or a fin whale.
Watch some whales here:
4. Enjoy Fresh Seafood
Maine is famous for its delicious seafood, and spring is a great time to enjoy it. Some popular seafood dishes in the state include lobster, clams, and crab. Try visiting one of the state's many seafood shacks or restaurants and enjoy a meal with a view of the water.
5. Go Kayaking
As the temperatures rise, the waters of Maine begin to warm up, making it a great time to go kayaking. There are lots of places to rent kayaks and explore the state's beautiful coastline, bays, and rivers. You can also take a guided kayak tour to see some of the state's most famous natural landmarks, such as Casco Bay and the Penobscot River.
You can also go paddling down the Penobscot River, watch this:
6. Visit Portland
Portland is one of Maine's most vibrant cities and a great place to visit in the spring. The city is known for its thriving food and drink scene, and there are many breweries, bars, and restaurants to explore. Portland is also home to the Maine Maritime Museum, which offers an in-depth look at the state's rich maritime history. For some foodie tips – here's our take on the best restaurants in Portland.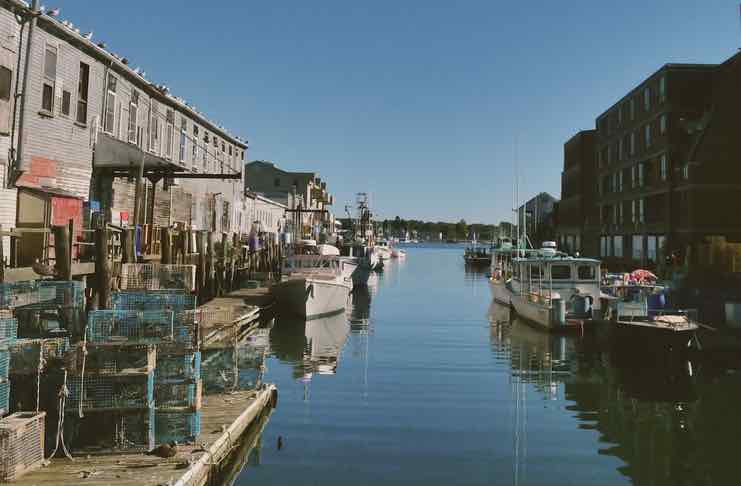 7. Hike the Appalachian Trail
The Appalachian Trail runs through Maine and offers some of the most beautiful hiking opportunities in the state. As the weather warms up in the spring, the trail becomes more accessible and offers scenic views of the surrounding landscape.
Watch this:
8. Visit the Spring Flower Bloom
As the weather warms up, Maine's landscape is awash with color as spring flowers begin to bloom. Visit the state's many parks and gardens, such as the Coastal Maine Botanical Gardens, to see the blooms in all their glory.
Watch this to get a glimpse:
9. Enjoy a Lobster Bake
A lobster bake is a traditional Maine experience that is not to be missed. Enjoy a meal of fresh lobster, clams, potatoes, and corn, cooked over an open flame on the beach. This is a great way to relax and enjoy the beauty of the state's coastline.
Here's a great clip showing how it's made:
In conclusion, Maine is a stunning state with an abundance of natural beauty and activities to enjoy. From visiting lighthouses and exploring Acadia National Park to taking a whale watch and enjoying a lobster bake, there are countless things to do in Maine in the spring. Whether you're a local or a tourist, make the most of the warmer weather and explore all that this beautiful state has to offer.