Portland, Maine is quickly becoming the perfect weekend getaway for food lovers. After 8-hours on the bus or train, you'll need fresh seafood and savory donuts to refuel.  This fall, head up the coast for a few days of new dishes as you enjoy ocean views and Northeastern accents. And if you only have one day in Portland, we've condensed our recommendations to this 24-hour guide to food in Portland.
Breakfast in Portland Maine
Rose Foods| Casual Breakfast Sandwich Spot | 28 Forest Ave. Portland, ME 04101
Rose Foods is an unassuming shop in the East End that serves up fantastic bagels with schmear. So fantastic, in fact, that you should expect a massive line out the front door during peak weekend times. Fear not, grab a paper, relax and hang in there. It's worth the wait.
Tandem Coffee and Bakery | Best Coffee & Baked Goods in Town | 742 Congress St, Portland, ME 04102
Widely touted as the best coffee shop in town, this retro West End spot doesn't disappoint. The cafe is located inside a former gas station turned laundromat turned coffee shop.
Palace Diner | Old School Diner | 2502, 18 Franklin St, Biddeford, ME 04005
The Palace Diner is a casual greasy spoon with only a few counter stools and a magical griddle. Choose from traditional breakfast favorites like pancakes, eggs and breakfast meats. We recommend the corned beef hash. Getting here is a bit of a pain as the diner is located about 20 miles south of  town. You can take the Amtrak train one stop to Saco, Maine and walk about 15 minutes or you  can work up a strong appetite biking down along the coast and then take the train back as you digest.
Lunch + Dinner in Portland Maine
Duckfat | Casual Chic Local Seafood & Oysters Spot | 43 Middle St, Portland, ME, 04102
If you thought poutine and french fries couldn't get any better, head to Duckfat where everything is fried in, well, duck fat. And since duck fat is a richer frying agent than oil and other cooking fats you can expect the normal favorites to have an enhanced taste. Pair your Belgian fries with a beer or go all in and order the duck fat poutine. Try a sandwich featuring duck confit or the the meatloaf – if you have room after the fries.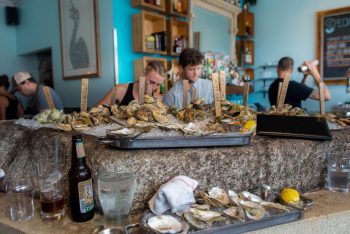 Eventide Oyster Co.| Casual Chic Local Seafood & Oysters Spot | 86 Middle St, Portland, ME 04101
Eventide is not cheap, but its succulent seafood selection is worth the price tag.  They have a wide array of local oysters and a delicious warm lobster roll. You also can't miss the fish sandwich.  Top it off with a wide selection of local beers and quirky cocktails like the Coffee and Cigarettes, an espresso infused cocktail with Fernet-Branca and scotch. 
Drifter's Wife | Casual Chic Small Plates and Wine Bar | 59 Washington Ave, Portland, ME 04101
This is the hippest new spot in town for wine and small bites.  There's an excellent wine selection and even a separate wine shop next door for those looking to take a bottle home. Each wine is labeled with helpful background information and tasting notes for the non-wine initiated. The dinner menu changes daily based on what's in-season and the whims of the chef. We enjoyed the bread, sardines and razor clams which were fresh, delicious and perfectly paired with a dry Sauvignon Blanc.
Central Provisions | Local Farm to Table Fare | 414 Fore Street Portland, ME 04101
Central Provisions has been a staple as long as Portland has been known for its food with delectable dishes featuring bone marrow, agnolotti, and suckling pig. They also have an extensive cocktail and wine list – so come thirsty. Since there are no reservations here, come at opening, an hour before you actually want to eat or, choose the insider move and sit at the bar, like we did. Expect classy decor, tasty food, and friendly service.
Desserts in Portland
The Holy Donut | Best Donuts in the World  | 194 Park Ave, Portland, ME 04102
The Holy Donut, for some, is a religious experience. Their potato flour based donuts are similar to a cake donut but less dense. They have a broad range of flavors from Maple Bacon to Pomegranate. Don't be surprised if you end up buying a half dozen donuts for 2 people. It's gluttonously worth it.
Two Fat Cats Bakery | Underrated Local Bakery | 47 India St # D, Portland, ME 04101
Maine is known for its blueberries and Fat Cat Bakery pays homage to this homegrown fruit. They churn out homemade fruit bars and pies in this bustling local bakery in the East End.
Mount Desert Island Ice Cream | Maine Local Creamery | 51 Exchange Street, Portland, ME 04101
Originally from Bar Harbor, Mount Desert Island also offers unique frosty flavors such as brigadeiros, coriander and blackberry swirl. For the less adventurous palette, the vanilla, chocolate and mint chip are also great. Grab some while walking down Portland's cute downtown streets. 
For more ideas on Portland, Maine check out the Visit Portland site.
Team Foodie is comprised of food lover, photographer, and blogger Yijia Gu – @sometimesicrave and her charming, well traveled and adventurous companion Andrew Hoffman @ageofhoffman who moonlights as a hand model, photographer of Yijia's food photos and writer. Based in New York, Team Foodie travels the world hungry to experience new things, and well, eat of course.