Is there anyone who hasn't yet heard that Portland's food culture has exploded? Just a cozy six-hour bus ride from NYC, Portland's extraordinary culinary scene is best tackled with an oversized appetite. With its exciting variety and depth, you could spend a month exploring its dynamic dining options.
But if you only have a day, here are three tasty places to try—including a James Beard Award-winning oyster bar—all on a lean budget.
Breakfast: The Holy Donut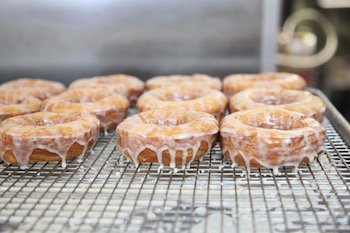 Discloser: I cut my baby teeth on doughnuts so they are my personal version of Proust's Madeleine. I've sampled most rings of fried dough in New York City, with varying degrees of nostalgic delight.
For a fangirl like me, the Holy Donut is the Holy Grail of fried pastry.
Each mini-masterpiece is made from top quality ingredients. The textural-meets-locavore twist is that the dough is enhanced with Maine mashed potatoes straight from Aroostook County. They add a burst of moisture and a certain je ne sais quoi that makes them literally melt in your mouth. The initial bite borders on blissful, but you quickly acclimate to the sugar-spun magic, though you may continue to marvel at the fact that you can't detect even a hint of grease.
Don't miss the dark chocolate with sea salt, the most popular flavor, and the inventive sweet potato dusted with ginger-flecked sugar. These tender beauties are not only yummy, they're Instagram-ready.
The Holy Donut sells out quickly, so arrive early and wait on line with friendly locals who are delighted to discuss their Holy Donut addiction with you.
Cost: $2.50
Lunch: The Lobster Shack at Two Lights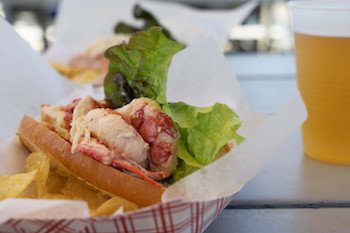 You'll want to work off some of those calories, so loosen your belt and consider a seaside pedal. Rent a bike from Portland enCYCLEpodia, where all rentals include helmets,  locks, and detailed maps.
Once you've got wheels, head out to the craggy shores and unspoiled beaches of Cape Elizabeth, under eight miles from Portland. Perched above the rocks is where you'll find the Lobster Shack at Two Lights. They've been serving just-caught seafood since the 1920's in the simplest of settings. In the classic Maine lobster shack tradition, you may eat at a no-nonsense outdoor picnic table with a full view of the crashing surf and Portland Head Lighthouse as you watch the sturdy fishermen haul in their daily catch.
The only thing better than the view is the food. Try the substantial fried haddock plate, served with crinkle-cut fries, crispy coleslaw and feathery biscuits. The velvety clam chowder hits the sweet spot, presenting a beautiful balance of shucked clams and root veggies. Though it's always busy, the competent staff makes you feel at home.
Cost: $19.99 for the haddock plate, $4.49 for the chowder.
Dinner: Eventide Oyster Co.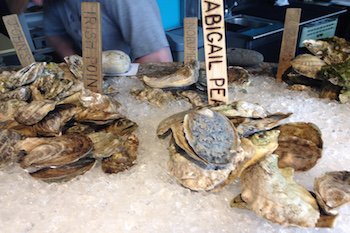 Portland's proximity to the Gulf of Maine makes it ideal for seafood lovers and Eventide is a revival of the great American oyster bar. From the moment you see the showstopper centerpiece of Maine granite that serves as the oyster display, you'll quickly understand that Eventide Oyster Co. takes seafood seriously. One bite and you won't be surprised to hear they just won a coveted James Beard Award.
I started with six oysters on the half shell. The oyster menu is divided between those from Maine and those "from away," mostly Massachusetts and P.E.I., Canada. I put myself in the capable hands of John, my amiable waiter, and had him select his favorite Maine oysters for me. I swooned over the sensual Abigail Pearl variety from nearby Scarborough. Not quite satiated with just the taste of the raw, I forged ahead and ordered a fried Winter Point Oyster bun, served with just a dab of tartar sauce and crunchy pickles, nestled on a roll with a soft, shiny crust.
They offer a nice selection of in-state beers or sip cider from Urban Farm Fermentory, bottled right in Portland.
Cost: $16 for a half dozen oysters, $7 for the oyster bun.
Take the bus from NYC: 
Concord Coach Lines from East 42nd Street to Portland in just under six hours.
For more information, go to Visit Portland or Visit Maine.
Photo credits: Sherry Ott, Lauren Lear Photography, Visit Maine and the author
Allison is a native New Yorker, who has lived in Rome, Tuscany, Melbourne, Toronto and Los Angeles. She frequently contributes travel pieces to Family Travel Forum, using her own children as guinea pigs as they travel the globe. She is fluent in Italian and Spanish and laughably adequate in French. Her background as an Early Childhood Educator gives her an added understanding of what it takes to travel with kids in tow. She firmly believes that the most important part of education takes place outside of the classroom, on the road, around the world. She never misses a chance to sample local delicacies, as her love for travel goes hand-in-hand with her love for food and wine. Follow Allison at @gourmetrav.