If you are looking for the charm of the countryside and the elegance of a sophisticated New York restaurant, Harvest on Hudson is the place to dine. Situated in one of Westchester's most exclusive areas, Hastings-on-Hudson, Harvest lies beside a beautiful river and the Palisades. Harvest's desirable location (closer than the Hamptons) and character (Tuscan-style farmhouse) warrants making the swim from Manhattan to its shoreline. (But we'll give you alternate public transportation directions anyway.)
Upon entry, the veranda is full of greenery and oversized wine bottles. The menu offers various Mediterranean delicacies and a taste of France, Spain, Greece, Portugal, and Turkey. You may enjoy your meal by one of the sprawling bay windows and appreciate the high-beamed ceilings, which give the feeling of an authentic log cabin, and less than 40 minutes away from New York City.
From Sashimi to Lobster Ravioli, there is bound to be a meal on the menu to tickle your fancy. In addition to the main courses, there is also an extensive dessert menu ranging from the traditional New York Cheesecake to a more adventurous Tahitian Vanilla Crème Brûlée with Biscotti. As apparent from the eclectic nature of Harvest's menu, the food does not adhere to a confined selection. You will have a delightful dilemma when faced with the pages of Chef Vincent Barcelona's plats du jour.
Although the atmosphere is sophisticated, Harvest on Hudson is a comfortable and refreshingly non-stuffy place to feast. The tranquil haven of the restaurant, nudged into the side of the riverbanks, and the sheer elegance of the interior architecture and design makes for a perfect city retreat. A family establishment, Harvest on Hudson is unique with its mélange of modern-chic vibes and ode to antiquity via an enormous stone fireplace in the dining room. As you take your seat, sunflowers as the centerpiece of each table give you a warm Tuscan welcome. During Christmas it is especially festive, and if you act fast, you may reserve the house for an event of more than 220 guests.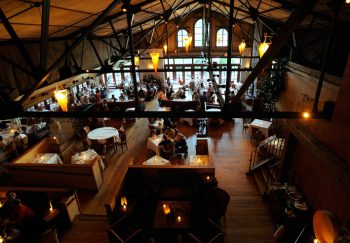 Harvest on the Hudson is renowned for more than its food. If you are in the mood for fine quality wine – or in the mood for making it – explore Harvest's Wine Certificate Course, which is open to amateur wine connoisseurs and winos alike now through January 16th. Whether you are looking to try your hand at making Cabernet Sauvignon or enjoying a romantic sunset dinner by the lake, keep this countryside gem in mind for your next outing.
How to Get There: Take the Metro-North Line from Grand Central to the Hastings-on-Hudson stop. The restaurant is one block from the station on the river side. (1 River St., Hastings, 914.478.2800, www.harvest2000.com)
Photos: Courtesy of Harvest on Hudson