Boston is a unique city with a rich history and culture. Its old infrastructure and compact space near the ocean requires visitors to make special preparations.
With Boston's maze of roads and streets that are not organized in a grid, navigating the city can be challenging. Besides, the city is a combination of modernism with history and extreme weather ranges and lots of things to do. These uncommon circumstances are some of the reasons why it is worth preparing ahead of time.
Here are five things to know before traveling to Boston for work.
Go for short-term rentals
If you're traveling to Boston for work, there is a very high possibility that you will need a conducive place to do the actual work. By American standards, the city is quite old, but the good thing is that your accommodations can be tailored to meet your specific needs.
Consider a short-term rental like renting a corporate apartment before familiarizing yourself with the city's neighborhoods that are all unique and diverse.
Corporate housing in Boston is more affordable and convenient than staying at a hotel or an Airbnb. Most of these apartments are spacious, fully furnished, and provide you with all essential amenities you'll need to stay comfortable like laundry services, gym facilities, and parking space. Besides, they are located in central locations and are available for mid-long-term stays.
Short-term rentals provide you with plenty of time to explore while also providing a great place to live that feels a lot like home.
There will be plenty of walking
As we said, Boston is a compact city that is old and historic. Its beautiful streets are lined with cobblestones and bricks that are not very kind to your feet.
Do yourself a favor; pack comfortable, seasonal-appropriate footwear that is ideal for walking. Walking is the fastest way to get around and explore the city.
Besides, the subway stations are often a few blocks apart, so it's faster to walk than wait for a bus. Always remember, a blister-free trip is the best way to get your work done.
Check out this walking tour of Boston to get a better glimpse:
You may not need a car
Driving in Boson is more of a burden than a perk because parking is expensive and limited. The parking fee in most hotels is about $40 or more. For street parking, you may be required to have a residential-only neighborhood permit. Fortunately, you can get around the city comfortably and quickly using public transportation.
The city's MBTA transportation which comprises the bus and train system connects the suburbs and the city efficiently and conveniently. The subway that runs through the city and into Cambridge stops at popular neighborhoods, major attractions and universities.
If you're planning on using the subway system, also referred to as the T, it is advisable to get a reloadable plastic CharlieCard or buy the seven-day T pass. If you're staying in the city for more than a couple of days, the seven-day ultimate pass is good value. If you'll be using the subway once in a blue moon, a CharlieCard allows free bus transfers and provides discounts on subway fares.
Taxis and Uber are also available if you don't want to use public transportation. They may be a bit pricey but they can help you get around the city faster and more affordable than driving.
Biking is also very common in the city. If you don't have a bike, you can always rent. They are much more convenient and faster than the subway system.
Weather
Boston experiences extreme weather; summers can get really hot while winters can get extremely cold. Brace yourself for some bitterly cold winters and unbearably humid summers.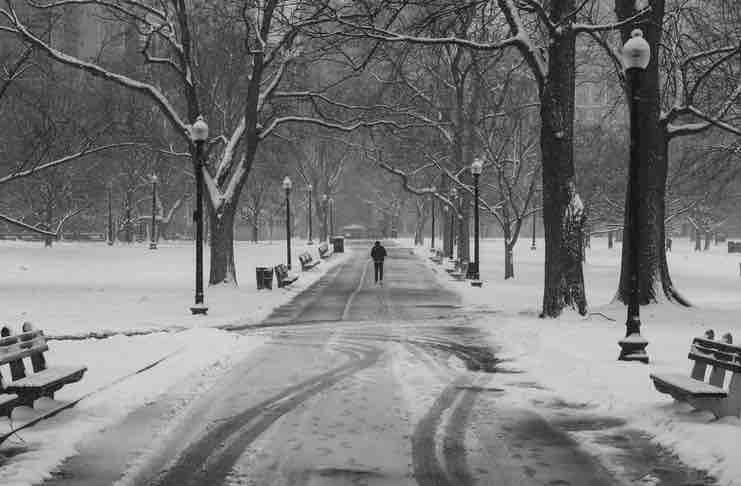 Autumn and spring are the best times to travel to Boston due to the mild climate. The weather is generally calm and more comfortable with cherry blossoms and beautiful autumn leaves dusting the floors.
The trick to knowing the city's weather is looking at the John Hancock Tower window. It gives you a more accurate prediction of the day's weather than your smartphone. If it's pure blue, expect pleasant weather with blue skies. Solid red means rain is coming, flashing red indicates snow is almost here and flashing blue signals clouds are on the way. However, flashing red during the summer means that the tickets to the Red Sox game are out.
Food scenes and nightlife
Boston is among the top cities with the most infamous dining destination globally. It offers plenty of iconic dishes and culinary trendsetters that you should try. Some of the best places to pop by for a quick delicious meal include Neighborhood's Cream of Wheat, Kelly's Roast Beef sandwich, Mike's Pastry, and Flour Bakery & Café.
Speaking of oysters, the city is known for its award-winning fusion dishes and fresh seafood. Whether it's fried clams, stuffed quahogs, seared scallops, blackened salmon, grilled swordfish, and steamed lobsters, you can rest easy knowing that it is freshly caught and well prepared.
It is worth mentioning that unlike cities like New York, Boston closes up for the night and there is no happy hour. The last subway train leaves the city at round midnight and most bars close by 2am. Also, the city banned after-work drinks in the 1980s. Check out this post of ours to learn where to eat in Boston.
Conclusion
Boston's general theme is history, culture, and lots of things to see and do. It can get overwhelming and very expensive but the above tips and tricks can help you establish a routine.
We hope that this article gives you a rough idea of what to expect if you're traveling to the city for work. Enjoy your stay in Boston!
Founder of Hot Mug Coffee. Business woman. Traveler. Self-Declared Host. If you're here, you know the amazing, hits-the-spot feeling of good coffee. The key to my heart (and to keeping the engine running) is coffee, and I've sipped and savored A LOT of coffee over the years and around the world. I'm on a mission to bring great coffee and the warm fuzzy feeling of coffee culture into your home and life, every cup, every day, every time.