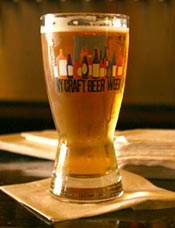 What: "A Walk in the Park," NYC Craft Beer Week's closing event

When: Sunday, Sept 20th, 2:00p.m.–10:00p.m.

Where: Studio Square, Queens

Why: Continue the Oktoberfest-ivities with a glass of Hop Mouth, Owl Pumpkin, or an Oh Brother! this Sunday at the newish 18,000-square-foot Studio Square beer garden, where more than 40 rare and specialty beers will be served under one loft roof.
"In the spirit of a Thanksgiving harvest, we're getting the entire community together to celebrate what it means to be a beer drinker," said Josh Schaffner, director of the New York Beer Craft Festival.

There will be live music performances by local home-grown artists like Damon Daunno, Sasha Dobson and Spokinn Movement as well as the premiere screening of Beer Quest. Be sure and enjoy the farm fresh produce market by Just Food, a 14 year-old sustainable initiative uniting local farms and city residents.
If you've already racked up ten stamps on your passport, you've earned a free glass, compliments of Sam Adams. Before the festival's official close—and while the weather's still nice—take a walk (or a subway ride) to Queens where they'll be "rolling out the barrels."
Cost: Free, Beers $2 w/Passport
How to get there: Take the N or F to 36th Street. Exit near Rt.-25a and 36th Street. Head North on 36th St towards 37th Ave to 35-33 36th Street. For a full schedule of events and beers on tap visit nycbeerweek.com.
Photo: Courtesy of liqcity