Portland, ME is a smallish city with an even smaller town feel, but within its compact size it packs a lot of punch. Whether you're a sailor or a landlubber, an obsessive foodie or a strategic hunter of antiques and handmade treasures, Portland will keep you busy (and maybe even a little overwhelmed) however long you choose to visit.
Despite all you may want to cram into a weekend, the best way to enjoy Portland is to take it slow: savoring the food, lingering over the beautiful wares, and sauntering rather than racing; this isn't Manhattan.
Energizing
It starts with the morning coffee. In Portland, there is no quick toss-it-down-before-work coffee cart variety, only myriad meant to savor brews, which are all carefully roasted—a different blend for each café and hotel in town—by Coffee by Design. The micro-roastery is a community in every sense of the word, from its personal relationships with every bean supplier to its support of local artists.
Shopping
The logical next step after proper caffeination is the marathon perusing (and purchasing) of unique goods that is one of the main to-dos on a Portland trip. The narrow streets of Old Port contain carefully curated antique stores like the airy Judy Pascal Antiques and Interiors (6 Free St., 207.347.5633) and less organized but equally fascinating spots like Emerson Books, Antique Maps and Prints (18 Exchange St., 207.874.2665), a treasure trove for bibliophiles and collectors of papers of the yellowed variety.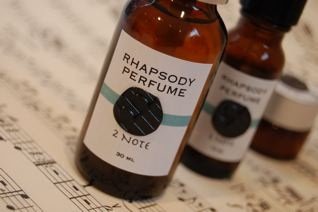 The standout shop in Old Port is the bright and inviting 2 Note Perfumery (10 Moulton St., 207.838.2815), a true embodiment of the spirit of Portland. Proprietors Carolyn Mix and Darcy Doniger create natural body and elegantly fragrant home products that play off the ladies' mutual love of music. Even if you're not in the market for new scents, a trip to 2 Note will change your tune, and the ladies themselves—with their strong love of and knowledge about Portland—are equally inspiring.
Also not to miss is Rabelais (86 Middle St., 207.774.1044), home to all food-related books, from the latest tomes on food politics to the first edition of Julia Childs. Whether it's a hard to find out-of-print or a glossy hardback jumping off the shelves, if it has to do with food, you're likely to find it here. But the highlight, again, is the people: owners Don and Samantha Lindgren love to share their deep knowledge of the local food movements taking over Maine.
Eating
It's no surprise that Portland has a bookstore devoted entirely to food; the streets are teeming with a host of delicious smells and flavors.
Fuel up for more shopping at Walter's (15 Exchange St., 207.871.9258), a cozy brick-walled establishment known for their daily changing blackboard specials. Jeff Buerhaus makes magic in the kitchen fusing Asian, Caribbean, and Mediterranean influences with the freshest of seafood and locally sourced ingredients. The space is bright and friendly for the lunch crowd, with the fireplace and cozy upper level lending a swankier vibe for intimate dinners.
While Walter's balances the beam between cozy and chic, Gritty McDuff's (396 Fore St., 207.772.2739) is everything one could ever want from a place so named. The first brew pub in Maine has been around since prohibition, so it's firmly established that dank beer smell that one hopes for in a historic watering hole. Regardless of how much you drink, you won't soon forget the place with its random tchotchkes like heavy "Gritty's Club" mugs that hang in neat rows above the dented copper bar and the bizarrely fabulous tinfoil creations set at odd intervals along the walls (made, of course, by Portland's own "tinfoil man"). The brews are crisp and hoppy and are complemented by a buffalo burger.
With the wealth of gorgeous restaurants in town, dinner is a sacred event. Cinque Terre (36 Wharf St., 207.347.6154) is an upscale hideaway decorated with a sleek minimalist style. The daily changing menu maintains a few staple signature items, like a rigatoni Bolognese that will spoil you for Bolognese ever after. A large portion of the menu is in italics to mark those ingredients that come from local Maine purveyors—and the freshness is evident in every dish. The buttery brown roasted almond cake justly touted the talents of award-winning pastry chef Emily Delois and is a perfect way to the end the meal.
Just around the corner, sister restaurant Vignola (10 Dana St., 207.772.1330) is also helmed by chef Lee Skawinski, who applies lessons learned from generations of Italian farmers and chefs to both establishments, creating a blissful, educational experience for guests. The staff at both locations, many of whom have traveled with Skawinski to meet with vintners and cheese purveyors in Italy, are equally passionate about the food, and it shows. Vignola has a more casual laid-back feel than Cinque Terre, while still keeping a locally sourced focus on food. The spindly thin carpaccio topped with a tangy, perfect kobe beef tartare is a must, as is a glass of beer. The expert staff culls from 70-plus beers that hail from as near as Maine to as far as Sri Lanka, and arrive in the brand's corresponding glass. The atmosphere here is electric with the buzz of happy foodies bouncing off the worn brick walls, the air smelling faintly of pizza dough.
Doing
There is much more to Portland than eating and shopping, and fortunately, much of it helps to burn off all that eating. A walk along the Eastern Promenade flanked by ocean on one side and a line of stunning historic mansions on the other, is a great way to watch the sunset. Winding back the clock, make an afternoon stop at the Portland Observatory (138 Congress St., 207.774.5561, last tour at 4:30pm), a 202 year old lookout point that has survived 200 hurricanes and affords panoramic views of Portland and Casco Bay. Then continue heading toward the water for the Eastern Prom, stopping at the charming shops scattered along the way.
Venture to Peaks Island, a diminutive two-mile long isle, for its charming New England homes, craggy shores, and tucked away restaurants. The perimeter can be traversed by foot in an hour, but the best way to explore is by bike, which can be rented at Brad and Wyatts Bike Rental (Island Ave., 207.766.5631, $5 for one hour). The Casco Bay Ferry leaves just about every hour and takes 20 minutes (56 Commercial St., 207.774.7871 x105, $7.70 round trip).
Sleeping
The Eastland Park Hotel (157 High St., 207.775.5411) is an expansive, historic property with a feeling of old world opulence. Located in the arts district, it's just steps from some of Portland's best art galleries, as well as the Portland Museum of Art. The spacious rooms are decorated in watercolors, and the Top of the East is a great place for an evening tipple with fantastic views.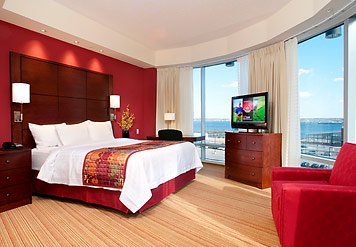 On the other end of town, the brand new Residence Inn Portland (145 Fore St., 207.761.1660) is as sleek and modern as the Eastland Park is historic. Decorated in crisp, artsy nautical photography and the signature Marriott bright colors, the hotel is comfortable and friendly, with comfortable suites, complementary breakfast and stellar views.
How to get there: The Amtrak Downeaster runs from Boston's South Station to Portland (2 hours, $24 each way). To get from New York to Boston take Amtrak from Penn Station (approximately 4 hours, around $80 each way or $145 each way for the high speed Acela train). Bolt Bus (34th St at 8th Ave., $20 each way) goes directly to South Station. From the train station in Portland, a cab into town takes approximately 15-20 minutes and costs around $20.
Photos: jeffgunn, Residence Inn, all others by author