Times of mayhem are revelation times that sweep across human clans. Some people fear it could become a recurring and haunting nightmare. Others see the coronavirus pandemic as a once-in-a-generation chance to reform civilization while building a better future.
New York and other governments across the world have issued COVID-19 travel restrictions and advisories while ensuring social distancing measures are taken seriously. This has helped people to protect themselves and their loved ones.
But, as people find adapting to the new normal hard to do, it has come to light that anti-COVID-19 measures have had detrimental impacts on people's physical and mental health. For us, travelers here on offMetro, just the constant need to do Covid Testing for every getaway has caused severe trauma. The effects of public measures, lockdowns, and massive layoffs in a bid to contain coronavirus may last long even after the virus threat is gone.
Here are some of the ways in which New Yorkers have had to adapt to new cultural, personal, and professional lives:
Doctor visits through Telemedicine
Telehealth, a technology that allows you to see your healthcare provider from a distance by using an internet-based, secure video platform has become the new way of visiting doctors and it works fine on mobile in New York.
Doctors and patients previously considered telehealth in limited circumstances such as routine post-op chats or illness while traveling. During the coronavirus pandemic, a wider range of health services are now being provided virtually, which is a boon for caregivers.
Aside from cutting out hassles like waiting-room time and parking, video visits have made it easier for many people to participate. It has also improved staffing issues in healthcare.
With millions of workers having been introduced to telecommuting, COVID-19 may change how the world of work operates forever. Data from the Coronavirus Disruption Project, which has explored questions that involve views about behavior and life during the pandemic, suggests many people enjoy working from home.
Having greater flexibility, enjoying the relaxed attire, grooming standards, and commuting less are some of the benefits people have reaped from this new normal. On the other hand, people have had to accept heavy pay cuts and massive layoffs as companies take on post-COVID cost-cutting efforts.
Amid coronavirus restrictions and lockdowns, home deliveries and online purchases have surged. Downloads of delivery services apps like Walmart Grocery, Peapod, and Instacart have more than doubled.
Recent research established that more than half of the people who shopped online said the coronavirus crisis made them keep doing so permanently, while those who are yet to try online shopping said they planned to do so soon. That indicates a consumer demand inflection point and a more sustainable and permanent shift in how New Yorkers buy their food.
To stem contagion, wearing masks has long been commonplace in many Asian countries. With COVID-19, this has taken hold in the United States at the urging/mandate of local, state, and federal officials.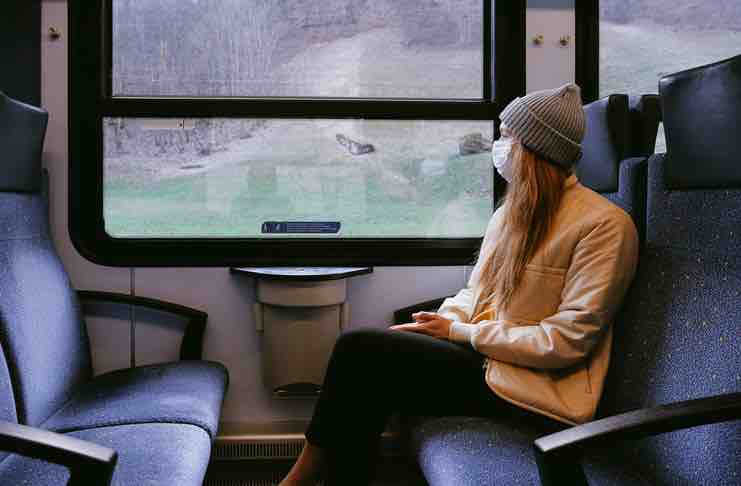 While it may not become a majority phenomenon, this practice is likely to become routine in some situations and settings— when people with common flu or cold need to venture out, or in dense urban areas. Masks are social protective devices, and people wear them when going outside to protect themselves from immunocompromised people or those with COVID risk factors.
Washing and sanitizing hands
Handwashing habits among Americans have changed due to coronavirus. People now know how to properly wash their hands often, and for longer. These hand-washing habits are likely to remain even after the pandemic is long gone.
Many New Yorkers now classify themselves as "germaphobes," which makes alcohol-based hand sanitizers very popular. Major producers such as Unilever have scaled up their manufacturing capacity to meet the demand.
Adapting to online meetings
The coronavirus pandemic has moved social lives online, which has helped in maintaining good relationships with co-workers, friends, and relatives. The whole notion of how people socialize and interact has been affected profoundly, especially for older individuals who are newly adopting video tools to remain in touch.
Video conferencing and Zoom have made people feel connected and have made them feel that phone calls are shallow since they're getting used to seeing each other online.
Riding public transportation
Public transit systems have been put in an unenviable position with people not using them unless it's absolutely necessary. It will be somehow difficult to come back from this effect and will involve a change in how transit agencies operate.
Development of several technologies is underway to enhance safety, such as reconfiguring buses to create more space between passengers, using UV light, and doing temperature checks as people board.
Airline choice, fares, and route options among other aspects of flying have fluctuated wildly as the industry adjusts to the new normal. Travelers are now adapting to a different experience on an airplane and in the airport, and it's likely to remain this way for a long time.
Airlines will have to deep-clean planes in a bid to convince customers that they are traveling in a safe place. Airlines will now not save money on these, no matter how tough things are.
Airports have created more room to maintain social distancing in lines and are also frequently sanitizing public spaces. For one to travel on an international flight, passing a COVID-19 test is mandatory. For crews and passengers in most airlines, wearing face masks will remain common in cabins.
COVID-19 is a watershed event that has reoriented broader attitudes about how public health issues should be addressed by the government. The new embrace of this interdependence has driven people to demand a greater supportive social safety net.
With more than a quarter of a million Americans having died of COVID-19, a universal health care system is an urgent necessity for residents. People also believe that if there was better health coverage, many of these deaths could have been prevented.
Pandemics in the past have ushered in dramatic governmental shifts. For instance, the Indian independence movement was fueled by the population's fury after British colonial authorities failed to protect Indians from the 1918 flu pandemic. This kind of unity-seeking in the US can be inspired by fighting COVID-19, the enemy being the disease.
Taking a COVID test has also become easier than ever, as you can easily do it from the comfort of your home, provided you have an FDA-approved test kit. Ready Responders can also help in this regard with their testing service.
ReliefSeeker.com president Andrew McDermott said: "We are already seeing incredible demand for Ready's new COVID Test offering; while COVID infection rates are skyrocketing across the country and winter arrives, people are finding it much more convenient to have a test administered right at home or work and eliminate an extra trip to an urgent care center or other testing facility where they could be at-risk for infection."