Black Bass is the most popular game fish in the United States. Almost 10 million Americans pursue this species as a hobby. There are many techniques to catch Black Bass. This is why Black Bass fishing is often seen as a challenge. Anglers continuously learn new methods and techniques to catch Bass. In this short guide, we'll cover bass fishing in New York.
There is a whole industry producing novel lures and accessories for Bass fishing. The presence of this species in practically all the states adds to its popularity.
New York State is not an exception. There are as many as half a million Bass anglers in this state. The regular Bass season in New York runs from June to December. You can fish for Bass ahead of the regular season. However, if you do so, you must release all your catches unharmed. In New York State, you can find Largemouth Bass (LMB) and Smallmouth Bass species.
New York has excellent opportunities for avid Bass fishermen. However, you'll need to be equipped with the best baitcasting reels in order to be successful. It's not uncommon to see anglers from different states fishing in some of the lakes of this state. They often are pursuing trophy fish. The LMB record in New York is 11 pounds, 4 ounces. The Smallmouth Bass record is 8 pounds, 4 ounces. Compared to the national records, New York has a top position. You can catch your personal record in this state.
Hence, get your boat and bass boat trolling motor ready. Pack your rods and lures and head to New York State. Below you will get all the information that you need to have a memorable Bass fishing trip there.
Best Bass Fishing Lakes in New York
Some of the lakes in New York State rank among the best Bass fishing places in the United States. So, if you want to catch a trophy Bass, you should consider fishing in one of these lakes.
The following list includes the lakes that consistently produce trophy Bass:
Thousand Islands;

Lake Erie;

Lake Champlain;

Oneida Lake;

Cayuga Lake;

Chautauqua Lake.
There are many other lakes in this state, and they can produce a trophy Bass sometimes. But to make the most out of your fishing trip, you better start by fishing in one of the lakes on our list of 'Best Bass Fishing Lakes in New York'. Let's discuss each one in more detail.
Thousand Islands
This is an archipelago along the US-Canada border. The archipelago has islands on the Canadian side (Ontario) as well as in the United States (New York State). There's a lot of great fishing in this area. You can fish for both Smallmouth Bass and LMB here. The area attracts many visitors; thus there is heavy fishing pressure. However, the quality of the fishing is still good. You can catch a trophy fish (especially Smallmouth Bass) in this area. Other species that you can catch here include northern pike, walleye, perch, and others. Finding a fishing guide is not a problem in this area. And when you're there – don't miss a visit to Boldt Castle, a major landmark and tourist attraction in the Thousand Islands (see picture).
Lake Erie
This is a large lake. It's the 11th largest lake in the world and the 4th largest of the Great Lakes. It is also the shallowest of the five Great Lakes. However, the eastern basin that extends from Erie (Pennsylvania) to Buffalo (New York) is the deepest part of the lake. This creates the conditions for Bass to grow to trophy sizes. It is particularly known for producing giant Smallmouth Bass. Because of the shallowness of the lake, water conditions can change dramatically in a short time. You must be careful when fishing from a boat since large waves can appear suddenly.
Lake Champlain
This lake is in the states of Vermont and New York. It is one of the largest lakes in the United States. For many years, this lake has produced giant LMB. The Bass Tournament Series often ranks this lake among the top bass fishing lakes in the country. Both LMB and Smallmouth Bass are abundant. So, you are almost guaranteed to catch a good number of fish. The dense plant beds are the ideal habitat for Bass to thrive and grow. Although considered one of the top lakes for pro Bass fishing tournaments, amateurs can enjoy fishing here too.
Oneida Lake
This is the largest lake in New York State that is not shared with Canada or another state. This lake has an abundant population of both LMB and Smallmouth Bass. The lake has the perfect habitat for Bass to grow to trophy sizes. Because of the quantity and quality of fish, several pro fishing tournaments take place in this lake. Amateur anglers have the opportunity to catch their personal record here. Summer is the best season to catch trophy Bass in this lake. Topwater lures and spinnerbaits in shallow water are the most productive techniques in the summer.
Cayuga Lake
This is the longest of the so-called Finger Lakes in central New York State. Here, big LMB and Smallmouth Bass are very common. This fact attracts many pro anglers as well as amateurs and enthusiasts. The lake offers many opportunities for shoreline fishing. Spring and summer are the most productive seasons to catch Bass here. The north end of the lake is particularly good for Bass fishing. Many Bass fishing tournaments are organized in that area. Other species that you can catch in this lake include lake trout, landlocked salmon, northern pike, longnose gar, and lake sturgeon. Special fishing regulations apply in the Finger Lakes.
Chautauqua Lake
This large lake has a very healthy population of LMB and Smallmouth Bass. It has extensive areas of weed beds, which represent the ideal habitat for Bass. You can also find other fish species such as walleye, muskie, and panfish.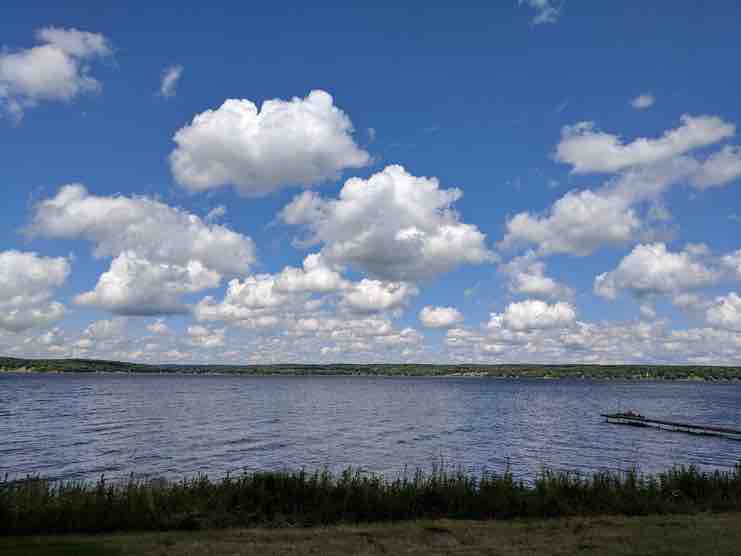 Fishing Licenses
The Department of Environmental Conservation is in charge of regulating sport fishing in New York State. You also have to check special fishing regulations by every county to avoid any problem with the authorities. You can check all these regulations on the website of the Department of Environmental Conservation.
Go Bass Fishing in New York…
The information in this guide will hopefully help you choose a good Bass fishing destination for your next trip. Use your best techniques and, with a little bit of luck, you can catch a fish of a lifetime in New York State.
Karen works for a big hedge fund, she's awesome with numbers and loves what she does, but above all – she loves traveling. Whenever she's on the road, she tries to get into the gritty tiny details of every location she explores.