We've said it once, we'll say it again: There is more to life than what's just on Manhattan. The Empire State is a car-free Mecca, and has much to offer vacationers. So get into a New York state of mind and explore some of its more distant corners.
Here are five upstate New York getaways to get you started.
1. Chautauqua County
Overlooking Chautauqua Lake, the on-site Athenaeum Hotel—where everyone from Thomas Edison to Bill Clinton has stayed—is the Grand Dame of the town, with its picturesque views, and old-world grandeur dating back to 1881. There is no bar at this hotel, only beer and wine served at dinner. Regulars are known to sneak spirits into their rooms, so you can feel like a sly teenager all over again. Room rates (from $249/summer weekend) include three meals per day. Cottages and private rooms are available for weekly rental.
Cars are not allowed on the premises of this retreat for the mind, body and spirit. Imagine a Victorian lakeside paradise of cottages and old-fashioned hotels, where you bike or walk everywhere. The surrounding fertile farmlands provide the bounty for the daily farmer's market. Take part in one of Chautauqua Institution's nine weeklong thematic sessions, where each morning you will be privy to lectures and conversations on a common theme. This summer season's nine topics include The Pursuit of Happiness, Diplomacy, and Health Care: Reform and Innovation taught by experts in their respective fields.
During the rest of your day, you may register for one of hundreds of Special Studies classes offered each week. Subjects are diverse and comprehensive and include Wine Tasting, several disciplines of Yoga, applied art, foreign language instruction, and history and literature classes. Nine U.S. Presidents have lectured or vacationed here, so the company is not too shabby. On a warm afternoon, swim, sail, and row in the lake, play tennis, golf and get ready for the evening's dance, theatre or musical performance in the outdoor amphitheater.
How to get there: Take Megabus or Amtrak to Buffalo, see Chautauqua's transportation guide for bus service to the Institution. Score a cheap fare on JetBlue from NYC to Buffalo and connect with a Buffalo Airport Shuttle.
2. Jamestown
Let your inner comic out in Jamestown. It is Lucille Ball's birthplace, and you'll find red-wig wearing residents won't let you forget it. Hone your skills in stand-up, take a Lucille Ball's Hometown Tour, go Grape Stomping at the Gateway Train Station in downtown Jamestown, and enjoy Chocolate Wrapping during the Lucille Ball Comedy Festival this August 1-4. The Best Western and the Clarion hotels are in the heart of downtown, an easy walk to restaurants and Lucy-mania. This part of the state feels (and is) remote and mid-western in flavor. Order regional delicacies like Friday Night Fish Fry and Beef on Weck at local eating establishments, and you may be mistaken for one. The food is tasty in a simple, homespun way. Giant wall paintings of Lucy and her Latin-lover husband Desi Arnaz grace many downtown buildings. The crowning jewel in this village's homage to the great red-headed comedienne is the Lucy-Desi Museum. Its mission is to promote the growth and development of comedy. So if open mike night in the big city is a mite frightening to you, give it a try in the hinterlands.
How to get there: Megabus is a budget-friendly way to get to Buffalo, where you will switch to Empire, NY Trailways, or Greyhound for the two hour trip to Jamestown.
3. Niagara Falls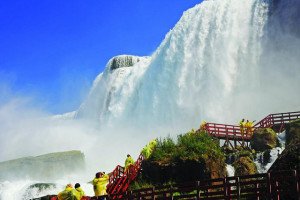 Beauty like this is never out of season. Yes, the side-by-side Canadian and New York towns are kitsch-filled wonderlands of wax museums and tacky souvenir shops, but the stunning Falls will allow you to overlook this. A summertime ride on the Maid of the Mist Boat Tour takes you underneath the Falls, where you will get up close and personal with the goliath power of this natural wonder. Luckily, waterproof raingear is yours to borrow on-board, because you will be getting wet. There are lots of hotel choices in town. Bring your passport and take an eco-friendly international walk across the Rainbow Bridge to the Canadian side.
How to get there: Take Amtrak's Empire Service line from Penn Station to Niagara Falls. Once you are in town, a Trolley can get you most anywhere you want to go, and an all-day pass is included in many local hotel rates. The town's manageable size makes walking a fine option.
4. Lake Placid
Lake Placid has hosted two Winter Olympic Games, so its cold-weather charms are well known. For fans of the great outdoors, summer and winter are wonderful times to visit. This town is actually on the shores of Mirror Lake, one of the most scenic of the Adirondack's many gorgeous bodies of water. If you can manage to drag yourself away from the pristine public beaches and crystalline water, there are loads of eclectic shops in town or take a refreshing spin on indoor Olympic ice at the skating rink. There are lots of accommodations and restaurants in the village, making life without a car a breeze. The family–run Mirror Lake Inn's 131 rooms are elegant, with gracious service and a perfect lakefront location. The Inn is committed to a high level of environmental stewardship, and is proud of its award-winning recycling center. It is also home to a top-notch spa, worth checking out even if you are not staying here.
How to get there: Adirondack Trailways from Port Authority to Lake Placid in just over five hours. The bus drops you off at the Olympic Center, a short walk or free trolley ride to most hotels and attractions.
5. Saratoga Springs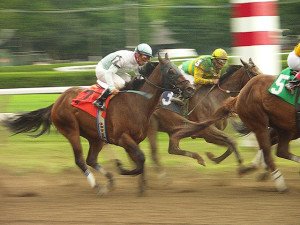 With a cute trolley that runs all over its compact town, famous for the Saratoga's Performing Arts Center and Saratoga Race Track, costing only $1 per ride, Saratoga Springs is a great place to spend some car-free time. Saratoga offers several vacation packages, which include lodging at eco-conscious hotels, meals at restaurants that serve locally sourced food, and activities like free kayaking. The town is full of pedal-pushers, so head to the centrally located Blue Sky Bicycles (which runs weekly group rides for free) and Elevate Cycles for bike and helmet rentals. Following an afternoon ride, consider luxuriating in the mineral springs at Saratoga Spa State Park, a 2,000 acre verdant oasis. Shopping in town is a nice blend of familiar names and unique shops, and hotels run the gamut from quaint B&B's to well-known chains.
How to get there: Take Amtrak from Penn Station to Saratoga Springs in just over three hours. Adirondack Trailways bus serves Saratoga as well, but your journey will take longer. You may catch a waiting taxi into the heart of the village, which takes only a few minutes and costs only a few dollars. Several hotels offer shuttle service, so inquire when you book your room. For more ideas on things to do in Saratoga Springs, read oM's full guide to the area.

Photo: Courtesy of steveritchie, Jorge Quinteros, le calmar, Montreal Photo Chick
Allison is a native New Yorker, who has lived in Rome, Tuscany, Melbourne, Toronto and Los Angeles. She frequently contributes travel pieces to Family Travel Forum, using her own children as guinea pigs as they travel the globe. She is fluent in Italian and Spanish and laughably adequate in French. Her background as an Early Childhood Educator gives her an added understanding of what it takes to travel with kids in tow. She firmly believes that the most important part of education takes place outside of the classroom, on the road, around the world. She never misses a chance to sample local delicacies, as her love for travel goes hand-in-hand with her love for food and wine. Follow Allison at @gourmetrav.