New York City is a haven for street art enthusiasts, whether you are an artist or an admirer. Back in the 1980s or so, artists would rely on mostly their art alone for publicity, and they would leave their tags anywhere their paint touched. Walls, sidewalks, and even trains would carry the art of many, and they still do to this day. However, there is another medium of art that has come to light in recent years: social media, namely Instagram.
Through Instagram, so many artists can share their work with people not just in the vicinity, but all around the country, if not the world, as well. These artists have thousands of followers each, and their art is proudly on display on their accounts, accessible with a simple push of a button. offMetro NY talked to three such artists and found out the stories behind the snapshots. Check out this unique Instagram Street Art in New York:
MenaceResa – Overcoming Trauma through Art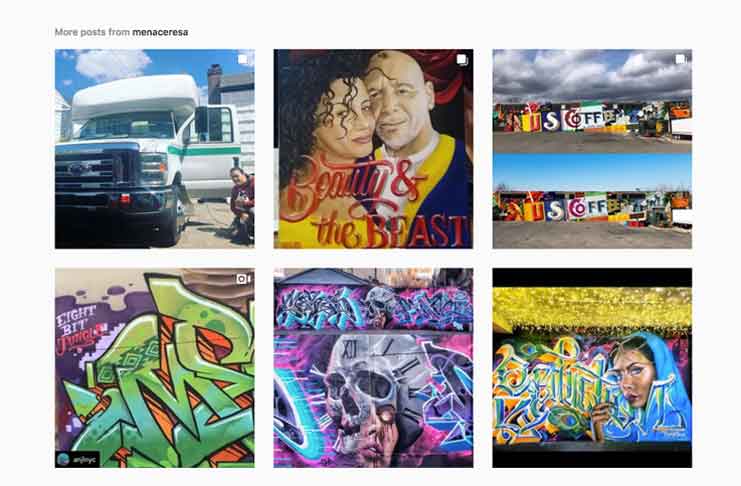 MenaceResa is an Asian street artist duo, formed by Queens native Theresa (Resa Piece) and her boyfriend Eric (Menace Two). Resa is a fine artist/muralist, whereas Menace is a graffiti writer. Their range of action is normally in the Triboro area.
Their style can be best described as a collaboration between their two strengths, fine art and graffiti writing. "We borrow elements from two different subcultures that are at odds against one another- graffiti &street art – and combine them to create a vibrant and energetic aesthetic," says Resa. True to her word, when you look at the art of MenaceResa, often times you will see an ornately crafted portrait of a person's face, along with bold lettering in bright colors underneath, such as in the photo shown above.
However, MenaceResa's New York street art is not simply a rendezvous of two art forms. There is an underlying struggle that both artists had to overcome, specifically traumatic experiences when they were young. "I trusted the wrong people in the graff game and got sexually assaulted and raped by two different graffiti writers," says Resa. "Menace Two experienced his own traumas since childhood. His father used to beat him because he wouldn't stop writing graffiti. Menace also has been beaten by cops and other graffiti writers."
The two did not let such experiences shoot them down, however, and they decided to channel those struggles into art, to show how there was still hope in the world for anyone who needed it. "I felt like I had to constantly prove myself through my art to combat my feelings of worthlessness and shame. The trauma I experienced because of these predators forced me to be the best artist I can be," says Resa. "We decided that we want to use our struggles to create beautiful, uplifting mural messages to people who may also be struggling with trauma and pain."
It is, therefore, no surprise that MenaceResa's work focuses on portraying something beautiful, something that can be appreciated by people and make them happy. "The main focus is that we take the negativity of life and turn it into an opportunity to present something positive. For example, we will find a wall that is disrespected by sloppy graffiti tags or graff beef and paint something beautiful on it for the community- with or without permission," says Resa.
Resa also wants to take her art one step further and use it to tackle social issues. She voiced the wish to put forth encouraging messages to victims of sexual abuse like her, thereby going back to the message of hope for those who need it.
PositiveVibz Girl – Making the World a Better Place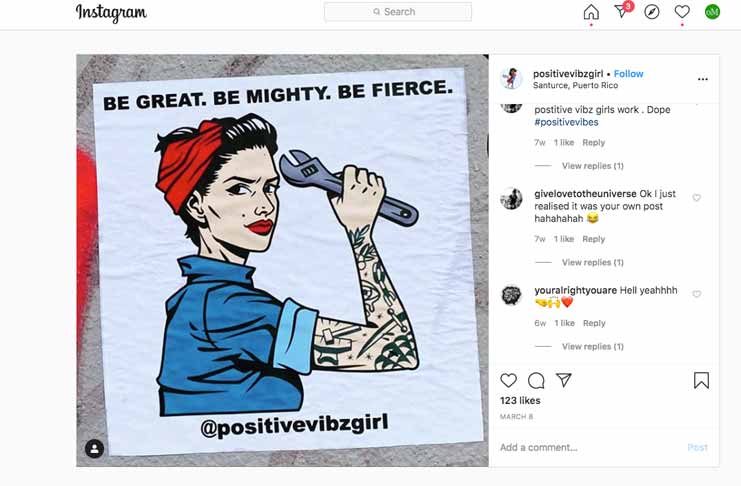 PositiveVibz Girl is another artist who strives to improve the world that she lives in, both for herself and the people around her. Hailing from Brooklyn, she is not your typical New York street artist in that she does not use spray paint in her artwork that much. Instead, she chooses to put her art on visually prominent stickers and spread them around the city, an easier way to get her message out to the people.
Perhaps it is only natural that she herself does not engage that much in spray paint, given that she did not become a street artist through painting like a lot of her fellow artists. Instead, she started off as a photographer, taking snapshots of the various murals and portraits that the NYC streets had to offer. Having been exposed to a variety of art and another variety of messages, she eventually felt she had something to say herself, which led to her creating her stickers to get her message on the street.
Her stickers feature many subjects, including a brown girl in a Superman (or Supergirl) suit with the words "Believe You Can," a parody of the 'working woman' ad during the Second World War with the words "Be Great. Be Mighty. Be Fierce," and an orange dog with a thought balloon saying "Being Kind is Cool." These stickers can be found anywhere, from lamp posts and mailboxes to doors and bathroom stalls.
Whatever her subject may be, though, PositiveVibz Girl is focused on sending out, well, positive vibes. "My work is 100% inspired by my desire to make the world a better place. I want to spread positive energy and good vibes to NYC and the world," she says. "I want people to feel encouraged when they see my work."
Her process is therefore set on things that would make people happy and encouraged. Be it a superhero or a dog, she always tries to find something that will convey her message best, and something that will resonate with a lot of people, hence the familiar images on her stickers. "I find or create art that supports the message I have in mind," she says. "Words of encouragement are the most important part of what I do." Indeed, almost all of her stickers have at least some sort of wording along with the images, spelling out positive slogans and encouraging statements, which will surely put a smile on the people reading them off a traffic light or a fence.
Alice Mizrachi – She's a Family Guy (or Girl)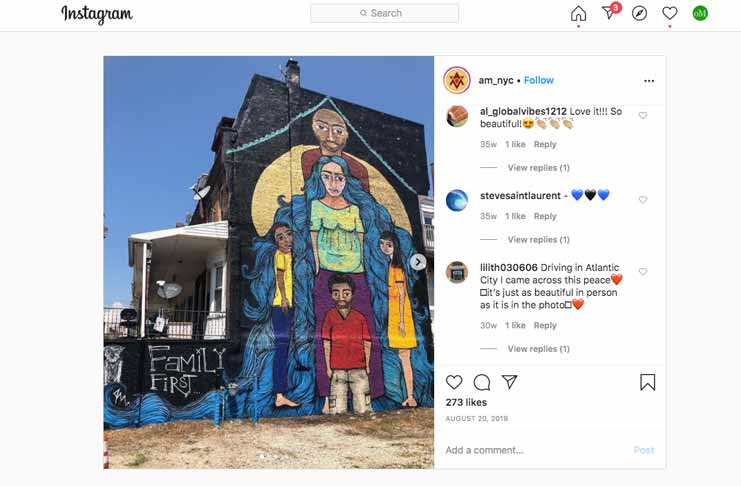 Another artist from Queens, Alice Mizrachi is an artist who gets her inspiration from a number of different places, things, and people, mostly the latter. Her style has developed over the years with motives from various artists. "Some of my biggest inspirations are Romare Bearden, Picasso, Louise Nevelson, Marisol, Eric Heckl, and Kurt Shwitters." Of course, however, she does not just copy one artist's style for one work and another for her next. "My inspirations from artists shine through but ultimately I've made those connections and mashed them all up to create my own style," she says.
Prefer to listen to this post then reading it through? Click this video below:
It is not hard to see where her inspiration came from when you look at her work. She seems to have taken a particular liking to Picasso, judging from the almost surreal features in her art. The facial parts of the people within have been exaggerated, as well as their body parts and their subsequent actions. Blue hair, accentuated eyes, and mouths where normally nostrils should be are just a few of those details. She hence takes an approach that is more focused on exploiting the freedom that a street wall gives, rather than be bogged down in realistic details.
But no artist is a bigger inspiration to Alice than her family. "I first got into painting in public when I was a young girl watching my brother and his friends take tags on the cardboard they used to break-dance on," she says. "I wanted to be cool so I went out with my childhood girlfriend and started writing on walls in the woods by my house." Alice thus took her first steps into street art not by any artistic choice, but just because of an urge to follow what a family member was doing.
How Alice became part of Street Art in New York
After attending Parsons School of Design, her innate artist, which had laid dormant for so long, was reborn once she reconnected with another childhood friend, who was painting freight containers and organizing graffiti jams. "That's when I really started enjoying painting in public and seeing how I could use my training in art school towards reconnecting with my past and painting in public spaces," she says.
To Alice, family means not just her blood relatives, but her "selected family" as well – that is, her inner circle of friends and loved ones. "My connections and interactions with people give me a deep understanding of our collective consciousness and humanity," she says. "I enjoy painting positive imagery and messages that empower communities."
Of course, those messages often bring her back to the value of family. Just take a look at the photo shown above. A depiction of a united family. White letters spell out "Family First," standing out clearly from the jet black wall they have been painted on. Messages rarely get clearer than this.
For more articles about Art in New york check our comprehensive guide on NYC Graffiti Tours.
NYC Graffiti Tours: A Comprehensive Guide
You can also read our tour of Brooklyn Street Art.
Graff Tours: An Artist-led Tour of Brooklyn Street Art
And lastly, check out our photo guide of the Art of the Second Avenue subway.
A Photo Guide to the Art of the Second Avenue Subway
Teddy Son is a writer who's dabbled in a variety of different fields; local news, museum exhibits, luxury establishments, sports, and so on. Travel has always been a passion of his: he's been to eight different countries in three different continents, and has loved exploring everything different places have to offer. Outside of writing, he hails from the glorious nation of South Korea, and is a huge FC Bayern Munich fan.