Connecticut's Delamar West Hartford is a chic boutique hotel that pays homage to French-Canadian and Northern European architectural design. An escape to the Delamar West Hartford, just 97 miles from New York City, is luxurious with rooms that have Italian linens, turndown service with chocolates, and a delectable onsite restaurant. The restaurant, Artisan, has a menu developed by award-winning Executive Chef Frederic Kieffer that features fresh-for-the-season New England-inspired and locally-sourced dishes. Plus, the hotel's full-service spa offers inspired treatments that focus on wellness. The result is a bit other-worldly (in a posh way) and very refreshing. Best of all, the cost won't break the bank with rates just over $200 a night.

Luxurious Rooms at The Delamar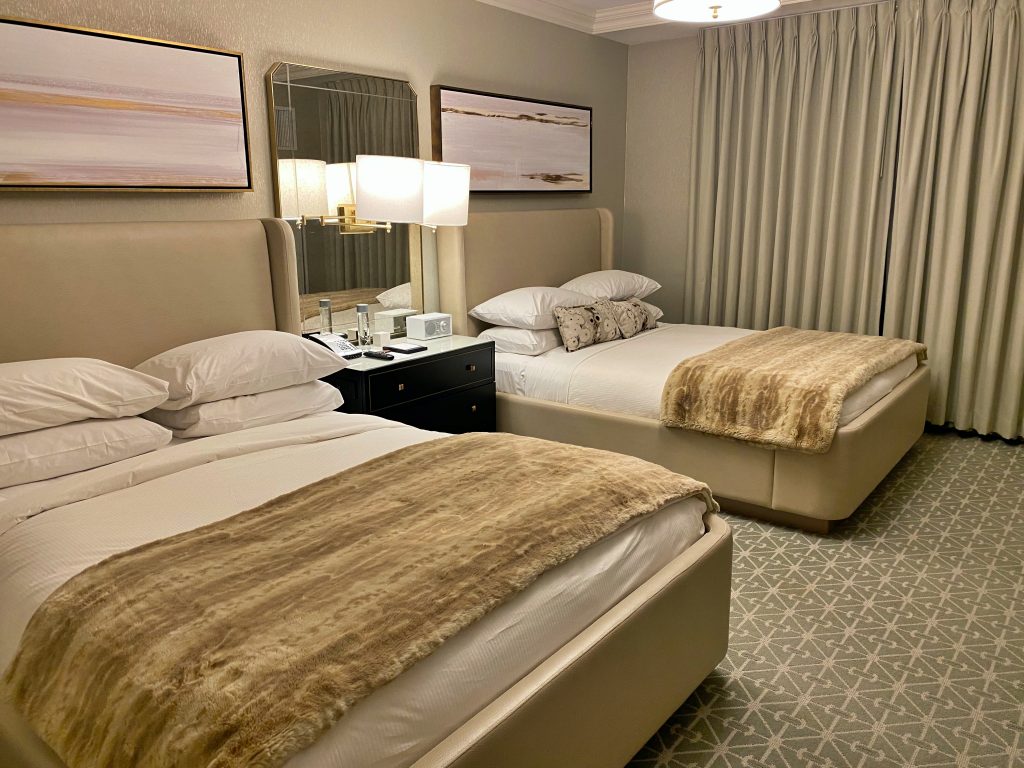 The 114 guest rooms are comfortable, with beige faux fur throws, a marble table and two armchairs near the window to relax or read a book. There are plenty of modern touches, including a Bluetooth alarm clock, a Nespresso coffee machine, and a flat-screen TV that sits on top of an ivory desk. The large marble bathroom features Bvlgari amenities and elegant robes and slippers. Room attendants are required to change sheets daily, so the bedding is fresh and clean. The room is so glorious that you will find yourself running back after dinner to get as much use as you can out of it.

Farm-to-Table Food at The Artisan
Artisan, an upscale restaurant with a European flair, is your go-to for all meals at the hotel. The restaurant is situated next to a garden filled with vegetables and herbs. A local farmer supplies much of the menu's items, and Artisan honors local craftsmanship and agriculture by paying homage to Connecticut with New England inspired dishes and locally sourced art on the wall. In the morning, enjoy complimentary breakfast, which includes granola, bacon, fruit, croissants, orange juice, and fresh coffee. For dinner, our favorite dishes include their superfood salad made of kale and Brussels sprouts, mushroom and Périgord truffle soup with a griddled brie sandwich, Local Halibut with autumn soffritto and sunchoke, and the Crispy Duck Breast. They also have a good selection of vegan dishes, including the pasta topped with a golden romesco sauce made with yellow peppers. Craft cocktails, wine, and dessert top it all off.

What to Do in West Hartford
Situated in the heart of the Blue Back Square neighborhood of West Hartford, the Delamar offers proximity to shops, restaurants, and a cinema called Cinepolis, the first "luxury" theater in the Northeast. There's also a Japanese market, Whole Foods, a library, Barnes and Noble, and a square dedicated to the memory of Mark Twain, who lived in Hartford from 1874 to 1891. There's a handful of boutiques joined by a generous helping of bars, cafes, and restaurants, for comfort food, hip cocktails, steak, Hawaiian poke, or international beers.

The DELAMAR is also a perfect place to explore Connecticut's Capital Region as its nearby attractions include Wadsworth Atheneum and The Bushnell Center for the Performing Arts – both of which you can visit easily using the hotel's Tesla with free rides. Show your room key at the New Britain Museum of American Art for free admission. OM readers are already familiar with The Mark Twain House, built-in 1874. If you have good weather, be sure to go to Elizabeth Park, composed of more than 100 acres of formal gardens. Noah Webster's birthplace is still standing and was turned into a museum for his life in 1966. The National Iwo Jima Memorial was erected on the line between New Britain and Newington, barely ten minutes from West Hartford Center.

Insider Tip
Back in the hotel, be sure to grab a complimentary cup of hot chocolate, coffee, or tea in the lobby and sit by the fire at any time during the day. Also, head to the spa for a relaxing treatment. Microcurrent therapy, medical-grade collagen upgrades, and an Amethyst BioMat are among the groundbreaking therapies. The Delamar Spas feature Biologique Recherche, (BR) the definitive skincare line. Or spend some time in the hotel's full-service gym and go on their one Peloton with music from your favorite decade.

How to Get to West Hartford from NYC
Amtrak trains travel from Penn Station in Manhattan to Hartford's Union Station. The trip takes roughly two hours and forty minutes, and there are both direct trains that connect through New Haven. Greyhound & Peter Pan buses depart from Port Authority Bus Terminal. The journey takes three hours and forty-five minutes and costs $24-$40.
From the train station, you'll need to call an uber for the final 4 miles of the trip to the hotel.
Holly Rosen Fink is a marketing consultant and culture and travel writer living in Larchmont, New York