If you are a fan of American literature or if you went to high school at some point over the last 100 years, then you have read at least one or more of Mark Twain's 30 books. Knowing him as a novelist, satirist, humorist, and worldwide lecturer, I was curious to explore the West Hartford home he lived in during his most productive period in the latter part of the 19th century. In a brief span of years, he wrote such classics as The Adventures of Huckleberry Finn, The Adventures of Tom Sawyer, A Connecticut Yankee in King Arthur's Court, and The Prince and the Pauper, to name just a few.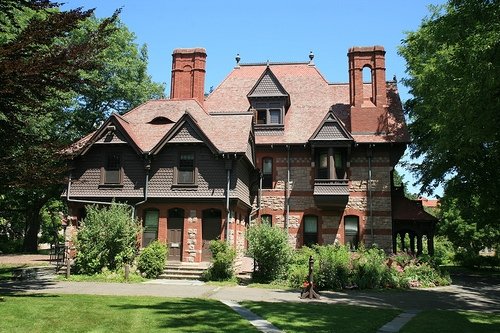 Built in 1874 just to the west of America's then most affluent city, Hartford, Mark Twain's 19-room Victorian residence is whimsical and eclectic on the outside but sophisticated, functional, and remarkably comfortable once you step inside. With the design assistance of Louis Comfort Tiffany and the architectural creativity of Edward Tuckerman Potter, Twain was able to put together a home that met the needs of his growing family. It allowed him to entertain regularly (Harriet Beecher Stowe, his closest neighbor, was his most frequent guest), yet it gave him several places to relax and write in solitude. The house was sold in 1903 along with all of its furnishings, but much of it has been restored to its original grandeur, and the building has since been designated as a National Historic Landmark.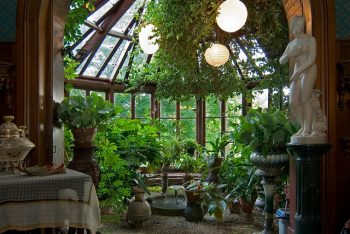 Nearby sits the modern LEED-certified museum featuring numerous manuscripts and artifacts including Twain's favorite writing desk as well as an instructive timeline of his life. A marvelous 20-minute excerpt from Ken Burns' documentary on Twain runs continuously in addition to a brief silent movie of the author, which is the only footage known to exist.
As someone who has read many of Twain's books and short stories, I thought I knew the man. This half-day visit to his home and museum expanded my understanding of his formative years and highlighted his many achievements that went far beyond his writings. Talking to several other visitors during the day, I discovered that most people were similarly thrilled with their increased insights to the man who is widely considered to be the first truly American novelist.
A short bus ride away, just to the west of the Mark Twain House and Museum, is the 102-acre Elizabeth Park, filled with thousands of flowers, grand old trees, and numerous ponds. The Pond House Café has a lovely alfresco area, where ducks and herons are known to promenade to complete an already peaceful natural setting. In my party of four, we sampled flavorful salads, crab cakes, and some of the best wraps any of us had ever tried.
For another outdoor option for lunch, swing by the rooftop patio of The Elbow Room in "downtown" West Hartford. Billed as the best outdoor dining in Connecticut, the packed joint has unusually friendly and efficient service, salads, sandwiches, pastas, and burgers of every variety (veggie, Kobe beef, and tuna), which makes for a delightful and inexpensive midday meal. And if you have the time and the inclination, spend a few minutes walking around the charming town with dozens of locally-owned shops and restaurants.
How to get there:
By Train, Amtrak runs multiple trains from Penn Station to Hartford every day of the week and on weekends. You could also take Metro-North from Grand Central and switch trains in New Haven.
By Bus, numerous buses can take you round trip to Hartford for as little as $15 each way.  Once in Hartford, pick up a CT Transit bus marked "E-Farmington Ave." which connects The Mark Twain House with downtown Hartford and West Hartford Center. A transit shelter is located nearby the museum at Farmington Avenue and Woodland Street.
Photo: Courtesy of Cliff1066 and SherryDigitalPhotos