No matter what baseball team you root for, we can all find common ground in Cooperstown. On a recent trip there, my sister vocalized our realization that there is a camaraderie among fans who congregate in this quaint upstate town. Somehow, jerseys representing the whole of the MLB harmoniously mingle with their rivals. Even Yankees and Red Sox fans can accept the triumphs that one another have had, probably with a teasing boast about their own teams' wins, laugh, and move on.
So, too, can you skip the museum altogether without feeling ostracized. If you're a fan of waterfronts that glisten and sway among lush green peaks, a Main Street that balances kitsch and charm, and pizza–because New York is New York, and its pizza magic isn't lost on the rest of the state–then Cooperstown is the right place for a weekend trip.
Things to Do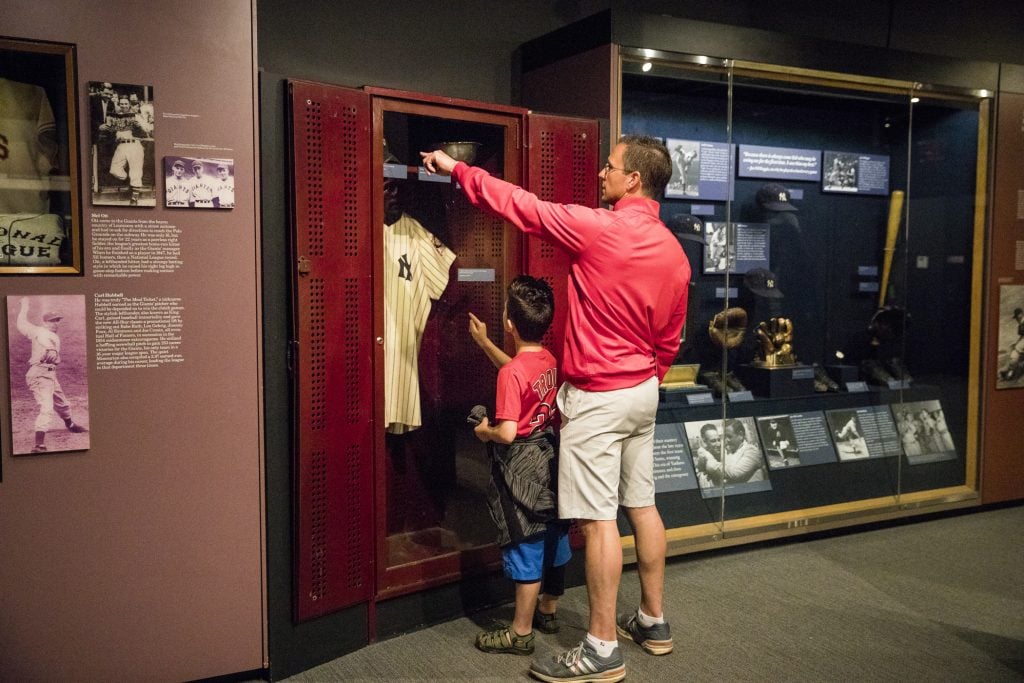 Start your day at the Cooperstown Farmers Market, open on Saturdays year-round, where you can buy produce, maple syrup, and a dizzying array of sweet treats. Get your caffeine and pastry fix at vendors like By the Handful and Le Marais Chocolat. The musicians performing here every week are the icing on your morning cake.
A quintessential stop, The Baseball Hall of Fame chronicles the history of the sport, including its key players, the desegregation of the MLB, and the women who championed a league of their own. Weaving in and out of exhibits leads you to treasure troves of artifacts, footage of team highlights through the years, and the legendary World Series rings. Even if you aren't a devoted patron of the stadium, you'll still get a kick out of seeing various women's 20th century, ballgown-esque uniforms and the collective memory of America's game.
Learning is always paired best with a bit of play. Next head to the Farmers Museum and take a spin on the antique Empire State Carousel, where traditional horses are replaced with hand-carved animals representing New York State's own resources. This is also the place for you to turn back time by two hundred years and experience the pace of rural life. Demonstrations, interactive exhibits, and a working farmstead all showcase New York's agricultural roots—and teach you a thing or two about butter molds.
The Fenimore Art Museum hosts exquisite collections of Native American art, as well as exhibits of local musicians, politicians (think Alexander Hamilton), and waterways, that have shaped the area and the nation.
Craft breweries are one of Cooperstown's prides and joys, with a long history of breweries, distilleries, and wineries behind the town. Whether you fancy a retreat to Fly Creek Cider Mill, Pail Shop Vineyards, Ommegang Brewery, or all of the above, a tour and a taste are a refreshing way to experience Otsego county. Check out the full list of places you can experience along the Cooperstown Beverage Trail.
Get Outdoors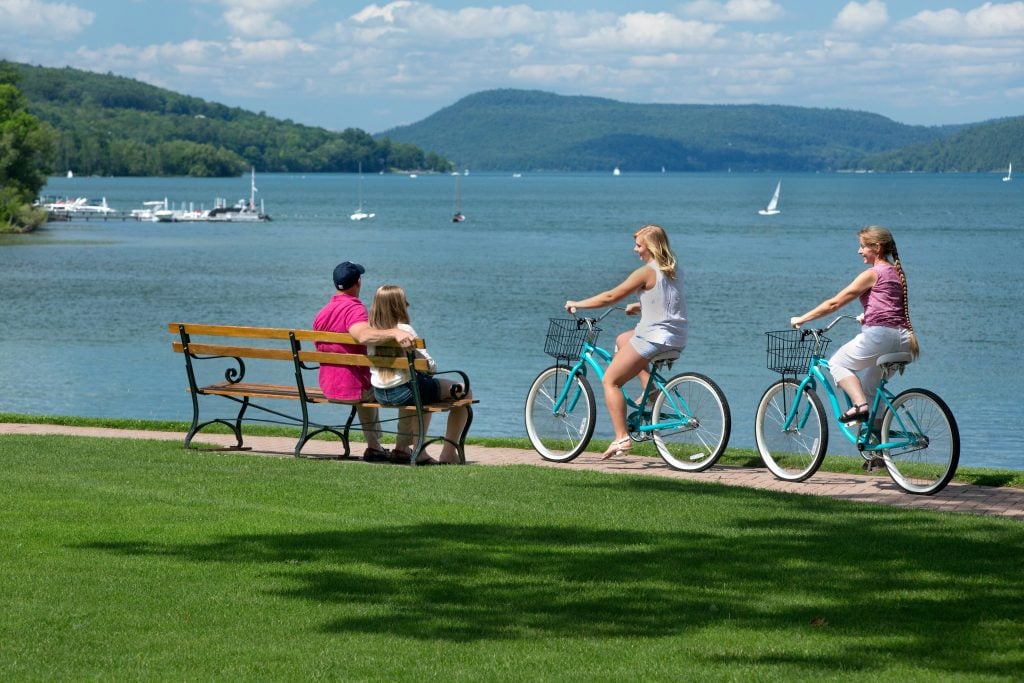 When you've spent up your mental energy, head down to the waterfront. Checkout Main Street, a mishmosh of bright potted plants, souvenir shops that carve your name onto a bona fide Louisville Slugger, and hot dog nooks.
Nestled on Lake Otesaga in the foothills of the Adirondack and Catskill Mountains, Cooperstown's idyllic beauty encourages outdoor activities. Take a boat tour of the lake, rent bikes to cycle along the water and revel in the gentle breeze. Walk along the paved path, darting between technicolor ribbons of flowers, with a book in tow and plant yourself at a viewpoint for a while. Catch a glimpse of the Lake Front Lighthouse, and even pull back a bit to the rolling lawn nearby, as you might stumble upon a band setting up for an evening's performance.
Where to Stay
A trip to Cooperstown recommends a few nights at The Otesaga, a charming Old World hotel snuggled into upstate New York's dramatic mountainous folds. Time ebbs away the longer you sit on the wraparound porch and, come nightfall, you move towards the outdoor fire pits, ideal for creating new memories and soaking up the estate's manicured grounds. As a member of the Historic Hotels of America, The Otesaga brims with historic elegance and modern comforts to enhance your getaway. It's excellent to come to town and spend your days out and about—but relish in the luxury here, too.
Where to Eat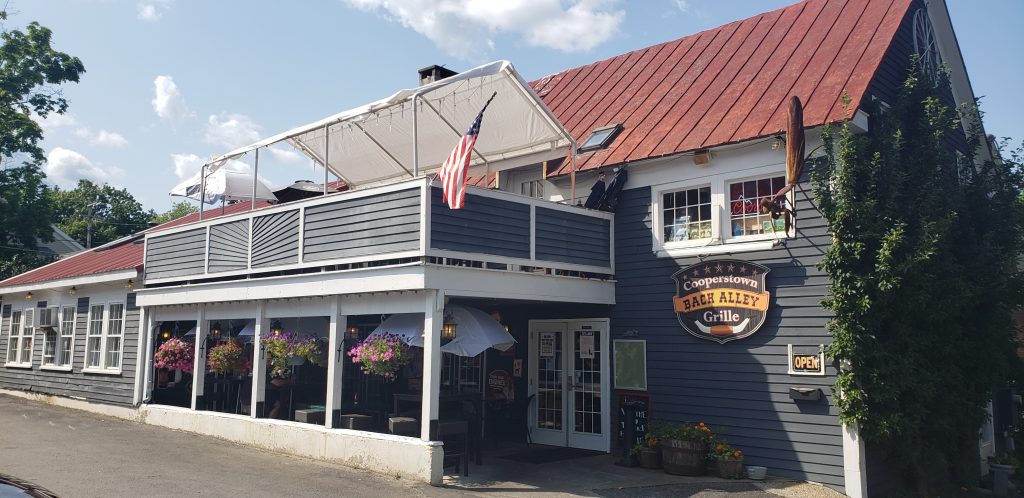 At Stagecoach Coffee, the floor-to-ceiling front window floods the neat shop with airy light. It's an ideal place to start the day, or to pop in for an afternoon pick-me-up. Order an egg and cheddar breakfast sandwich, or opt for a shiitake pesto panini. For a refreshing and fun drink, select from one of their seasonal items, like a Lake Otsego Latte.
Doubleday Cafe will boost your caffeine level and offers a slew of culinary options, whether you're hankering for a burger, enchiladas, a crab sandwich, or a slice of Doubleday cheesecake.
Cooperstown Back Alley Grille has local beers on tap, including Cooperstown Ommegang, that pair nicely with a meatball sub or pulled pork sandwich. The outdoor patio offers tables to gather around, and is the gateway for a post-meal stroll to the water.
At Cooper's Barn, formerly the Cooperstown Penguin, dig into a cup of custom-blended ice cream. It's as easy as choosing your base flavor and mix-ins, or selecting one off the menu: the Shamrocker, with Oreos and Creme de Menthe; Cookies & Cream, a delightful combo of Oreo cookies and homemade chocolate chip cookie dough; or Berry Bash Pie, mixing blackberries, blueberries, raspberries, and shortbread with smooth vanilla ice cream. The red barn overlooks an open field, making this a great evening stop to watch the sky transform in peachy swirls.
Lakefront Restaurant & Bar arguably has the best view in Cooperstown. See for yourself as you are led through the restaurant to a table next to a window—it's enchanting. Try the Brewery Ommegang beer battered haddock.
Opt for New York Pizzeria to enjoy high quality pies. The shop is unassuming, a bit off the main drag, but worth it the second you take your first cheesy bite. Like any pizzeria, they serve classic Italian dinners, but why pass up the opportunity for a crisp slice of pepperoni?
How to Get Here
Amtrak offers service between NYC's Penn Station and Cooperstown with a combo bus and rail ticket.
For more information, go to www.CooperstownGetaway.org.
Lindsay is a new New Yorker, having grown up in Boston and lived in Dublin for a bit. Her soul is half mountain, half skyscraper, and she is moved by the breathless wonder of cultures and landscapes that make up the mosaic of our planet. Writing has been her passion since she was a little girl, and she still has dreams of becoming a ballerina someday. She loves cycling, donuts, art museums, and toting her camera everywhere. Find her blogging at ontherogueagain.com.