Jackie was sprawled on a patch of grass with her nose glued to hay, along with her brother, Moby. When I approached, she curiously walked towards me and stuck her head out the fence, her golden eyes shining even on a slightly overcast day. When I started to pet her forehead, she sniffed and gently licked my hand, a gesture all too familiar for this dog owner. This sweet goat, along with her friends at the Woodstock Farm Sanctuary in Hudson Valley, New York, is living out her life soaking up the sun and relishing her freedom.
Jackie and Moby were born earlier this year to Ruby, a goat rescued by the Woodstock Sanctuary from a backyard butcher. Nearly 400 goats, pigs, chickens, turkeys, and cows call the Woodstock Farm Sanctuary home. Located in the hamlet of High Falls, a short cab ride from New Paltz, which is a two hour bus ride from New York City, the 150-acre property is a welcoming space to meet farm animals and learn about ways to make ethical eating choices.
Founders Jenny Brown and Doug Abel started their careers in film and television, but Brown's undercover project videotaping animal abuse at a factory farm changed the course of their lives. In 2004, the couple purchased a 23-acre property near Woodstock and started their rescue operation with a small group of chickens from a factory farm and a rooster who had been dumped in a New York City schoolyard. They soon began rescuing and sheltering animals neglected from farms, auctions, and slaughterhouses. Others came from SPCA and Humane Society cases and even the streets of New York City.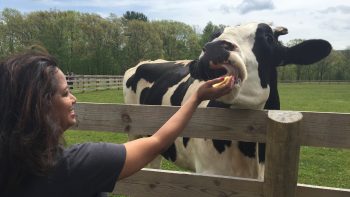 In 2015, the organization raised enough money to move to High Falls, where they now have the capacity to save more lives. In this idyllic setting, so far from the commercial farms where most of these animals were saved, turkeys and chickens run freely in their pastures, strutting their stuff or clucking out to visitors. Pigs snooze in muddy wallows, sheep graze contently free from their wooly encumbrances, and cows lie leisurely near their barn, enjoying the fresh air and the feel of the grass.
Part of the farm's ethos is encouraging and teaching veganism on behalf of farm animals, personal health and the environment. Animal agriculture is, for example, the single greatest contributor of methane gases to global warming.
Tours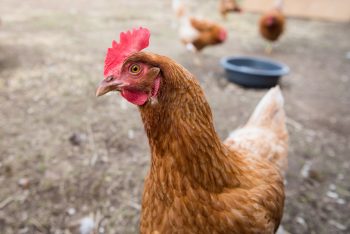 On weekends, the Woodstock Sanctuary offers 75 minute tours (at 11am, 12pm, 1pm, and 2pm) covering a mile and a half of the property. Volunteers bring visitors into yards and pastures to get up close to the animals
You will hear their rescue stories, and the effects of agribusiness on these creatures, our well-being, and the global impact. Besides, it's wonderful to give them belly rubs and experience their enjoyment of gentle human presence. 
Lizz DeFeo, who recently started working for the Sanctuary as a Marketing Associate, fell in love with the place after volunteering a year ago. On the impact of the educational tours, she said, "It's rewarding knowing that every day we could influence someone to go vegan…and to interact with the animals and understand where they came from and why they are here, which is a reminder of why I am vegan to begin with."
My favorite part about visiting the Woodstock Farm Sanctuary is spending time in the large, airy barn, filled with recovering farm animals. Seeing these animals, who have only known pain, fear, and isolation now enjoying warm and clean surroundings, nourishing food, veterinary care and, most of all, love is worth the trip.
Stop by the Visitor's Center for a vegan snack or t-shirt, or sign up to sponsor an animal and support their mission.
Visiting Hours: 10:30am – 4pm, Saturdays and Sundays.
$10 suggested donation.
No reservation necessary.
Get Here
While there isn't a direct bus to Woodstock Farm Sanctuary, Adirondack Trailways buses leave from Port Authority in NYC and drop off in the nearby town of New Paltz. Once you arrive in New Paltz, you can take a New Paltz Taxi at the station (845-255-1550) to the sanctuary at 2 Rescue Road, High Falls, NY 12440.
For more regional getaways, visit www.Ulstercountyalive.
Images by the author and M. Cacioppo
Lavanya Sunkara is a writer, animal lover, and responsible traveler based in New York City. Her love of nature and adventure has taken her all over the globe. She cherishes sharing her experiences and being a voice for the voiceless. Follow her adventures on her blog Nature Traveler or on instagram @Nature__traveler.